The best things happening in London in 2018

London is one of those cities where there is always something happening. Whether you're planning a weekend break in London, a day trip or are lucky enough to live in the capital, we've got ideas for every month throughout the year.
Either scroll through the page or jump to the exact month you want by clicking on one of the links below:
Jan | Feb | Mar | Apr | May | Jun | Jul | Aug | Sep | Oct | Nov | Dec 
All details below are subject to change.

January
London Lumiere Festival
Where & when: various central London locations; 18-21 January 
The UK's largest light festival is returning to London. More than 40 UK and international artists will reimagine London's iconic architecture and streets, transforming the city into a dazzling nocturnal art exhibition. Spread across the city this time (as it did get crazy-crowded in 2016) this is fantastic free fun.
Find out more
Andreas Gursky
Where & when: Hayward Gallery; 25 January - 22 April
Nearest station: Waterloo
Marking the beginning of the Hayward Gallery's 50th anniversary year, this Andreas Gursky exhibition will be the first to take place in the iconic 1950s building following its 2-year restoration. For the first time since the original opening, the gallery's pyramid roof lights will allow natural light into the spaces below.
Find out more
Rhythm & Reaction: The Age of Jazz in Britain
Where & when: Two Temple Place; 27 January - 22 April 
Nearest sation: Temple
Marking 100 years since jazz reached Britain, this exhibition will bring together painting, prints, cartoons, textiles and ceramics, moving film, instruments and the all-important jazz sound to examine the influence of jazz on British art, design and wider society. It's also a great excuse to see inside this incredible neo-Gothic Victorian mansion.
Find out more
More dates for your diary
1 Jan – New Year's Day Parade (marching bands, cheerleaders and huge inflatables passing through the streets of central London); 10 Jan - 3 Feb – London International Mime Festival 2018 (innovative physical and visual theatre from around the world); 16-27 Jan – Canary Wharf Winter Lights (light installations and interactive art around Canary Wharf); 27 Jan - 15 April – Charles I: King and Collector (Royal Academy exhibition).
---
February

Votes for Women
Where & when: Museum of London; 2 February - 6 January 
Nearest station: Barbican
To commemorate the centenary of the first women winning the right to vote, this display highlights the untold stories of women in the Suffragette movement. Alongside iconic objects including Emmeline Pankhurst's hunger strike medal, there are personal stories of lesser known Suffragettes.
Find out more
Winter Wanders
Where & when: across London; 3-4 February 
This weekend of free guided walks is a great excuse to embrace the fresh air. There are short themed walks in central London and all-day hikes too.
Find out more

Ocean Liners: Speed & Style
Where & when: Victoria & Albert Museum; 3 February - 10 June
Nearest station: South Kensington
This major exhibition looks at the golden age of ocean travel and explores the international design and cultural impact of the ocean liner. It will reveal the hidden design stories behind some of the world's most luxurious ships and throw light on the famous passengers that travelled aboard.
Deal alert! Save 28% on your tickets with Travelzoo - click here to buy
More dates for your diary
13 Feb – Pancake Day Races (Shrove Tuesday pancake-flipping races across the city); 14 Feb – a-ha at The O2 (an MTV Unplugged acoustic evening); 18 Feb – Chinese New Year celebrations (parade along Shaftesbury Avenue and Charing Cross Road with free entertainment in Trafalgar Square); 28 Feb – 27 Aug – All Too Human: Bacon, Freud and a Century of Painting Life (Tate Britain exhibition on modern figurative painting with Lucian Freud and Francis Bacon at its heart).
---
March
Victorian Giants: The Birth of Art Photography
Where & when: National Portrait Gallery; 1 March - 20 May
Nearest station: Leicester Square
See photographs by four of the most celebrated figures in art photography: Lewis Carroll (1832–98), Julia Margaret Cameron (1815–79), Oscar Rejlander (1813–75) and Lady Clementina Hawarden (1822-65). As the relationship between the four groundbreaking artists is examined there are plenty of previously unseen works and a notorious photomontage.
Find out more
Albert Memorial Tours
Where & when: Albert Memorial; starts 4 March (first Sunday of the month from March to December)
Nearest station: South Kensington
If you join a 45-minute Albert Memorial tour you get to go inside the railings to see the detail on one of the greatest monuments of the Victorian era. The guide explains the history and the restoration to bring it back to full glory.
Find out more

Picasso 1932 – Love, Fame, Tragedy
Where & when: Tate Modern; 8 March – 9 September 
Nearest station: Southwark
This exhibition takes visitors on a month-by-month journey through 1932, a time so pivotal in Picasso's life and work that it has been called his "year of wonders". More than 100 paintings, sculptures and works on paper demonstrate his prolific and restlessly inventive character.
Find out more
More dates for your diary
11 Mar – Mother's Day (While Mothering Sunday is in May for much of the world, in the UK we celebrate in March); 23 Mar – 30 Sep – The Great British Seaside (National Maritime Museum photography exhibition); 24 Mar – Oxford & Cambridge Boat Race (annual contest between two rowing crews from Oxford and Cambridge Universities); 29 Mar – 7 Apr – Coraline (operatic adaptation of Neil Gaiman's atmospheric children's story); 30 Mar – 2 Apr – Easter (Good Friday and Easter Monday make two four-day weeks).
---
April

Monet & Architecture
Where & when: National Gallery; 9 April - 29 July
Nearest station: Charing Cross
While Monet is most famous for nature scenes, this is the first time an exhibition has been devoted to his relationship with architecture. As well as Paris and Venice we get to see the views he painted of the Houses of Parliament, Waterloo Bridge and Charing Cross Bridge when visiting London between 1899 and 1901.
Find out more
Harry Styles
Where & when: The O2; 11-12 April
Nearest station: North Greenwich
One Direction frontman Harry Styles is on his world tour with two dates in London. Styles has had massive international success with his solo album; making history as the biggest debut sales week for a UK male artist's first full-length album since Nielsen Music began tracking sales in 1991.
Find out more
Virgin Money London Marathon
Where & when: Blackheath to Buckingham Palace; 22 April
Since 1981, the London Marathon has been an extraordinary annual event for charity. The course is flat and fast with around 40,000 people taking part. Cheer on the runners from Greenwich, through the Docklands and The City and onto the finish line by Buckingham Palace.
Find out more
More dates for your diary
21 Apr – the Queen's birthday (this is her "real" birthday and not the public one we celebrate in June); 21 Apr – Feast of St George (Trafalgar Square festival for England's national day).
---
May
London Nights
Where & when: Museum of London; 11 May - 11 November
Nearest station: Barbican
This major photography exhibition takes visitors on a dramatic, nocturnal study of the capital. Fusing portraiture, documentary, conceptual photography and film, London Nights will reveal the city after dark through photographs ranging from the late 19th century to the present day.
Find out more

Museums at Night
Where & when: across the UK; 16-19 May
Museums at Night is an opportunity to visit lots of museums and galleries that stay open in the evenings across the long weekend. It's a social experience, where visitors can get involved, delve deeper into fascinating subjects and perhaps enjoy a cocktail or two with friends.
Find out more
Regent's Park Open Air Theatre
Where & when: Regent's Park; 17 May - 15 September
Nearest station: Baker Street
The 2018 season launches with the return of the Olivier Award-nominated production of "Peter Pan". Next is Shakespeare's romantic comedy, "As You Like It", and then "The Turn of the Screw", "Dinosaur World Live" for the kids, and the season completes with the mean green monster musical "Little Shop of Horrors".
Find out more
More dates for your diary
17 May – 19 Sep – Teeth (First major exhibition devoted to the history of teeth, at the Wellcome Collection); 22–26 May – RHS Chelsea Flower Show (Annual prestigious flower show).
---
June
Trooping the Colour
Where & when: Horse Guards Parade, 9 June
Nearest station: Green Park
For the Queen's official birthday she inspects the regiments of the British and Commonwealth armies in a traditional ceremony. Spectators watch her carriage go along The Mall as she leaves Buckingham Palace and returns afterwards, before she appears on the Palace balcony with family to see the fly past.
Find out more
Frida Kahlo's Wardrobe
Where & when: Victoria & Albert Museum; 16 June-4 November
Nearest station: South Kensington
The V&A will present the first exhibition to be held outside Mexico of Kahlo's clothing and personal possessions, including prosthetics, medicines, accessories, jewellery, photographs and letters. Experience a fresh perspective on Kahlo's compelling life story through her most intimate personal belongings.
Find out more
Michael Jackson: On the Wall
Where & when: National Portrait Gallery; 28 June-21 October
Nearest station: Leicester Square
This landmark exhibition will explore how Michael Jackson has inspired some of the leading names in contemporary art across several generations and all media. It's timed to coincide with what would have been Michael Jackson's 60th birthday (on 29 August).
Find out more

More dates for your diary
12 June - 19 Aug – Royal Academy of Art's 250th anniversary Summer Exhibition (annual exhibition, this year co-ordinated by Grayson Perry).
---
July
Summer Streets
Where & when: Regent Street, W1; Sundays in July
Nearest stations: Oxford Circus or Piccadilly Circus
The Summer Streets annual event sees this major shopping street free of all traffic on each Sunday throughout the month. Pedestrianised from Oxford Circus all the way to Piccadilly Circus, there are usually food markets and entertainment, plus shopping offers from the local stores.
Find out more
Wimbledon Lawn Tennis Championships
Where & when: All England Lawn Tennis Club; 2-15 July
Nearest station: Southfields
Strawberries, Pimm's, maybe the odd downpour - you know the drill. Every summer this corner of southwest London hosts the longest-running tennis tournament in the world, and one of four annual Grand Slam tennis events held around the globe. 
Find out more

Art Night
Where & when: between Southbank Centre, Nine Elms and Battersea; 7 July
London's largest free contemporary arts festival is returning to coincide with the Hayward Gallery's 5oth Anniversary this month. The 24-hour series of contemporary art events and new commissions can be seen at a range of exceptional sites including Battersea Power Station and New Covent Garden Market. Find out more
More dates for your diary
13 Jul onwards – The Proms (annual 8-week summer season of classical concerts); 6-14 Jul – British Summer Time (big-name acts perform open-air concerts in Hyde Park); 21 Jul - 30 Sep – Summer Opening of Buckingham Palace (visit the State Rooms while the Queen is away).
---
August

Kids Week
Where & when: London theatres; 1-31 August
For the whole of August, children aged 5-16 can go to any participating theatre show for free as long as they're accompanied by a full-paying adult. (Up to two extra child tickets are half price). There are free workshops, events, Q&As and backstage tours available too.
Find out more
Great British Beer Festival
Where & when: Olympia London; mid-August
Nearest station: Olympia
Are you ready for the biggest pub in London? Then this is place for you. It's an annual beer festival organised by CAMRA (Campaign for Real Ale). There are usually around 900 real ales, ciders, perries and fine English wines available.
Find out more
Notting Hill Carnival
Where & when: Notting Hill; 26-27 August
Nearest station: Ladbroke Grove/Notting Hill Gate/Westbourne Park
Europe's largest street party comes to west London every summer for the August Bank Holiday weekend. Sunday is Children's Day and Monday is the Grand Parade. Expect lots of mobile sound systems as the party goes on after the parade passes.
Find out more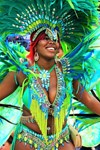 More dates for your diary
10 Aug – Iron Maiden at The O2 (London stop on the "Legacy Of The Beast" world tour).
---
September
Videogames
Where & when: Victoria & Albert Museum; 8 September, 2018 - 24 February, 2019
Nearest station: South Kensington
It's time to consider the complexity of videogames as one of the most important design fields of our time. This V&A show is investigating ground-breaking contemporary design work, creative and rebellious player communities and the political conversations that define this movement.
Find out more

Totally Thames
Where & when: along the route of the River Thames; 1–30 September 
This is a month-long season of arts, cultural and river events along the 42-mile stretch of the Thames. Expect boat parties, walking tours, contemporary installations, photo exhibitions, concerts and more. And all to celebrate London's river.
Find out more
Open House London
Where & when: across London; 22–23 September
During this annual weekend you can enjoy the world's largest architectural festival. Hundreds of fascinating buildings open their doors to the public for free for this special weekend event each year. It takes places in all London boroughs and includes private homes, workplaces and landmark buildings.
Find out more
More dates for your diary
Mid-Sep – BBC Proms in the Park (open-air classical concert in Hyde Park on closing night of the 2-month classical music festival); Sep – Exploration Wing at National Maritime Museum (four new permanent galleries opening: Pacific Encounters, Polar Worlds, Tudor and Stuart Seafarers and Sea Things); 25 Sep - 6 Jan, 2019 – Turner Prize (Exhibition at Tate Britain).
---
October

Mantegna and Bellini
Where & when: National Gallery; 1 October, 2018 - 27 January, 2019
Nearest station: Charing Cross
Explore the relationship between two of the greatest artists of the Italian Renaissance, Giovanni Bellini and Andrea Mantegna. Comprising major loans of paintings, drawings, and particularly sculpture, the exhibition compares the work of two pre-eminent artists who also happened to be related by marriage.
Find out more

Hyundai Commission
Where & when: Tate Modern; 2 October, 2018 - 30 March, 2019
Nearest station: Southwark
The annual Hyundai Commission is a series of site-specific installations by contemporary artists in Tate Modern's iconic Turbine Hall. It'll be something that makes the most of the huge space and we all get to enjoy it for free.
Find out more
Burne-Jones
Where & when: Tate Britain; 17 October, 2018 - 24 February, 2019
Nearest station: Pimlico
The last, and arguably the most romantic, of the Pre-Raphaelites. This exhibition showcases 150 of his works from painting and stained glass to tapestry. It's London's first comprehensive retrospective of Edward Burne-Jones's work for over 40 years.
Find out more
More dates for your diary
4 Oct - 3 Mar, 2019 – Living with Buildings: Health and Architecture (Wellcome Collection will examine ways in which architecture and the built environment interact with our health and wellbeing); 11 Oct - 13 Jan, 2019 – Anni Albers (First major museum exhibition in the UK this century on one of the world's leading textile artists and a significant figure at the Bauhaus).
---
November
Lord Mayor's Show
Where & when: City of London; 10 November
Nearest station: Mansion House/Bank
Since 1215 every newly elected Lord Mayor of the City of London has to travel through the streets to swear loyalty to the Crown. This is a classic piece of British pageantry. The day begins with a river procession and ends with a fireworks show over The Thames.
Find out more
Christmas at Kew
Where & when: Royal Botanic Gardens, Kew; November, 2018 - early January, 2019
Nearest station: Kew Gardens
Here's a fantastic reason to visit the Royal Botanical Gardens in the evening. It's a 2km trail with stunning illuminations. Previous years have included singing trees, light tunnels, a fire garden and sparkling flowers.
Find out more

Hogwarts in the Snow
Where & when: Warner Bros Studio Tour; November, 2018 – February, 2019
Nearest station: Watford Junction
The Warner Bros Studio Tour's annual festive makeover means Christmas trees lining the Great Hall as you enter. The Gryffindor common room is decorated for the season and the finale is a blanket of snow covering the majestic Hogwarts castle model.
Find out more
More dates for your diary
Nov–Dec – Panto season (See female "lead boys" and male "dames" in festive family theatre shows); Nov–Jan – Winter Wonderland (Festive fun in Hyde Park with fairground rides, shows, shopping, etc); 5 Nov – 10 Feb – Lorenzo Lotto: Portraits (National Gallery exhibition on one of the greatest portraitists of the Italian Renaissance); 9 Nov – 28 Apr, 2019 – Russia: Royalty & the Romanov and Shadows of War: Roger Fenton's Photographs of the Crimea, 1855 (Queen's Gallery exhibitions); Nov-Jan – Geffrye Museum Christmas Past (authentic festive decorations in the museum's period living rooms); Nov–Jan – Ice rinks across London; Nov–Jan, 2019 – Christmas lights go on across London.
---
December 

Nutcracker Ballet
Where & when: London Coliseum; December, 2018 - January, 2019
Nearest station: Leicester Square
Every Christmas, the English National Ballet perform "The Nutcracker" at the London Coliseum. Over 100 dancers and musicians bring the story to life with beautiful sets and Tchaikovsky's glorious score played live.
Find out more
Trafalgar Square Christmas Tree Lighting
Where & when: Trafalgar Square; 6 December, 2018
Nearest station: Charing Cross
While the Christmas lights go on across London during November, on the first Thursday in December there's a small ceremony to switch on the lights of the Trafalgar Square Christmas tree. There's then carol singing around the tree most nights before Christmas Day.
Find out more
Peter Pan Cup
Where & when: Serpentine Lake, Hyde Park; 25 December, 2018
Nearest station: South Kensington/Knightsbridge
Members of the Serpentine Swimming Club meet on Christmas Day to compete in the annual 100-yard race on the south bank of the lake. It's happened since 1864 and the Peter Pan author JM Barrie donated the cup in 1904. Spectators are welcome.
Find out more
More dates for your diary
Mid-Dec – London International Horse Show (annual equestrian event at Olympia); Dec – Charles Dickens Museum (the Museum is dressed for the festive season throughout).
---
London 2018 at a glance
Keep all the year's crucial dates in view at all times! Click on the infographic below, print and stick to your fridge!

---
Need somewhere to stay in the capital? Check our latest deals on London hotels
---
Laura Porter writes AboutLondonLaura.com and contributes to many other publications while maintaining an impressive afternoon tea addiction. You can find Laura on Twitter as @AboutLondon and on Facebook as @AboutLondonLaura