Thailand Island Hopping: Complete Itinerary & Tips

Covid-19 measures can lead to the cancellation of events, temporary or permanent closure of venues, and restrictions on activities and travel. The situation changes regularly, so always check for the latest information.
Thailand is the perfect destination for island-hopping adventures. Whether you're seeking luxury spas, world-class diving sites, treks to jungle waterfalls, historic temples, or deserted beaches, each island offers something different to experience.
And thanks to a network of ferries, speedboats, and long-tail boats, you can easily get around an entire archipelago, or just enjoy the contrasting pace of life on a couple of islands.
Here's guide to island hopping in Thailand, with tips on where to go and how to get around — we've divided it into three main island groups so you can easily plan a trip to remember.
Andaman Islands (West Coast)
Best island for luxury: Phuket
Thailand's largest island offers something for all tastes, but if you're seeking a bit of luxury on your island hop, it's the perfect destination. Phuket has 5-star hotels, Michelin-recommended restaurants, blissful spas, and designer boutiques aplenty. There are some excellent beaches to relax on, including popular Kata and Karon, and quieter Kata Noi, Nai Thon, and Surin. Head to Phuket Town to satisfy cultural cravings — you can eat your way around the food markets, visit museums, and admire the Sino-Portuguese architecture.
Island-hopping tip: Begin your Andaman adventure by flying into Phuket. When it's time to move on, catch a bus north to Khao Lak from Phuket Town (90 minutes), then take a trip out to the Similan Islands.
Best island for marine life: Similan Islands National Park
Turquoise sea, white-sand beaches fringed by large chunks of granite, and lush green jungle make this archipelago 60 kilometres off the west coast an idyllic spot. While overnight stays are currently banned on the islands to help preserve their beauty, day trips are your best option. It's also a world-class diving area, with a fantastic array of sea life, including sharks, turtles, rays, barracuda, and parrotfish. You can take a liveaboard diving trip from Khao Lak. The national park is closed from mid-May to mid-October for monsoon season.

Island-hopping tip: You can venture further north from Khao Lak to Khuraburi (hire a car or take a taxi), then take a day trip out to Koh Ra. Covered in pristine rainforest, it's one of the best islands in Thailand for birdwatching. From Khuraburi a combination of bus and taxi will get you back to Phuket in about three hours.
Best islands for day trips: Ao Phang-Nga National Park
The best way to reach this wonderland of karst limestone islands in Phang Nga Bay is on a tour from nearby Phuket. These usually include a visit to Koh Khao Phing Kan, also known as James Bond Island, thanks to its appearance in the 1974 film "The Man with The Golden Gun". There are many kayaking tours available, allowing you to get up close to the islands.

Island-hopping tip: On returning to Phuket from Ao Phang-Nga, continue your island hop by catching a ferry from Bang Rong Pier to Koh Yao (30 minutes).
Best islands for getting off the beaten track: Koh Yao
Koh Yao Noi and Koh Yao Yai offer a much more chilled-out alternative to Phuket. These two islands are home to sleepy fishing villages, jungle, rice paddies, mangroves, and rubber plantations. You can hire a bike, moped, or kayak to hunt out near-deserted beaches; drop in at seaside restaurants to sip iced tea and feast on fresh fish; and listen out for the call of hornbills.
Island-hopping tip: Catch a speedboat from Koh Yao Yai to Railay Beach near Krabi on the mainland (about 30 minutes), from where you can take the 90-minute ferry ride to the Phi Phi islands.
Best islands for solo travellers: Phi Phi islands
If you're a solo traveller looking for plenty of things to do and people to meet, head to the Phi Phi islands. The largest, Koh Phi Phi Don, offers diving, snorkelling, and boat trips, while at night you can head to beach bars and restaurants, watch fire juggling displays, and party into the small hours. The islands have movie-star looks thanks to turquoise sea, dramatic cliffs, and white-sand beaches. Koh Phi Phi Don has one of Thailand's most famous views — climb a hill to look out over the narrow isthmus connecting the two parts of the island. Maya Bay, on neighbouring Koh Phi Phi Leh, was the main location for the Leonardo DiCaprio film "The Beach".

Island-hopping tip: Looking for somewhere quieter after the Phi Phi islands? It's a 30-minute ferry journey across to the island of Koh Jum.
Best island for tranquillity: Koh Jum
On Koh Jum you'll find tree-lined beaches, wooden bungalows, a few restaurants and bars, and very little else. Throw your towel down on the perfectly named Sunset Beach, Magic Beach, or Secret Beach and you won't have to compete for space. Just bring a good book and enjoy the fact that the island's power is switched off at 11pm.

Island-hopping tip: Jump back on the ferry and continue your journey south to Koh Lanta, just 15 minutes away.
Best islands for exploration: Koh Lanta
Koh Lanta's two main islands — Koh Lanta Noi and Koh Lanta Yai — offer pretty much something for everyone, whether it's swanky resorts, peaceful fishing villages, quiet beaches with shallow water for kids, or lively beach bars. Hire a moped to discover temples, mosques, coves, mountains, nature reserves, markets, and jungle.

Island-hopping tip: From Koh Lanta, ferries head south to the small islands of the Trang archipelago, stopping at Koh Ngai, Koh Kradan, and Koh Muk — all worth a stop for their crystal-clear waters, powdery sands, and coral reefs. The ferry then continues to Hat Yao Pier on the mainland, from where it's a 2-hour sailing to Koh Lipe.
Best island for beaches and honeymoons: Koh Lipe
Koh Lipe, an L-shaped island measuring just three kilometres at its longest, is part of the Koh Tarutao Marine National Park in the far south of Thailand. Koh Lipe has arguably some of Thailand's most beautiful beaches, including some secluded coves, plus there are luxurious resorts and spas, cute beach bungalows, and plenty of bars, restaurants, and shops. The national park has 51 islands, and you can take an excursion to nearby Koh Adang for quiet beaches, and hikes to waterfalls and viewpoints, or head by speedboat to mountainous Koh Tarutao, which receives few visitors and is a great place to get away from it all for a day or two.

Island-hopping tip: If you're not heading back to mainland Thailand, take a cross-border ferry ride to the attractive Malaysian island of Langkawi, which also has the closest airport to Koh Lipe.
Chumphon Archipelago (Southern Gulf of Thailand)
Best island for families: Koh Samui
Unlike much of Thailand, Koh Samui's rainy season does not coincide with UK school summer holidays, so it's an ideal family destination. The island also has accommodation to suit all budgets, including family-friendly resorts that offer childcare, so parents can get some relaxation time — perhaps to spend in one of the island's many excellent spas. Koh Samui offers an easy introduction to Thailand, with Western food and good shopping opportunities on offer, while there are plenty of beaches with calm waters, including Maenam and Bophut. There's plenty to see and do for all ages, including watersports, jungle hikes to waterfalls, and attractions like Wat Plai Laem temple, Samui Elephant Sanctuary, and the Big Buddha.

Island-hopping tip: Koh Samui's airport is served by regular flights from Bangkok, so there's no need to travel to and from the archipelago by boat from the mainland.
Best islands for wildlife and camping: Ang Thong Marine National Park
A collection of 42 small islands, this national park is popular among day trippers from Koh Samui thanks to coral reefs, white-sand beaches, limestone caves, and some great hilltop panoramas. So why not stay on when everyone else has left? You can hire a tent from the national park office (there are some bungalows to rent, too), and because there's no power after 11pm, there's little to do except doze off to the sounds of the wildlife — the lush rainforest is home to macaques, leopard cats, monitor lizards, pythons, and much more.

Island-hopping tip: You can organise a tour from Koh Samui or Koh Phangan. If you're planning on staying overnight, arrange with the organiser to take your return journey with the next day's tour.
Best island for partying... and recovery: Koh Phangan
Full moon, half moon, black moon — there's a party at Koh Phangan's Haad Rin just about every week. But even when there aren't thousands of people dancing on the beach all night, the resort remains lively thanks to its many bars. Away from that little corner of the island, there are many ways to reset mind and body, including spas, meditation centres, and jungle hikes to remote temples. Alternatively, just take a long-tail boat to a secluded beach like Bottle Beach or Haad Wai Nam and flop in a hammock.

Island-hopping tip: Koh Phangan is the closest main island in the archipelago to Koh Samui, and there are regular ferries linking the two (ranging from 30-90 minutes' journey time). From Koh Phangan, there are several daily ferries north to Koh Tao (taking 1-2 hours, depending on the company).
Best island for learning to scuba dive: Koh Tao
Smaller than Koh Samui and Koh Phangan, Koh Tao offers fine beaches, accommodation from budget beach huts to luxurious resorts, and plenty of nightlife. But scuba diving is the big draw here, with dive sites home to sea life including barracuda, scorpionfish, clownfish, corals, turtles, and whale sharks, plus plenty of underwater pinnacles, swim-throughs, caves, and canyons to explore. All levels of diver are catered for, and it's a great place to learn as competition between operators keeps course prices down.

Island-hopping tip: If you're travelling north from Koh Tao towards Bangkok, ferries connect the island with Chumphon on the mainland (90 minutes), saving you having to go back to Samui Airport.
Eastern Gulf of Thailand
Best island for watersports: Koh Samet
Koh Samet is a popular getaway for Bangkok residents. The narrow island is only six kilometres in length, but packs a lot in, including resorts, bungalows, bars, and restaurants, while opportunities abound to go kayaking, paddleboarding, windsurfing, diving, and snorkelling, or take boat trips to nearby small islands. Koh Samet can get busy, so book accommodation in advance if possible.

Island-hopping tip: To reach Koh Samet from Bangkok, take a bus to Ban Phe port (four hours) to catch the ferry across. Moving on from Koh Samet, take a minibus from Ban Phe to Trat (around four hours), from where you can take a taxi (20 minutes) to the ferry terminal for the half-hour crossing to Koh Chang.
Best island for jungle treks: Koh Chang
Close to the Cambodian border, the Koh Chang archipelago contains Thailand's most easterly islands. Koh Chang, the largest, has been dubbed "Thailand in miniature" by Condé Nast Traveller, and attracts package tourists and independent travellers alike. The west coast has great beaches like White Sand Beach and Klong Prao, while the island's mountainous interior is covered with lush rainforest — there are many guided treks available that take you to waterfalls and viewpoints.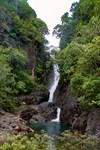 Island-hopping tip: From Koh Chang you can take a speedboat or ferry to little Koh Mak — Ao Soun Yai beach is a perfect stop for its sunsets and shallow waters. From Koh Mak, you can catch a boat on to Koh Kood.
Best island for romantic escapes: Koh Kood
With its soft white sands, clear waters, and inland waterfalls, Koh Kood is the last island in the chain. Much less developed than Koh Chang, it's perfect for independent travellers and couples looking for beautiful beaches and a relaxed pace. There's everything from upmarket resorts to guesthouses and wooden bungalows, plus bars, coffee shops, and restaurants (if you love seafood, head to the east coast fishing village of Ao Yai), while treks through coconut plantations and jungle are rewarded with cooling waterfalls like Nam Tok Khlong Chao, with its big natural pool.

Island-hopping tip: You can take a ferry from Ao Salad pier to Laem Sok on the mainland. Nearby Trat has an airport for flights to Bangkok, or you can continue overland to Siem Reap in Cambodia.
Further reading
Services for travellers can close and ferries cancelled due to the rainy season. To find out the best time to visit Thailand's islands, read our guide.
You can also learn more about travelling around Thailand with our Ultimate Thailand Guide, read our guide to Thailand's best islands, or get some tips for independent travel with our Thailand backpacking guide.
And if you're feeling inspired, find that perfect break with our collection of Thailand holidays.
Nick Elvin contributed to this post.