Infographic: Eye-Watering Stats about Brunch in Dubai

Brunch is a big deal in Dubai. We're not talking about an 11am bacon sarnie with a quick cuppa. Oh no. As Danae Mercer explains in this piece, "Dubai brunches are like epic feasts, amazing parties and endless entertainment extravanganzas all rolled together, dipped in chocolate and served up with fireworks on a massive plate."
Just to give you an insight into what these indulgent celebrations are like, we've put together an infographic with some key stats. Click on the image to launch the full-size version: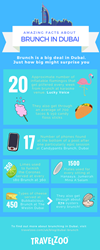 ---
Find out more about the best brunches in Dubai. Then find a deal to Dubai, or visit another emirate, in our Dubai holidays and Middle East holidays pages.
Or, if you want to know more about Dubai, read our:
Mind-blowing facts about how Dubai's the Palm was built
VIP style in Dubai
48 hours in Dubai
The questions about Dubai you've always wanted to ask
See why Dubai is on the list of the world's most scenic road trips