Britain's 10 Best Bakes & Where to Find Them
We decided to celebrate the very British tradition of producing top-quality cakes, pies and puds by putting together a map featuring the nation's top 10 favourite sweet treats. In the graphic below (click to enlarge) you'll find a selection of iconic dishes and the places in which they were invented. Then, for anyone who feels inspired to follow their sweet tooth, we've put together a list of the best locations, tea shops and villages in which to try them. You're welcome!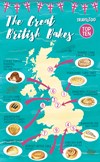 1. Yorkshire Curd Tart, Yorkshire
It's only right that the top spot on our list hails from the county of "Bake Off" winner Nadiya Hussain. This speciality tart from Yorkshire is a variation on the cheesecake – it uses fresh curd and is also filled with currants and egg.
Where to try it: There are branches of Bettys Tea Rooms throughout Yorkshire, but the iconic Harrogate venue (just west of York) is where it all started – and they happen to bake an exceptional Yorkshire curd tart.
Where to stay: See our latest deals for hotel breaks in Yorkshire.
While in York: Visit York Minster, one of the largest cathedrals in northern Europe, and walk along The Shambles, York's most famous street, which has buildings dating back to the 14th century.
2. Bakewell Pudding, Bakewell, Derbyshire 
The Bakewell Pudding was allegedly the result of a simple cooking mistake, but the pudding went down so well that it became a dessert in its own right.
Where to try it: The quaint town that gave the pudding its name is in Derbyshire's Peak District and the Bakewell Pudding Shop is the perfect place at which to try this British favourite.
Where to stay: See our latest deals for hotel breaks in the Midlands.
While in Bakewell: Take a step back in time with a visit to nearby stately home Chatsworth House.
3. Eccles Cake, Eccles, Salford, Greater Manchester
We're sure "Bake Off" finalist Tamal Ray is a fan of his local bake. The Eccles cake – also known as a squashed fly cake (although that doesn't sound as appealing) – is a little round cake from Manchester, made from flaky pastry filled with currants. So, technically, it isn't really a 'cake' at all, but that's a conversation for another time.
Where to try it: For the best Eccles cake around visit Ward's Bakery.
Where to stay: See our latest deals for hotel breaks in Manchester.
While in Eccles: Spend the evening at the nearby Quays relaxing in one of the waterside bars.
4. Chelsea Bun, Chelsea, London
Buns were one of the final challenges on this series of "The Great British Bake Off" final so we couldn't leave them off our list. According to an old tale, over 50,000 people queued up to try the Chelsea bun when it was first created by the Old Chelsea Bun House in the 18th century.
Where to try it: Make sure you visit Megan's Deli on the King's Road for the unique blueberry version.
Where to stay: See our latest deals on hotel breaks in London.
While in Chelsea: Once you've had your fill of buns, put your oversized sunglasses on and stroll down the King's Road – after brunch, pop in and out of the boutiques, and finish your day dining in style at one of the many restaurants, pubs and bars.
5. Banoffee Pie, Eastbourne, East Sussex
Although believed by many to have originated in America, banoffee pie was actually invented at The Hungry Monk restaurant in Eastbourne in 1972.
Where to try it: The Hungry Monk no longer exists, but there are plenty of other places to try banoffee pie - we suggest renowned local gem The Dolphin.
Where to stay: See our latest deals on hotel stays along the south coast and beyond.
While in Eastbourne: Walk along the chalk cliffs of Beachy Head for stunning views and peace and quiet or, for the quintessential British seaside experience, take a stroll along Eastbourne Pier.
6.  Sticky Toffee Pudding, the Lake Distr­ict, Cumbria
A few countries have tried to claim sticky toffee pudding as their own, but it was in fact created in the Sharrow Bay hotel in Cumbria.
Where to try it: We recommend either the restaurant at the Sharrow Bay, or the self-styled "Home of Sticky Toffee", the Cartmel Village Shop.
Where to stay: Check out our latest deals on hotels in Cumbria and the Lake District.
While in Cumbria: No trip to the Lakes would be complete without a cruise on Windermere - and if you find yourself in Cartmel, why not try a Segway tour?
7. Cornish Split, Cornwall
If you order a cream tea in Cornwall, you can expect it to be served with "splits" instead of scones – don't worry, scone fans, these semi-sweet bread rolls are equally yummy.
Where to try it: It's very hard to find a Cornish split outside of Cornwall – make sure you visit Berrymans in Redruth for this treat if you're down in the West Country.
Where to stay: See our latest deals on hotels in Cornwall.
While in Cornwall: There's plenty to do in Cornwall beyond eating cream teas. Head to Newquay to surf the waves or spend a day at the Eden Project, the world's largest indoor rainforest.
8. Aberffraw Biscuits, Aberffraw, Wales
The recipe for Aberffraw biscuits, also known as Aberffraw cakes, is said to date back to the 13th century, making it Britain's oldest biscuit recipe.
Where to try it: The Welsh village of Aberffraw is near the coast, on the Isle of Anglesey. There are plenty of cafés in the area – we recommend finding one with a sea view to take in while tucking into these sweet treats.
Where to stay: See our latest deals on hotels in Wales.
While in Aberffraw: Why not visit Snowdonia? It's only a 30-minute drive from Aberffraw and will give you plenty of opportunity to walk, jog or cycle off all those Aberffraw calories.
9. Dorset Apple Cake, Dorset
Dorset apple cake is the perfect winter treat, as it uses local apples to create a warm and comforting bake.
Where to try it: The Walnut Tree Gallery in Sixpenny Handley, Dorset.
Where to stay: See our latest deals on hotel stays in the southwest.
While in Dorset: Explore the windswept beauty of the Jurassic Coast - Durdle Door's iconic limestone arch is a must-see after hunting for fossils and enjoying the many cliff-top walks.
10. Dundee Cake, Dundee, Scotland
Dundee cake is a traditional Scottish fruit cake, often made with currants and almonds, and dates back to the 19th century.
Where to try it: Visit T Ann Cake, where the cakes and tarts are baked from scratch every morning (and afternoon if they're having a busy day).
Where to stay: Check out our latest deals on hotel stays in Scotland.
While in Dundee: Spend your morning checking out the art at the McManus Galleries, before taking a step back in time at Broughty Castle.
---