Long-haul travel guide and advice from the deal experts

Our deal experts never stop talking about where we've been or where we're headed next. So we thought we'd put these discussions to good use and share some of our advice for how (and why) to travel long-haul.
When we asked what long-haul destinations people preferred, we got a mix of specific spots and broader advice:
Rob:  I absolutely loved the Philippines — you can pick the right island based on what sort of thing you like, Palawan is my favourite!
Sara:  Southeast Asia and sub-Saharan Africa. I've found Asian airlines tend to have good pricing, better food, more leg room, and nicer service. Once you're in most parts of Southeast Asia, you can have quite the fancy time for way less than it would cost most other places. Flights to sub-Saharan Africa tend to be on the dearer side, but the experiences you'll have there can't be replicated anywhere else.
Daniel:  I prefer a destination that offers a combination of activities and downtime on a beach, anywhere offering an escape and vitamin-D top up during gloomy European winters. Somewhere like Mauritius, which has Hindu temples, waterfalls, ziplining, snorkelling, and just beach time. A safari/beach combo, like Kruger and Cape Town or Tanzania and Kenya with Zanzibar, can't be beat. And there's always a tango to be had in Buenos Aires, followed by a samba along the sands of Ipanema. South America is great for the city treats with some relaxing in between.
Amy:  Ideally somewhere off the beaten track. Great beaches, guaranteed sunshine, and a splash of culture. If there's no mobile reception, then that's ideal! Some of the less-well-known destinations, such as Guatemala or the islands off the coast of Kenya, offer a culture-rich long-haul experience without the price tag or crowds of the more popular resorts.
Jen:  I go back to Canada to see family and America as you can get cheap flights, so it's a good way to go on holiday with friends and family from North America.
Nick:  New Zealand, Fiji, Singapore, Dallas/Austin — NZ mostly for family reasons but also because they are great places with different cultures and experiences. Fiji is special: the people are the friendliest on Earth and if you get off the mainland and into the Islands like the Yasawas, then you have some of the best waters in the world. Singapore because I love the mix of Eastern and Western cultures, it's impeccably clean, and a world-class city to visit. And Texas…the complete contrast of the cosmopolitan Dallas with Austin and its laid-back hippy vibe, outdoor lifestyle, and abundance of live music, good food, and swimming holes (check out Jacob's Well and Hamilton Pool) make Austin my favourite city in the world.
And what about the dreaded jet lag on all these long-haul flights? Turns out flying one way is better than flying the other!
Jen:  Try to push through it but in all honesty, I would love to know if anyone has tips! I suffer horribly with insomnia going east but going west I am fine.
Amy:  Try to get some shut-eye on the plane, and adjust to the local times as much as possible straight after landing. 
Nick:  Apparently jet lag is less if you fly west. If you fly east it hits you harder so maybe there is something in that?
Daniel:  It does happen travelling eastbound either way, flying  in a flat bed mitigates the effect (see next question).
Rob:  Just try and stay up as long as I can, try and find something stimulating but not too strenuous when you arrive.
Sara:  If I land in the AM I find it's much better to take what my friend calls the shark approach. Don't stop moving, for anything, until it's at least 6pm. Then eat dinner and pass out. If I arrive at night, I try to go to sleep asap and wake up on local time. Even though I rarely actually do it, a quick run or trip to the gym can do wonders to shake off the tin-can vibes. Eating at local hours makes a huge difference, too. Sometimes  you have to drink a few beers to stay up to the right hour, but we all make sacrifices.
Speaking of beers... to booze, or not to booze? It may be nobler to refrain, but some prefer to take up a G&T.
Jen:  Never on long-haul! I only drink water during those flights — the worst thing is dealing with any form of jet lag and a hangover.
Amy:  Always! Gin and tonic on tap definitely helps with the plane snooze, although blend with some non-alcoholic drinks to avoid the awful post-flight dehydration. 
Nick (who first asked if this was a trick question):  I start every flight with two Bacardi and cokes, which is my ritual, and it gets me in a super chill mood to then get into the movie selection.
Daniel:  Within reason it is fine on a long flight, a glass of fizz or wine with the main course is OK. Generally, however, it is best to avoid alcohol, as it dehydrates the body (as do coffee and tea) when the air within the aircraft is dry anyway…avoiding alcohol also helps to reduce the effect of jet lag.
Sara:  Go for it, just make sure you drink loads of water (that includes tonic water. What you may or may not choose to mix with it is none of my business). Flying dehydrates you anyway and a jet-lagged hangover can be most unpleasant indeed. That having been said, sometimes you find yourself enjoying a few tipples and before you know it, you're landing!
Rob: You can booze, just make sure you match it with water — I drink a few G&Ts as I go, but drink around half a litre of water an hour.
And how do you soak up all the alcohol then? Turns out we're not all enchanted by onboard dining...
Rob:  I'm a fairly fussy eater, but have always found something decent enough to eat, that being said, it depends from airline to airline (US airlines are generally the worst) and I'd always bring some sandwiches and snacks with me anyway!
Sara:  I rather enjoy eating on most Asian airlines. Many of them have a load of pot noodles in the back so even if you're hungry when there is no service, you can still have a snack.
Daniel:  Depends on the airline and booking class really, if flying economy it's worth to stock up with a bottle of water and some snacks in transit before departure (can nibble on these on board, and helps if food is less than tasty).
Nick:  I actually really enjoy plane food. I only fly Singapore or Emirates long-haul typically so the food isn't too bad.
Amy:  It's all pretty grim. A pre-plane snack run for an abundance of snacks in the carry-on bag is a must.
Jen:  I tend to not eat plane food! I will usually eat something at the airport and bring a snack if it's a very long flight.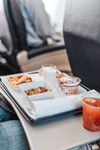 ...unless it's not in the economy cabin. So, should you stump for an upgrade?
Rob:  Depends on the price, but there are some really great premium economy fares out there and I'd definitely look to upgrade a flight of longer than six hours, particularly if you can get the upgrade for a couple of hundred quid.
Sara:  Maybe I should keep this under my hat, but Virgin has one of the best airmiles options — you can get their credit card (although it's got an absurdly high interest rate, so pay it off) and earn loads of points. If you fly their routes often, you'll gain even more. I've gotten Upper Class several times for under £600 plus miles (less than the basic economy fare on the same route!). A lot of the airlines based in SE asia: Thai, EVA, Singapore Airlines, Korean Air, Vietnam Airlines, are quite a lot more comfortable than EU and NA carriers, so for those I don't feel like it's necessary. However, their economy fares tend to be a lot less than what it costs to fly to America so if you did upgrade, you may find yourself paying a simliar price for premium economy or business class as you might to fly economy to the Americas.
Daniel:  Yes, much more relaxing experience at the airport (separate check-in, fast-track security, chill in the lounge with catering) and onboard (smaller cabin, better food, seat can be turned into flat bed, privacy). First off the plane can beat queues at immigration.
Nick:  It's too much of a price increase so while I'd love to, I don't think the price increase is worth it when economy on a good airline is pretty comfortable as it is.
Amy:  Not with my short legs! The incremental cost seems too high for the scale of the extra perks. 
Jen:  It is if the price is right; I wouldn't pay £1000s extra but if it was max £500 more I would consider it and I do think it's worth it.
What three things do you always travel with? Daniel wins this round:
Daniel:  Passport, credit cards, phone — the rest is fluff.
Rob: Laptop/tablet with my own choice of films/programs on it, as many adaptors and multi-plugs as I can find, and some ibuprofen or paracetamol. You don't know how difficult or expensive it might be to get at the other end!
Sara:  Refillable water bottles, eye drops; I almost always travel in a long, loose skirt or dress (with pockets) and trainers. It's easy to adjust to two different climates and it's comfortable to sleep in. But, realisitcally, Daniel's answer is spot on.
Nick:  My own headphones, my wive, and my son.
Amy:  A neck pillow, a good book, and the aforementioned plethora of snacks! 
Jen:  Phone and charger with movies/podcasts, AirPods (the noise cancellation is great if you want to block out the sound of passengers), and skin products, in particular beauty flash balm, hand lotion, and lip balm. My skin gets very dry and a little bit of that and I look fresh when I land.

What other tips and advice about long-haul trips would you offer people looking to travel on a multi-centre, an escorted tour, an Indian Ocean beach break, a Caribbean or Mexico holiday, or a safari?
Amy:  Always look for homestays, house swaps, campsites, and lodges as an interesting alternative to regular hotels. They often provide a better location, a nicer insight into local culture, and can be a great source of meeting new people, especially when travelling solo. 
Nick:  If you have stopovers, finding a route where your stopover is in a good airport, eg, Dubai or Singapore makes a big difference. Nothing worse than a 4-hour stopover somewhere like LAX, where there is nothing to do.
Rob:  I generally try and pick an aisle seat towards the back of the plane — people generally don't like those seats as much as others so you increase your chance of getting the magic empty middle seat — this will increase your comfort more than anything else!
Daniel:  Anywhere with relatively reliable infrastructure is on, it is reassuring to know there's sufficient healthcare within reasonable distance if needed (that's the time and age we live in at the moment). Personally, I'd still avoid truly remote places for now.