All you need to know about brunch in Dubai

Planning a Dubai holiday? Then there's one weekend activity you'll definitely want to book: a proper, full-on, bells-and-whistles, all-you-can-consume brunch.
Whether you're after caviar and oysters or family-friendly, day-long feasts, Dubai has a brunch for just about everything. Travel journalist Danae Mercer reveals what you need to know before booking one of the most over-the-top meals out there.
What is a Dubai brunch like?
In a sentence, Dubai brunches are like epic feasts, amazing parties and endless entertainment extravanganzas all rolled together, dipped in chocolate and served up with fireworks on a massive plate.
"This isn't for the faint-hearted," explains Dubai food Instagrammer Naim Elie Safi of EatingWithN. "Brunching in Dubai is famous for great food, lively atmosphere and beautiful people."
At their core, brunches are merry Friday events focused on food. Heaping, overwhelming, decadent piles of food. They typically run noon to 4pm and come with sizeable price tags.
Drinks also play a part. "Be warned that brunching is boozy - and that's what makes it all the more fun," says Safi. "It's the definition of partying from morning 'till night."
"It's a Dubai institution," agrees Haiya Tarik, Dubai blogger at Pass Me The Dimsum. "Friday brunches are so popular that I tell visitors they simply have not experienced Dubai if they haven't done a Dubai brunch."
Accompanying the food and drink is a lot of live entertainment. "In some cases these are big party brunches with live music or a DJ where guests are encouraged to dance," says Samantha Wood of Dubai restaurant review website Foodiva. At China Grill's boisterous Toy Brunch, staff wear costumes while music thumps. "The City Brunch at The Westin has a cabaret dancer performing in giant faux wine glasses," says Tarik.
"This concept is a far cry from a typical New York brunch," Wood adds. "In Dubai, it's an all singing and dancing weekend affair."
"It pretty much takes up the whole of your day."
So which Dubai brunch should you try?
There are hundreds of Dubai brunches and they change all the time, as venues battle to top one another via the cleverest themes, the wildest entertainment or the best oyster-caviar-gold combo.
WhatsOn, TimeOut and LovinDubai all have updates on the latest brunching options. Before booking anything, double-check with your hotel.
Here are some Dubai brunches we'd recommend.
When: Friday
Why: If you want truly, properly over-the-top, you've got it. This upmarket brunch spans three restaurants and includes 10 live cooking stations. A high-heeled crowd sips glasses of bubbly (which never run dry) while acrobats balancing on balls try to juggle, even as live musicians belt out popular songs and bartenders serve drinks-filled watermelons.

If it sounds a bit overwhelming, it is. But that's the joy of something like Bubbalicious, where chocolate-dipped candies, oysters, nachos and a full English roast can be had at once.
See also: The ultra-luxurious brunch at Jumeirah Al Qasr.
When: Friday
Why: A chilled, al-fresco affair, this hipster-friendly brunch has a much calmer vibe than some of Dubai's more salacious offerings. It's hosted at the urban-chic Vida Downtown (think bicycles for guests, exposed brick) and the entire menu is highly Instagrammable.

Exact picnic themes vary depending on the time of year — until the end of October, there's a London food focus, complete with an oyster card, live food and drink "tube stations", fish and chips, and plenty of "botanical concoctions". You can grab a picnic basket and carry food to the table — or for an extra $27, to your private pool cabana.
See also: La Cantine du Faubourg - where Dubai's chic and sophisticated go to brunch.
When: Friday
Why: Go here for the venue alone. The mosaic floors and grand marble columns of the Palazzo's entrance give way to vibrant palm tree wallpaper in pops of green and pink.

You can bounce between four live cooking stations, a faloodeh nitrogen station, and an ice-cream cart, then dive into the 500 oysters that are served here each weekend. When you're done, you get access to one of the Palazzo's three pools.
See also: The refined Sea Fu brunch with Asian seafood served table-side at Four Seasons Dubai.
How much do brunches cost
"All brunches come in three different packages: the non-alcoholic, the alcoholic and then ones with bubbles," says Tarik.
Prices range from $50 up to $200 depending on the package and venue.
The most expensive options tend to be some of the biggest brunches (like Bubbalicious and Jumeirah Al Qasr — see above). With all-you-can-drink champagne packages, the price tags shoot sky high.
Don't like buffets?
Don't worry. More and more brunches are offering à la carte options to cut down on excess and up the classy vibes.
"The options are still bottomless, but everything is made to order," says Tarik.
"My favourite is at Play. It's led by Reif Othman, whose other restaurant, The Experience, would easily be in the running for a Michelin star if Dubai were considered for Michelin stars."
Fans who prefer things a little more raw can head to Dubai's Asian institutions, Okku (below) or Nobu. Both famed Japanese venues serve decadent à la carte brunches in dimly lit settings with oriental touches.
What should you wear?
Where brunch is concerned, feel free to get fancy. High heels, smart shirts, crisp blazers and sassy dresses are all perfectly acceptable attire.
"Don't forget to dress up," says Sana Chikhalia of Sana On Food. Dubai blogger Sai Maricel Mansano of TheSandGypsy agrees. "A cute flowing dress that  provides comfort and allows mobility, along with a cute wedge or comfy heels is perfect for brunch."
For men, trousers and a shirt is fine.
Can you brunch with kids?
In brief, this depends on the brunch.
UAE Instagrammer Nina Ali of LipstickMommy calls brunching one of her favourite things to do in Dubai. "It's a time to get the family together while we eat a variety of foods. The kids are entertained afterwards with activities."
But it's important to make your choice wisely. "While many Dubai brunches claim to be family friendly, we all have different definitions," explains Helen Farmer of Dubai's The Mothership.
"Things can range from a full children's buffet, games room and entertainment to a rather sad looking clown or a bowl of chips masquerading as a kids' menu."
Keep a cautious eye on the big brunches. These popular venues will have something for tiny pallets — but they might also attract a rowdy, grape-fuelled crowd.
Farmer recommends Fume in Pier 7. "There's a 'pen' for younger children and healthy options," she says. At Fairmont The Palm's brunch, children get access to the kids' club.
Or try Mazina's Saturday superhero brunch in The Address Dubai Marina. "With bouncy castles, Wii stations, face painting and a price for the best costume, they will have the time of their lives."
"There's a good chance you won't see your kids for hours."
How about midweek options?
Dubai's biggest brunches happen at the weekend. But in a city that never really sleeps, brunches have begun popping up on weeknights.
Head to Lucky Voice, a karaoke venue turned expat favourite, for a raucous round of singing for your food. The venue's Friday brunch gets a bit wild and its Wednesday version is no different. Expect a roaming panda, inflatable microphones, a party DJ and a price tag that sits at a fairly affordable $68.

Located at the end of a pier, with views of the Burj Al Arab and surrounded by the sea, 360° attracts a suited-and-booted crowd - especially for its decadent Thursday night brunches.
"Brunch is part of the city's DNA," explains Jodie O'Meara, general manager of 360° Dubai. "Our Thursday evening 180 brunch lets partygoers start the weekend early with unlimited food and drinks, laid-back tunes and the best views."
"Why wait until Friday when the weekend's already half over?"
Other brunching tips
Not all brunches run noon to 4pm. Some start later with more of a party focus. Sass Cafe (below) dims its lights, turns up its music and lets guests dance under the glow of its red chandeliers from 5pm. Cavalli Club Dubai occasionally hosts midnight brunches which begin - as the name suggests - at midnight, complete with endless food and drinks.
Some venues come with extra perks. The newly opened Dukes Dubai has a brunch where the best-dressed guest can win an overnight stay. Others allow pool access or complimentary kids' club access. It's worth asking when booking.
In general, brunches aren't cheap. You can find discounts by using the popular app The Entertainer, suggests Tarik. "There are many 2-for-1 brunch offers here."
Ultimately, brunching is a Dubai institution. Arrive hungry. Don't drink too much. Stay civilised, stay classy, and above all, enjoy the small taste of Dubai that brunching provides.
---
And now, just for fun, here are some bonus stats about Dubai brunching, in infographic form. Click on the image to see the full size version!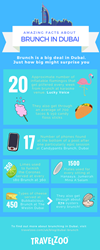 ---