Orlando: Unbelievably real experiences beyond the parks

As the reigning Theme Park Capital of the World, Orlando has a reputation for delivering the kinds of all-in thrills that otherwise only exist in fairy tales, movies and dreams. But what even the most dedicated fantasy fan may not grasp is that Orlando's magic does not start — or end — at the parks.
From the area's pampering and fun-filled hotels (many of which offer a full-fledged vacation in themselves), to the intriguing neighborhoods peppered throughout the region, there's a smorgasbord of engaging experiences to be had. Add in a hit list of award-winning, celebrity chef-headlined restaurants; eco-adventures starring uniquely Floridian wildlife and landscapes; and an events calendar chock full of celebrations and festivals to delight every traveler, and you've got the makings of an unbelievable, yet very real Orlando getaway.


Here's a look at how an Orlando getaway will wow you at every turn.
Over-the-top resorts you won't want to leave
Just about every family has a trip to Orlando's theme parks penciled into their "someday" vacation plans. But many may not know that stays in Orlando's amenity-filled resorts have the potential to delight little ones just about as much as the parks' thrill rides and life-size movie characters. Another benefit? Nightly rates at many of these over-the-top resorts are a lot less pricey than one might guess.


The Grove Resort & Water Park Orlando, for example, has the potential to serve as a completely self-contained, fantastically affordable vacation spot. Guests get free entry to its water park, including twisty-turny water slides, a not-so-lazy river with waterfalls and water cannons, a tricked-out two-story splash pad for younger kids and a zero-entry pool. Older kids can hang ten on a surf simulator (for an extra fee), while young ones craft, doodle and socialize at the kids' activity center. There's an arcade ready-made for breaks from the famous sunny skies, and, perhaps best of all, parents can take turns hiding out at the aptly named Escape Spa for minty foot wraps and hot-oil massages. At the end of each fun-filled day, families can recharge in sprawling (we're talking 1200+ square-foot) two- or three-bedroom suites for up to eight guests. 


Universal's Cabana Bay Beach Resort puts a fun '50s spin on each stay, which is evident from the moment you pull up to its colorful carport. The themed fun continues in the 10-lane bowling alley, the onsite arcade and outside in the large sparkling pool and lazy river. The hotel diner is equally fun, with its cushy, crescent-shaped booths decked out in technicolor hues — and the burgers and shakes won't disappoint either.  
Among the most budget-friendly family resorts is the all-suite Holiday Inn Resort Orlando Suites - Waterpark. Kids are just about guaranteed to squeal when they set their eyes on the byzantine, brightly colored, multi-level water park, its tubular slides and cascading falls. And as if that weren't enough, there's a 9-hole mini golf course and a bank heist-themed indoor laser challenge, too. The resort also serves up family fun events in the evenings — from karaoke nights to arcade tournaments — to bring everyone together before heading back to spacious suites that include kitchenettes, large living areas and more parent-pleasing features for a throwback price tag.

Luxury resorts also count among the numerous family-focused hotels in Orlando. Choices include the Waldorf Astoria Orlando (complete with a lavish lagoon-style pool, water slide and lazy river, plus a golf course and spa for Mom and Dad) and the Ritz-Carlton Orlando, Grande Lakes (a great choice for outdoorsy types, providing eco-tours, kayaking and fishing opps on the property). 
Neighborhoods from dazzling to debonaire
True to its larger-than-life rep, Orlando encompasses 119 square miles and a host of distinct neighborhoods catering to all kinds of interests. Amid all the family fun at your chosen resort, you'll want to pencil in a day or two to explore a few of them. 


There's trendy and modern Lake Nona, which includes standout attractions like Boxi Park at Lake Nona, an outdoor entertainment venue constructed from repurposed shipping containers (those "boxes" are what gives it its name). The 30,000-square-foot open-air space includes a stage where live local acts perform throughout the week, a playground, volleyball courts and food and beverage spots (including two full-service bars) housed within the colorful containers. The thoughtfully designed park also features ample shaded seating and a beer garden serving craft brews. Among the neighborhood's other draws is its sprawling sculpture garden, which currently features a striking large-scale sculpture of a block-headed humanoid titled "Empowerment," created by Filipino-American artist JEFRË.  


Enjoy a change of pace with an afternoon in Downtown Orlando, where a stroll along the streets yields surprise encounters with dozens of murals. Subjects include gargantuan monarch butterflies, patrons mid-coiff at a barbershop, strawberries, gators and Freddie Mercury, just to name a few. There's also a historic walking tour to try, and a picnic-perfect lakeside park (Lake Eola) complete with swan boat rental service. 
Once you've whet your appetite for art amid downtown's murals, head about 20 minutes northeast to keep a good thing going at the myriad galleries and museums of the Winter Park neighborhood. The Rollins Museum of Art on the lakefront Rollins College campus is home to an extensive collection, with pieces stemming from as far back as 500 B.C. to today, including the only European Old Master paintings in the Orlando area. Admission to see the more than 5,600 works is free, and patrons can begin or end their visit with a walking tour of the striking sculptures that surround the museum.  


And there's much more to see in this leafy, cultured enclave, including its own Central Park and Park Avenue. The former, while admittedly not quite as sprawling as its New York namesake, is the largest of Winter Park's many green spaces at 11 tree- and path-lined acres, and it's the site of lively events and gatherings throughout the year. Take a wander past its fountain, flower beds and manicured lawns before exploring the boutiques, gourmet food shops and eateries on pedestrian-friendly Park Avenue. 
A dining scene worth digging into
Speaking of Winter Park eateries, the neighborhood is home to some pretty illustrious dining spots. These include James Beard Award-nominated chef-led Prato (a rustic-chic Italian restaurant), Luke's Kitchen (seasonal and locally-sourced American cuisine) and the Ravenous Pig (a gastropub serving charcuterie boards and locavore specialties).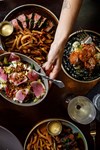 And the accolades continue with Orlando's four Michelin-star restaurants. Japanese enterprise Kadence (also in Winter Park) seats just eight guests, so meals feel like an insider treat — and the "bold and intriguing" dishes (to quote the Michelin Guide) only add to its charms. Soseki Modern Omakase, another Winter Park Japanese restaurant, also bears Michelin Star designation. Guests are consistently wowed by the multi-course, chef-selected menu, which ensures diners never have the same experience twice.
Two Orlando steakhouses have also earned their stars, including Knife & Spoon, a steakhouse located inside the Ritz-Carlton. There, chefs put inventive twists on traditional favorites (kimchi creamed spinach, anyone?) and execute with artful presentation. Spanish-influenced Capa steakhouse, occupying the 17th floor of the Four Seasons Orlando, rounds out the area's star-studded restaurants (and also affords stellar views of a certain theme park's famous fireworks from tables on its open-air terrace). 


Of course, there are countless tasty options for family dining, too. La Luce, Lake Buena Vista inside the Signia by Hilton Hotel is a true crowd pleaser, pairing a selection of brick-oven pizzas (like the Pizza Ai Funghi with pancetta and truffle cheese) with a full menu of Italian pastas (the Pappardelle Fantasia, for example, starring spicy shrimp) and other specialties. Taste of Chengdu on West Colonial Drive near downtown Orlando is a top-rated spot for traditional Chinese fare, while Nile Ethiopian, tucked into a strip mall on I-Drive, invites guests to dive into flavorful East African dishes in a space bedecked with culturally significant decor. 

From burger spots, to fondue restaurants, to character-themed eateries inside theme park resorts, Orlando's got plenty of kid-pleasing dining spots, too — so make sure the whole family's prepared to eat while you're in town.  
Natural attractions you won't find elsewhere
Chances are, Orlando isn't the first destination that comes to mind when you're brainstorming potential nature getaways. But the area's surprisingly strong selection of eco-adventures will likely cause you to rethink that.
Thanks to Orlando's Central Florida location, it's surrounded on all sides by precious wetlands, natural springs and nature preserves, which you can explore via hikes, swims, airboat rides, kayaks and even camping trips. Just 25 minutes from the theme parks, urban oasis Shingle Creek Regional Park is one of the easiest to integrate into an Orlando getaway. The park follows a 23-mile natural creek, and features a 3-mile trail that's navigable on foot or bike. Keep your eye out for local wildlife, including turtles, snakes, wading birds and alligators. 

Set just southeast of Orlando, Split Oak Forest Wildlife and Environmental Area (named for a 200-plus-year-old tree within the park that is — you guessed it — split down the middle) offers a longer hike (about 6 miles if you hike the perimeter of the trail network) with views of lakes, ponds and oak hammocks dotted throughout. There are no facilities or benches within this rugged nature area, but plenty of wild creatures, including white-tail deer, wild boars and armadillos. (For encounters with flora and fauna accompanied by plenty of amenities, pencil in a trip to the Central Florida Zoo & Botanical Gardens in Sanford. The zoo houses more than 500 animals, 23 acres of native gardens and a splash pad for cooling off on hot days.) 
The chance to paddle and swim through pristine natural springs is something no nature lover will want to miss. There are several state parks in the area north of Orlando where you can experience this, but one — De Leon Springs State Park — has long been famous for an experience beyond its crystal-clear waters — the Old Spanish Sugar Mill Pancake House, in which guests could cook their own delectable pancakes on a personal table-top griddle. Tip: Try visiting on a weekday if possible to avoid wait times at the uber-popular family spot, or coming in after 2 p.m. (their hours are 8 a.m. - 4 p.m. daily). Whether or not you decide on a maple syrup-soaked meal there, you can look forward to guided eco-boat tours, fishing opps (you'll need a license), potential manatee sightings, snorkeling (pay attention to signs to avoid unwanted alligator encounters), canoeing and kayaking (rentals are available).


Natural adventures of the adrenaline-pumping kind are also easy to find in Orlando. If that's your scene, Orlando Tree Trek Adventure Park, with its labyrinth of nets, ropes, aerial bridges and Tarzan-style swings, is bound to scratch your thrill-seeking itch. A visit to Gatorland, home to thousands of alligators, crocs and birdlife, may also be in order, since the park features a 1,200-foot-long zipline that soars at heights of up to 65 feet over lush foliage — and pools of the sharp-toothed reptiles. 
Can't-miss fests and fetes
No matter when you time your Orlando visit, it's likely to coincide with some of the nearly nonstop events, festivals and celebrations that populate the city's jam-packed calendar.
Of course Orlando does holiday festivities like no other, but the fun just begins there. February will bring the Central Florida Dragon Parade Lunar New Year Festival to the Colonialtown North district (just north of downtown) to inaugurate the Year of the Rabbit. March will lure gaggles of proud comic book, sci-fi, anime and gaming fans into town for the four-day Megacon Orlando convention in the Orange County Convention Center. April marks the Florida Puerto Rican Parade & Festival in Downtown Orlando as well as the 32nd annual Florida Film Festival; and May will usher in the Orlando Fringe festival, which celebrates theater and other art forms. Several celebrations across the city (GayDays and One Magical Weekend, for example) will kick off Pride Month the first week of June — and don't even get us started on Independence Day fireworks (though in truth, every single day ends in fireworks in Orlando). 


Foodies have even more to look forward to in Orlando, since there's a local festival for just about every kind of cuisine (plus a respectable number of wine-, beer- and spirits-themed happenings). Standouts include the Orlando Taco & Margarita Festival in February, Orlando Whiskey Festival and Winter Park Wine & Dine in March and the Taste of Soul food festival in April, just for starters. Whatever you decide to fill your days (and your belly) with during your Orlando vacation, you're just about guaranteed to have a few "pinch yourself" moments as you take it all in — even if you never set foot in a theme park. 
---