Get Away to the Florida Coast with the Most

If there were such a term as a "renaissance region," the area lovingly known as the Paradise Coast in Southwest Florida would fit the bill nicely.
The three towns that form this coastal haven (Naples, Marco Island and Everglades City) shine as launch points for eco-adventures amid uniquely Floridian subtropical wilderness. On the opposite end of the spectrum, there's a refined art scene that's easily found in the numerous art outposts on Gallery Row, and in the Naples Art and Design Districts, just for starters. The region is well known for its great beaches, but its diverse and buzz-worthy culinary scene is an equally powerful reason to make a trip.

There are unexpected draws that cater to niche interests — like its rise as "The Pickleball Capital of the World" — plus universally appealing features like the infinitely scenic and strollable Naples Pier.
In a vacation destination that does it all — while remaining decidedly laid-back — the volume of choice can be overwhelming. To help combat decision overload, we've put together a guide to some of the region's most essential experiences.
Naples: A Hub for Arts, Sports & Coastal Sophistication
Naples embodies an unlikely combination of art-infused elegance, gourmet dining and beachy beauty. If its moniker conjures images of a certain southern Italian coastal city, you're not far off course. In fact, comparisons to the 5,000-mile-away Italian port town and its glittering bay are the reasons the name "Naples" stuck in the latter half of the 19th century. 

Maybe its worldly name has helped steer the evolution of Naples, Florida, which is nowadays an especially cultured pearl in a string of Florida Gulf Coast towns. 
This is particularly evident in the Arts District, which houses around 80 working artist studios. Among the resident artists are sculptors, digital creators, abstract painters, mosaicists, ceramicists, nature photographers and high-end custom jewelry designers. Located predominantly on Shirley Street just off Pine Ridge Road, the district is always open for window shopping, but you'll want to schedule an appointment for a closer look at an artist's work. Or time your visit for the monthly Art Alive! events, when resident artists open their doors for live demonstrations, showings and workshops. Fans of design for the home will want to explore the shops and showrooms on the outskirts of the Arts District, and to head to the Design District (between 5th Avenue South and 7th Avenue North) for even more options.
Art aficionados will also want to stroll Gallery Row at Broad Avenue South and Third Street South in downtown Naples, home to more than 100 additional diverse art outposts. And, to the delight of retail therapy seekers, the upscale boutiques that pepper the area are also teeming with eye-catching objects. 

These galleries and boutiques are just blocks from the beach, making it exceedingly easy to savor views of beautiful man-made and nature-made creations back-to-back. Naples' sands are powder-fine, brilliant white and invitingly soft — practically begging to be reclined on. And the surf is typically tame, so swimming is a relaxing activity — particularly in the spring and summer months, when the water temperatures turn bathwater warm.
There are access points at the west end of more than a dozen of Naples' downtown avenues, but the one at 12th Avenue South is special. Here, you can also gain access to the famous, 1,000-foot-long Naples Pier, an iconic spot for strolling above the Gulf and snapping pictures with a backdrop of seaglass-hued water.

Naples is also an early adopter of pickleball — what many news outlets are calling "America's fastest-growing sport."
East Naples Community Park houses a whopping 64 courts for the addictive game often described as a cross between tennis and ping pong, and anyone can play. There are clinics for newbies and more advanced players as well. Get really good and you may just make it to the Minto US Open Pickleball Championships, hosted here each spring. After all, Naples is where Benjamin Johns, the world's top-ranked player, got his start.

Greater Naples is famous as a hub for another, long-established sport: Golf. The area is home to no fewer than 90 courses — yes, 90 — thirty of which are open to the public. Avid golfers can score great deals by booking a golf-inclusive package at one of the course-affiliated resorts — including Naples Grande Golf Club, La Playa Beach & Golf Resort and The Ritz-Carlton Golf Resort, Naples — but there are numerous great options on Marco Island as well. 

Amid all this gallery-going, sunning and playing, you'll need to eat, and Naples delivers a range of dining options to suit all tastes. The Fifth Avenue South (Naples' unofficial Main Street) and Third Street South area is full of particularly delectable choices.
Appropriately, Italian cuisine is abundant, with Pazzo! Cucina Italiana (think cushy jewel-toned velvet furniture and plates of balsamic-glazed short rib served with "giant" house-made ravioli); Osteria Tulia (rustic Italian farmhouse interiors and a menu full of sumptuous yet simple ancestral recipes) and Dolce & Salato Italian Bistro (a casual café favored for its traditional salads and sandwiches; also has a market selling gourmet imports) making the list of resident favorites.

Additional options range from opulent Sails Restaurant, where fresh seafood is flown in daily from Greece; to Asian fusion Thai Sushi by KJ (pro tip: they have a daily happy hour, from 3 - 5:30 p.m.).
Marco Island: Natural Beaches, Ancient History & Epic Eats
About 15 miles south of Naples, Marco Island is overflowing with opportunities to enjoy time in nature. And its beaches are, well, a "natural" place to start. 
Tigertail Beach is a perennial favorite thanks to its serene and picturesque setting, family-friendly shallows and ample parking. The landscape here is nature-made; the sand is composed of visible shell fragments; a pretty lagoon splits the land in two, separating the closer "inner" beach from the "outer" beach; and there are living things everywhere, from crabs, to cranes to dolphins. At the calmer, shallower inner beach, you can swim, fish or rent a kayak. There's also a concession stand and a playground for little ones.

The walk to get to the outer beach (also known as Sand Dollar Spit) is a considerable one — it's about a mile from the parking lot to the sand, unless you'd prefer to take a shorter, wetter path by wading across the lagoon — so packing light is recommended. Once there, you'll be rewarded with amazing shelling (including, of course, sand dollars), bird sightings and panoramic views of the area from an observation tower.

South Beach on the southwest side of the island offers a more traditional beach experience steps from the island's hotels, shops and restaurants. There is limited lot parking available, so walking, biking or taking a shuttle from your hotel might be easiest. 
There's also tons here for water sports enthusiasts, like adventurous paddles through the undeveloped islands, bays and estuaries just off shore. On the north end, situated between Naples and Marco Island, there's Rookery Bay National Estuarine Research Reserve — a 110,000-acre maritime forest where you'll have the treat of paddling through mangrove tunnels and quite possibly spotting manatees, dolphins, osprey, wading birds and an abundance of other wildlife.

Of course, there are countless other routes to explore the maze of waterways around Marco Island. Be sure to bring a map and a GPS device — or better yet, book a guided tour with an expert who can point out native flora and fauna and ensure you stay on course. 
If you prefer to take your exploration underwater, there are numerous dive sites around Marco Island, including artificial reefs, wrecks and even a bottomless wall dive. Scuba Marco is a local company skilled in leading divers on these journeys — and to sightings of loggerhead sea turtles, angelfish and goliath grouper (which can weigh up to 700 pounds!). 

Rounding out the enticing offerings here is the Marco Island Historical Museum. Amid objects whose emergence ranges from modern day to millennia ago is one standout artifact: The Key Marco Cat. The small wooden statue is dated to 1,500 years ago and was carved by a member of the Calusa Indian tribe using tools like shark teeth and shells.
The object, which is on extended loan from the Smithsonian, was unearthed via an expedition in the late 19th century that revealed thousands of objects from Calusa life, all of which were preserved at the bottom of an oxygen-poor swamp at the north end of the island.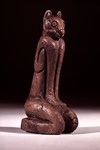 When hunger strikes — as it inevitably will amid all this swimming, sunning and exploring — fresh-caught seafood is the obvious solution in a destination surrounded by sparkling Gulf waters.
Fin Bistro is a longstanding favorite among visitors and locals alike, thanks largely to the restaurant's expert preparation of the local catch. The Cedar Key clams steamed in Pinot Grigio with tomato and fennel is one shining example; the almond-crusted Florida flounder is another. And the gill-less — but maybe not guiltless — white chocolate apple croissant bread pudding is so popular that some diners "reserve" it for dessert before ordering their main course.

The quirky and casual Snook Inn on the Marco Bay is another seafood spot that's stood the test of time. For nearly four decades, the restaurant has been a local staple, serving plates piled high with Gulf shrimp and line-caught grouper or snapper, among other local catches. Even more impressive, though, is the setting. Dockside and indoor tables alike offer unbeatable aquamarine bay views, and you can expect to hear live local music every night of the week — and even for lunch on weekends.   
Everglades City: Stone Crabs, Wilderness & Eco-Adventures
South of Marco Island lies another hotspot for seafood — and stone crabs in particular. In fact, Everglades City is widely held to be the stone crab capital of the world. During season (October 15 - May 1), crabbing boats line the Barron River and crabbers haul in traps full of the crustaceans that headline local restaurant menus.
Triad Seafood and Camellia Street Grill are all local favorites for stone crab and other fresh-caught seafood served in casual settings — and with water views to boot. If you're looking for some claws to go, Grimm's Stone Crab, Inc. is the go-to spot, and the house mustard sauce and key lime pie score rave reviews from loyal customers as well. 

Everglades City is also known as the gateway to the Ten Thousand Islands National Wildlife Refuge, an ideal destination for an exploratory paddle. In actuality, there are a few hundred (not thousand) islands in the park, but you'll nonetheless have more than enough paddling, wildlife spotting and fishing opportunities to keep you occupied.
Advanced eco-adventurers can plot the ultimate bucket-list kayaking and camping journey through the 99-mile Wilderness Waterway — an undertaking that typically takes around eight days, starting from Everglades City and winding all the way down to Flamingo, the southernmost portion of Everglades National Park (for context, it's at about the same latitude as Key Largo).

Those less inclined toward weeklong paddling excursions can try guided tours that last but a few hours, but still dangle the chance to witness the famous wildlife of the Everglades (crocs and alligators included).

Or for yet another way to experience the Everglades — one of 24 World Heritage Sites in the US — you can hop on an airboat tour that begins on Everglades City's Barron River, then winds through mangrove jungle, narrow creeks and shallow bays. Your captain fills you in on the unique and precious ecosystem all around you as the boat flies over the water, the wind rushes through your hair and the brackish water mists your sides.   
---
Ready to go? Plan your visit to the Paradise Coast today.