Five ways to experience fall in Chattanooga

Perched along the Tennessee River, Chattanooga is nestled amid hills and mountains that lend credence to its Scenic City nickname. This postcard-perfect setting is amplified in fall as the leaves change colors and create an exquisite backdrop that can only really be appreciated in person.
With temperatures that remain above 60 degrees into November, Chattanooga offers a no-brainer escape that combines outdoor activities with natural beauty. Read on to discover the adventures that await you in this southeast Tennessee city.  
Hit the Trails
While there is a free electric shuttle that runs through downtown, Chattanooga is a walkable city that's both pedestrian and bike-friendly. One of the best ways to experience the city in the fall is to explore the tree-lined Chattanooga Riverwalk, which you can enter at various points and is wheelchair accessible. This approximately 23-mile path along the southern banks of the Tennessee River will not only help you get your steps in, but it will take you past attractions like the Tennessee Aquarium, give you great views of the Walnut Street Bridge and even meanders through the Bluff View Sculpture Garden.

Located six miles outside of the city, Lookout Mountain has incredible views of Chattanooga Valley, so get ready for some peak fall colors in late October to early November. Hike the 5-mile Bluff Trail, created during the Great Depression and full of towering sandstone cliffs, natural bridges and caves.  Climb the 70-foot Lookout Mountain Tower for stunning scenes of the Tennessee River Gorge and Cumberland Plateau. (That tower was built using the limestone excavated from the 26-story elevator shaft down to Ruby Falls, an underwater waterfall tucked inside the mountain — perfect for an inclement weather day.)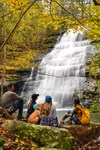 The Cumberland Trail is 300 miles long and stretches from Signal Mountain to the Cumberland Gap in northern Tennessee. The local trail in Chattanooga is just under six miles of moderate activity. Start at Signal Point Park and pass through a fern-filled forest, massive rock outcrops and the sounds of Rainbow Falls as you make the final ascent to Edwards Point. Go off the beaten path for the Ritchie Hollow Trail, which connects the Cumberland Trail system with the Tennessee River and you'll be rewarded with the sight of Blowing Wind Falls, a 30-foot waterfall.
If you feel more comfortable hiking with a guide, check out Experience Chattanooga's tours for easy and moderate skill levels. All hiking tours are private trips that include transportation as well as a professional photo gallery.

There is no shortage of places to appreciate nature's canvas when you're hiking in Chattanooga, like the aforementioned Edward's Point. Other spectacular overlooks for leaf peeping include Sunset Rock (more on that later), Snooper's Rock inside Prentice Cooper State Forest and Stringer's Ridge, just two miles from downtown.
Colorblind visitors have a chance to appreciate the beauty as well at the Ruby Falls Scenic Overlook on Lookout Mountain. Ruby Falls is one of 12 scenic overlooks in the state to be fitted with a special viewfinder that has an innovate lens that enables people with color blindness to see a wider range of vibrant, true colors.  
---
Wheel Around
If you left your bike at home, don't worry, as Chattanooga's Bike Share system has you covered. With 42 stations citywide and more than 400 bikes to rent, there are plenty of opportunities to ride around downtown.
Guided bike or Segway tours are also available, so you can learn about places like the Choo Choo Hotel, Tivoli Theatre and Dome Building as you wheel around with the aptly-named Chattanooga Segway & Bicycle Tours. Another leisurely option is to rent a scooter (and helmet) from ChattaScooter on the city's North Shore.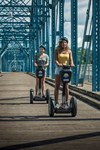 Go off-roading at the 300-plus acres of forested land at the Reflection Riding Arboretum and Nature Center on Lookout Mountain. Here you can drive a Swincar e-Spider, an electric four-wheeled ATV, as you explore the grounds that include an arboretum, a botanical garden and 15 miles of trails.  

With multiple mountains in Chattanooga's back pocket, mountain biking is a huge attraction for locals and visitors alike, particularly during the fall when temperatures are cooler. Within 20 minutes of downtown, there are more than 100 miles of singletrack trail to ride. Racoon Mountain has about 30 miles of these trails and difficulty ranges from intermediate to advanced. Enterprise South Nature Park, located about 15 miles northeast of downtown, has 25 miles of singletrack trails and is considered one of the more beginner-friendly spots. Kick it up a notch at White Oak Mountain Biology Trail, the only Chattanooga-area destination where it's legal to ride the 18 miles of trails after dark (hours are from dawn to 10 p.m. year-round).  
---
Saddle Up

Fall is the best time of year to go horseback riding: the trails are less crowded and temperatures make it easier on both horse and rider. Whether you're a casual rider or more experienced, Chattanooga is ready to help you hit the saddle.

Hundreds of miles of trails run through Prentice Cooper State Forest, about 16 miles northwest of the city. Enterprise South Nature Park, located about 16 miles northeast of the city, has 10 miles of trails dedicated to horseback riders. For a truly unique experience, pay homage to a Civil War battlefield and ride around the Chickamauga and Chattanooga National Military Park, about 7 miles north of the city.   
---
Rock It

Chattanooga is a mecca for experienced rock climbers, and with more stones to scale within a 25-mile radius of the city than Boulder, Colorado, it's easy to see why. Stone Fort, a.k.a. Little Rock City, is considered one of the best boulder fields in the United States; a short drive from downtown, it's also one of the easiest climbing areas to access from the city.   

Tennessee Wall lures single-pitch trad climbers from around the country with its gorgeous red sandstone and top-notch rock quality. During the autumn, the view of the Tennessee River is framed by dazzling fall colors, making it an even more spectacular sight. Sunset Rock is another crown jewel in the southern sandstone climbing scene; on the north side of Lookout Mountain, you'll be rewarded with views of the Tennessee River as it makes a turn around Moccasin Bend.
Suck Creek Canyon offers a less crowded alternative but isn't for the faint of heart. Here you will find quality routes that have no chalk or fixed protection, so it feels really rugged and like a wild adventure.
---
Feel Festive

Outdoor activity doesn't always have to get the blood pumping. Chattanooga has plenty of fun fall festivals lined up, so you can mix and mingle with locals. The annual Wine over Water festival (Oct. 8) beckons visitors to sample 200 wine varieties, taste local foods and listen to music from three stages on the 2,376-feet long, pedestrian-only Walnut Street Bridge, which spans the Tennessee River.

Chattanooga transforms into "ChattaBOOga" in October with Halloween activities that range from ghost tours, lantern walks at Ruby Falls and trick-or-treating at the Tennessee Aquarium. Drink some witches brew and listen to ghost stories in your best costume at the adults-only "Drink & Discover" night at the Creative Discovery Museum (Oct. 21).  

With a river so mighty, of course there is a festival right on it. One of the world's largest rowing regattas, Head of the Hooch, takes place here in Chattanooga (Nov. 5-6). Competitors row a 5,000-meter (3.1-mile) course on the Tennessee River, ending at Ross's Landing Park. The best viewing spots are along the Walnut Street Bridge and Coolidge Park on the North Shore or nab a seat at the grandstands here to view the finish line. If you don't want to sit still, bike along the Riverwalk and feel like you're part of the action too.    
---
Ready to go? Start planning your trip now with these tips and fuel up for your adventures at these restaurants.