How to Eat Your Way Through Chattanooga

When traveling, where you eat can often make or break your trip. Choose poorly and you're pointing to laminated images. Choose well and you're enveloped by local flavor, dining among regulars and feeling more like a guest at the family table than a tourist trying to sort through Yelp reviews.
Enter Chattanooga, a warm, welcoming city that makes you feel like a local the minute you get there. Its rich culinary culture pairs well with the many attractions that draw people to this southeastern corner of Tennessee.
With the suggestions below, we're setting the table for an appetizing visit to the Scenic City.
Great views
Blessed with the Tennessee River and the Appalachian Mountains in its backyard, it's no wonder that Chattanooga's nickname is "the Scenic City." Head to The Boathouse Rotisserie & Raw Bar, which locals just call "the Boathouse," for shucked clams or cold water oysters and house specialties like trout almondine or wood grilled ahi tuna. A long-standing Chattanooga favorite on the Riverwalk, it not only has great views of the river, but even better margaritas. 

Pair it with: Spend the day strolling around or cycling on a rental bike down the Tennessee Riverwalk, a 16.1-mile path that parallels the southern bank of the Tennessee River from downtown Chattanooga to the Chickamauga Dam. The paved surface makes it accessible to anyone, regardless of age or ability, and along the way, there are picnic tables and playgrounds, along with countless trees and waterfront homes.
---
Outdoor Dining
Make a beeline for one of the many restaurants that offer rooftops, decks and patios to enjoy the fresh air. Head to Tony's Pasta Shop and Trattoria in the Bluff View Arts District, a neighborhood that's set high up on stone cliffs, if you want to pair authentic Sicilian cuisine with river views. If people-watching is more your speed, head to the porch up top at Pickle Barrel on Market Street; from there, you can watch life unfold while sipping a pitcher of beer and eating fried pickles and tater tots.



Pair it with: There is more rock to climb within a 25-mile radius of Chattanooga than there is in Boulder, Colorado. Stone Fort, aka Little Rock City, is considered one of the best boulder fields in the United States; a short drive from downtown, it's also one of the easiest climbing areas to access from the city. Sunset Rock is another top climbing destination that offers fantastic views.  

---
Kids' menu
Let's be honest. The youngest members of the family are probably the pickiest eaters, rising at dawn and tiring easily. Don't worry, parents, Chattanooga has your back. Within walking distance of two family-friendly attractions (more on that in a second), Ruby Sunshine's opens at 7:30 a.m., ready to serve breakfast and brunch before they close in the early afternoon (2 p.m. weekdays, 3 p.m. weekends). Food is made from scratch using local ingredients and the budget-friendly kids' menu ($5 per item) offers pancakes, burgers, fried chicken as well as eggs and toast.  The adult portion of the menu is extensive -- and there are cocktails and beer if you need it (no judgment). 

Pair it with: Celebrating its 30th anniversary this year, the Tennessee Aquarium spans two buildings along the downtown riverfront and visitors can trace the path of water from the mountains to the sea. Get up close to sea creatures such as sand tiger sharks, alligator snapping turtles, giant Japanese spider crabs and countless varieties of fish. The Creative Discovery Museum invites kids to get their hands dirty and discover the world around them through art, music, dinosaur digging, water exploration and science exhibits. 
---
Pet-friendly 
A number of Chattanooga hotels, attractions and restaurants have pet-friendly policies, so bring your furry friend along for the ride. Head to The Feed Co. Table and Tavern on West Main Street, which specializes in farm-fresh cuisine. Menu items include brussels sprouts and artichoke dip, the 8-hour smoked pork sandwich and cornmeal fried catfish. To really feel like a Chattanooga insider, order the Buffalo "Hoff" wings – Hoff Sauce is a locally made hot sauce and the end result is a mixture of crunchy, saucy goodness that is sure to please. 

Pair it with: Take advantage of the spring temperatures that hover in the mid-70s and stroll the Walnut Street Bridge with your pooch across the Tennessee River, particularly at sunset for its Instagram-worthy views (whether that's yours or the one created for your pet is up to you). Built in 1890 to connect downtown with North Chattanooga, at 2,376 feet, it's one of the longest pedestrian-only bridges in the world.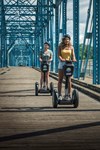 ---
Plant-based goods

Sometimes choosing a plant-based diet means certain destinations might make it tougher to eat well. Not so in Chattanooga, where there are many vegan and vegetarian-friendly items included not just on a menu, but as the entire menu. Cashew is a plant-based vegan café offering items like jackfruit nachos, quiche, black bean and plantain quesadillas as well as salads. Their sliders are served on wheat rolls from Niedlov's Bakery & Café, a place whose baked goods are legendary to locals. Located inside the Dwell Hotel is Syrup and Eggs; while meat is on the menu, they use locally sourced ingredients to create many vegan and vegetarian offerings like the veggie hash bowl, oat milk pancakes or, when in season, bruléed grapefruit.  

Pair it with: You and your furry friend can explore more than 300 acres of native plants and animals just minutes from downtown. Located at the base of Lookout Mountain, Reflection Riding Arboretum and Nature Center is home to meadows, glades, forests and a bamboo patch. There are 15 miles of trails to hike, 40 indigenous animals to view at the native animal exhibit and a number of canoes to rent for paddling Reflection Riding, a peaceful tributary of the Tennessee River. 
---
Popular Spot
Over on Chattanooga's Southside, Flying Squirrel has a laid-back vibe and a menu built for sharing. The restaurant uses local ingredients to create dishes like ginger & scallion noodles, spicy miso brussels sprouts and summer squash for customers to dine on while listening to live music from local bands. The good food comes with good feelings: Flying Squirrel was an early adopter of sustainable business practices, earning them a green light certification from the city. 

Pair it with: Over half a million guests visit Ruby Falls annually, and it's easy to see why. Located 1,120 feet beneath the summit of Lookout Mountain, Ruby Falls is the tallest and deepest underground waterfall open to the public in the nation. You'll get to this Insta-gem by taking a glass elevator and then exploring on foot with guided tours more than 300 feet underground.

---
A touch of history
Operated by the same family since the end of World War I, Zarzour's Café has been a popular lunch spot ever since. The menu includes hot plate lunches like country-style steak and open-faced roast beef, as well as cook-to-order burgers that made Southern Living's "Bucket Burger List" in 2016. Finish off your meal with some homemade ice cream (the flavor depends on the season) or lemon icebox pie. 

Pair it with: Chattanooga was of utmost strategic importance during the Civil War, due to its vital railroad links, position on the Tennessee River and control of mountain lookouts that covered several states. Head to the Tennessee Railroad Museum, where you can actually ride a historic train on a 3-mile section of the former Southern Railway. Another place to check out is the National Medal of Honor Heritage Center, which highlights those who made heroic acts by putting service over self; this heritage started in Chattanooga and 34 medals of honor were awarded here during the Civil War.
---
Food that moves you

Hop aboard the Chattanooga Riverboat Co. Southern Belle for a sunset cruise, where Mother Nature will provide the show. These two-hour cruises include a buffet-style dinner (medium-rare prime rib, shrimp Creole with white rice, baby red potatoes, vegetable medley, salad, dinner rolls and cheesecake) and a chance to meet the captain.

Pair it with: Sure, you could hike to the top of Lookout Mountain, but it's much easier to sit back and relax. So, take a seat on The Incline Railway, a funicular ride one-mile up the mountain, which has been in operation since 1895 and is the world's steepest passenger railway. Thanks to its many windows and glass ceiling, you'll get scenic views all the way to the top. 

---
Ready to go? If you're hungry for more, here are helpful tips to plan your Chattanooga trip.