Spotlight: Elliott Ferguson, Destination DC President and CEO

When the National Museum of African American History and Culture opened in Washington, D.C., in 2016, Elliott Ferguson, the president and CEO of Destination DC, took his whole team there, exploring the lower-level History Galleries that document slavery and segregation. 
"It's pretty intense," he told Travelzoo. "We came back to the office and had a dialogue about it, with people — both Black and white — in tears." 
Following the George Floyd murder in 2020, he again broke down the walls. "CEOs are taught not to bring your feelings to work because you don't want people to feel uncomfortable," he said. "But I felt this was a learning opportunity to understand that we need to have these conversations. This was a chance for me to get emotional and tell them how I felt, and that changed the dynamics of the conversations in our office."

That's the way Ferguson has always approached his role in the organization. "Because of my diversity, I've always looked at marketing our destination from a different lens," he said. "I've always made diversity a priority." 
After all, it's something he's been raised to value. In 1980, Ferguson moved from the West Coast to Savannah for school when his parents divorced — and he was immediately struck by the racial realities. "It was really eye-opening as to how divisive it was," he said. "You're in a truly southern city that was not even a decade removed from segregation, and the scars and the wounds were still very visible." 
Born in Washington State and spending some of his early years in California, Ferguson had been exposed to more diversity, but was suddenly immersed in an environment that resisted change. "They didn't want these 'interlopers' or 'carpetbaggers' — I remember those words — infringing upon their pristine downtown area," he said. "And I'm just absorbing all this as a young kid and trying to make my way through it all." 
After earning a sales and marketing degree from Savannah State University, he started working at the Savannah Economic Development Authority, grateful to have landed a job with benefits. After all, he heeded the advice of his grandparents, who had grown up in the segregated South, where opportunities like that didn't come along often for those in the Black community. "You're told that if you get a job, it's a blessing, and you do everything you can to keep that job," he said.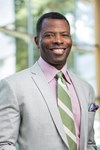 So when the head of the Savannah Convention and Visitors Bureau tried to recruit him, he actively avoided him — which wasn't easy since their offices were right across the hall from one another. "Very few people [at the time] knew that there was actually a tourism program at universities and honestly, I would have probably put it in the same category as getting your degree in badminton," he said, adding that his impression was that he might be leading bus tours. "There was a significant degree of ignorance in terms of vast opportunities for hospitality."
Eventually he stopped being "being young and stupid," and took a chance, leaping into a management position in the tourism board's sales division, in an industry where diversity didn't exist then. "You automatically assume that people are going to underestimate you," Ferguson said. "I'm young and college-educated and I'm not going to be marginalized, but at the same time, you have to realize that if you're that guy that speaks out every time someone says something you don't like, then you might not have a job."
Yet Ferguson knew his fate wasn't to limit himself to the sidelines. "I benefited from the realities of being Black in the South, as well as the opportunities associated with being on the West Coast and gaining that confidence," he admits. So when an opportunity at the Atlanta Convention and Visitors Bureau came up in 1991, he went for it. "You saw a larger number of upwardly mobile, progressive Black people in Atlanta than you saw in Savannah at the time," he said. "But you drive 30 miles out and you're in the South with all the fixings associated with racial strife." 
During his decade there, in which he rose to the vice president of sales, he honed his skills, especially during the 1996 Olympic games, but admits that he "allowed myself to be managed." When 9/11 happened, it was a wake-up call that he hadn't really been grasping his true potential. "I was taught by my dad that the world is your oyster; don't ever get pigeonholed," he said. 
So he decided to go for a job that he had been invited to apply for in one of the most challenging places at that moment: Washington, D.C.

The capital was reeling first-hand from the attacks and tourism seemed like a far-off priority. "This was a leap of faith," Ferguson said. "Right after 9/11, being in the comfort of the job that I was in, and I had to have the confidence in knowing that if D.C. wasn't the answer, I still would still be okay. I had to unlearn my grandparents' voice saying hold on to a good job because they didn't have a choice. I had choices."
It turned out to be the right decision. Joining the Destination DC team in December 2001 as the vice president of convention sales, he rose to senior vice president four years later, and has been the president and CEO of the organization since 2009.
Running full speed into what many others might fear is exactly what Ferguson does best — and how he's led the Destination DC team to reflect the city, which isn't just home to large Black and brown communities, but also to embassies of 170 different nations within its population of 700,000.  
"Black history isn't for the Black community, Asian hate affects all of us, LGBTQ rights is not just for the gay community," he said. "We are an inclusive community and as we move forward, we are having more dialogue about race and how all those dynamics play a role." 
He especially puts a focus on spotlighting minority-owned small businesses, with one of his proudest projects being the launch of a DEI hub on the city's washington.org site. He's also been instrumental in starting a minority business fellowship program.
Ferguson also enjoys highlighting some of the lesser-known influences, like the Italian touches of the architecture at Meridian Hill Park, also known as Malcolm X Park; Pierre L'enfant's French perspective to designing the capital's layout, and the Fabergé eggs of Hillwood Estate being tied to the Russian Bolshevik Revolution. "Come for the monuments, memorials, and museums," Ferguson said. "But tie it into the dynamics associated with our community and go to the other parts of the city that are focused on the accomplishments of the global community."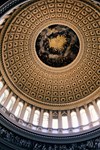 Nowadays, that even includes the less tangible sites where meaningful moments have happened, like with Black Lives Matter protest tours, where people can see where John Lewis and Muriel Browser stood on 16th Street and where the former president held the upside-down Bible. "People want to know about these things because now it's history," Ferguson said. "It's fast, but it's fresh — and that's now part of the experience coming to Washington."
While highlighting the capital's dynamic makeup is important, it's more about reflecting the city's true character. "We're not selling diversity per se, but we're promoting how that influences food, how that influences the culture of our destination, but we need to do it organically and I needed to look internally," Ferguson said, referring to his emphasis on hiring a team who reflects the community. "I don't look at filling positions as checking boxes, but making it sort of the fabric. We want diversity because diversity is why companies thrive. You have differing opinions and different trains of thought. Companies that make diversity a priority are more productive, financially better, and employees are happier."
Ferguson has also taken that mentality to a national level, calling out the U.S. Travel Association for being overwhelmingly dominated by white males when he joined the board of directors in the early 2010s, and then ultimately became its chair in 2019. He also used his role to spark more change during the racial reckoning of 2020 by diving headfirst into the long-overdue conversations. "I needed to share what it's like walking in my skin for the last few decades in this industry, and give them a chance to also challenge themselves," he said. "It turned out to be one of the best things for the U.S. Travel Association by taking responsibility and making this a part of the conversation and continuing to engage in that conversation today."
During his time as chair, he led webinars that opened the door for difficult conversations — and by doing so, he made that much-needed dialogue the norm. He's also worked closely with the organization on their hiring practices to effectively find the best candidates. 

While many may focus on big picture, long-term visions and goals, Ferguson doesn't tend to look too far out; after all, both 9/11 and 2020 — which he calls the biggest turning points in his career — were unexpected. Instead he's always ready to grasp the reins of whatever situations come along, no matter how suddenly, and handle them without fear. And that's the same drive he hopes to pass on to the next generation with humility, honesty and grace. 
"Every job along the way, I've heard, 'Oh, you got the job because you are Black.' My reaction now is, 'Let's assume you're right, but I'm going to keep it because I'm good," Ferguson admits. "People have to marginalize you, but we didn't have the choice of how we were born, so make sure you are validated by the skills you bring. They can't take that away from you."
And more than two decades into his tenure at Destination DC, that's the same outlook he takes into heading up the tourism organization day by day. "Unless you're Native American, none of us are originally from here," he said. "You've gotta have these conversations and say, now how do we market the fact that Washington — the nation's capital and the world's most powerful city — is where you can learn about the good, the bad, and the progressiveness associated with where we are as a country."
---
Start planning a trip to the nation's capital with this offer.