Spotlight: Kristen Kish, Chef & Restaurateur

To the casual observer, the better part of the last decade has been one extended winning streak for Chef Kristen Kish. In case you haven't been following along, here's just the short list of what she's won: Top Chef Season 10, when she became the first woman of color to take the title; starring roles in two more TV series, during which she also tended to triumph over her co-stars, though the first show wasn't even a competition; a book deal; a signature restaurant; various commercial sponsorships; and most important, as of seven weeks ago, her love's hand in marriage.
Look a little closer though, and you'll find that for all Kish's winning instinct—much of it driven by fierce competitiveness—there's an equal and seemingly opposite force at play: the drive to lift everyone around her as her star rises. Among those she's championed from her ever-expanding platform are some who reflect her own identity—LGBTQIA+ youth, the Asian-American community, the Asian-American adoptee community—and others to whom she's a proud ally: Black trans youth, kids from underprivileged communities, elderly folk in need of meal delivery ... and again, that's just the short list.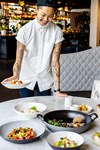 This duality—the innate competitor with a serious all-for-one-and-one-for-all vibe—actually turns out not to be such a contradiction in Kish's case. The textbook definition of competitor doesn't quite fit her, as she explained when we had the chance to catch up with her recently. "It's more of a competitiveness with myself that makes me say, 'Kristen, what are you capable of doing—and how can you do it?'" Not that she's simply looking to one-up herself for sport: "The competitive streak is also driven by the fact that by nature, I don't want to disappoint those who cheer me on."
Of that, we can assure you, there's next to no risk.
View this post on Instagram
Take 36 Hours—the New York Times column turned 2015 Travel Channel series that co-starred Kish and Major League Soccer veteran Kyle Martino (above). Somewhere between beekeeping in Berlin and lobstering in Boston, the duo wound up trap shooting outside Nashville with Kix Brooks, as one does. No sooner had Martino said, "I can't let Kristen show me up" than she yelled "Pull!" and demolished the tiny target on her first go at the Olympic sport—her tattooed muscles flexed and megawatt smile dialed up to a gigawatt. And remember: This show wasn't even a competition, let alone one with high culinary stakes. A dejected Martino, for his part, landed his fifth shot.
More recently, she was the winningest co-star of the just-wrapped first season of Fast Foodies—the TruTV series that challenged Kish and fellow super-chefs Justin Sutherland and Jeremy Ford to re-create, then re-imagine, celebrity guests' fast-food favorites. From Sausage McMuffins to In-N-Out burgers, her knockoffs were impeccable.


"The boys ended up calling me the copycat queen," she told us, confessing that all three of the chefs kept track of their wins, even though the show wasn't a serious competition. Then again, the scooter she won off Fortune Feimster after masterminding the best Panda Express Orange Chicken would make anyone competitive. (Also, note the "In Diversity We Trust" baseball cap that Kish added to her new ride along with a shoutout to Hybrid Nation.)
From Bravo to Brooklyn to the Bat Bridge
With a second season of Fast Foodies officially "coming soon"—exact date TBD—June is a big month to find Kish elsewhere. For starters, having returned to Bravo's Top Chef a few weeks ago as an all-star judge for Restaurant Wars, she's since stayed on for three more episodes to help out.


Her first gig? Serving as a recipe tester for the season's remaining contestants, each charged with the notoriously difficult task of writing cookbook-style directions for a signature dish. Amazingly, in an episode that also included Fred Armisen and Carrie Brownstein of Portlandia fame, Kish managed to land the biggest laugh. "Girl," the chef affectionately demanded of a contestant whose unintentionally banquet-magnitude gallina pinta recipe she'd just tested. "What the hell was that?!" And as Kish hauled overflowing, vat-sized individual portions to the table, the judges' customary composure went out the window. 
If you'd rather see Kish IRL and you'll be in New York mid-month, get thee to Malai Ice Cream's Guest Chef Series on the 17th and 18th from 6-9 p.m., when she'll be whipping up an amazing lemon cardamom ginger beer soda float with whipped cream, candied fennel seeds and almond cookies to benefit Heart of Dinner and the elderly Asian-Americans the organization serves. But if you can't attend the event in person, follow along on Malai's IG Live—and while you're there, check out the Special Edition Madame Vice President flavor that made Kish fall hard for the line in the first place.
The following week, on June 26, you can join Kish and Joel McHale for a virtual cook-along in the grand finale of Red's All-Star Kitchen series, with all proceeds going to the Global Fund's COVID Response. Of course, even if you don't feel like cooking, the cause—and the entertainment—are reason enough to join.
But the best place to experience Kish's creations in June—i.e., Pride Month—is her own Arlo Grey (affectionately known as Arlo Gay) in Austin, her home away from home when she's not at the New York apartment she shares with her wife. As of June 4th, which also happens to be the restaurant's third birthday, every Friday-Sunday throughout the month will bring a special rainbow cake that benefits Out Youth.  
View this post on Instagram
Then again, if you're not in Austin in June, you'll have plenty of other opportunities for do-good dining: "My goal with having a platform such as Arlo Grey has always been to give back not only during Pride Month, but during any month," Kish told us. "It's who we are and what we stand for as a team." Indeed, Arlo Grey has donated to Out Youth on every occasion from Restaurant Week to last October's pandemic re-opening, when she partnered with Matthew McConaughey and his Bourbon brand to create a new take on an Old Fashioned, with $3 from every cocktail going to the organization.
Another organization she's passionate about—Urban Roots—was the beneficiary of an entire 10-day event: Arlo Grey Helping Hands, whereby a portion of the special menu's proceeds went to aspiring young farmers in Austin.
Of course, most foodies go to Arlo Grey for the sheer pleasure of eating there (to say nothing of the surreal views of the bat bridge over Lady Bird Lake at sunset). Having trained at Le Cordon Bleu in Chicago—then a series of Michelin-, James Beard- and Relais & Chateaux-anointed restaurants—Kish brings a decidedly haute sensibility to her work.
Still, she's just as happy to draw on her Midwestern upbringing. Born outside Seoul and adopted into a family of white Michiganders, "I'm proud to tell you I grew up on home-cooked comfort foods, made with canned green beans, button mushrooms, and barbecue sauce from a jug," she notes in her book. And though she began watching Great Chefs of the World religiously at the age of five ("it was the only time of day I'd be completely focused"), her mom's comfort cuisine remains as much an inspiration as those deep-seated global influences. In fact, Kish's superpower may well be the ability to transform the humble and nostalgic into something almost unrecognizably elegant and sublime. Ask anyone who's tried her signature mafaldine with champignon sauce—a dish born of an early and enduring love of Hamburger Helper.
Tastemaker travels
Though the seasonal bounty of Texas Hill Country plays into her cuisine, too, so does her time spent much farther afield.
"Looking back on 36 Hours, I remember meals that inspired me—and that shifted my thinking on my own dishes," she told us. "There was an incredibly distinct meal when I was in Berlin—this beautiful chef's table where one of the dishes was just really simple: steamed whitefish with a silky palm puree and spinach that was seasoned with probably vinegar and salt. I took that first bite and I was like, Oh my God—I'm doing it all wrong. I need to scale back. So that was a very, very impactful moment in my life as a chef."  
Another experience—a pork-sourcing trip to the sprawling Salgot Organic Farm in a mountainous nature preserve north of Barcelona—heightened her belief in knowing where and how your food is raised, particularly if you're a chef. "It's a process that, when done correctly, is this oddly beautiful circle of life," she reflected. "I still think about Dolors, the owner, who was so passionate about how she raised her animals that you just fed off that excitement."
View this post on Instagram
But Kish's most enduring travel memory—at least in the literal sense—is of the whisk, spoon, knife and carrot that Bicem Sinik inked onto her inner arm in Instanbul. The encounter hadn't been written into that episode of 36 Hours, but when the showrunner and director asked what sort of solo adventure Kish might be interested in, she replied, "I found this tattoo artist on Instagram whose work looks phenomenal—and I want to get tattooed by her. Can we fit that into the schedule?"
Soon enough, Kish acquired one of her all-time favorite travel souvenirs. "This incredible female artist was tattooing a representation of my life in the kitchen as the call to prayer sounded outside her home studio—and just everything about the moment felt really, really special."
Perfect pairings
In fact, Kish has a habit of collaborating with exceptional women, from the mentor who nudged her into Top Chef to the creator of Noona's ice cream, whose social justice-themed Shine a Light collection included Kish's Passionfruit Pavlova.
View this post on Instagram
Next up? A collection of fresh spins on classic cocktails developed in collaboration with Yobo Soju and due out in the fall. Though Kish was instantly smitten with the soju itself—a Korean spirit she'd never taken to before trying Yobo's New York Finger Lakes version—she was equally excited about working with Carolyn Kim, the intensely dedicated, self-described "lawyer-mom" behind the Korean-American fusion brand.
Kish has also become keenly aware that with each of these collaborations—in fact, with any project she takes on—she's boosting representation of the otherwise underrepresented. "Not until I did Top Chef did I really, really start to understand and pay attention to what representation meant. The number of messages of gratitude and support I got from women, from the LGBTQIA+ community, from adoptees, from Asian-Americans was just…wow."      
It's with all those people in mind—as well as the ones who've helped her reach this point—that she uses her platform so vocally. "I understand that I got to where I am because of so many people," she told us. "First, there's not a restaurant without the people who choose to work there. And without my mentors and my best friends and my family, I wouldn't be in this position either—and that drives me to want to pay tribute in gratitude."  
Judging from the world's response to her, we can safely say the feeling is mutual.