The Best Arts and Culture to See During NYC Pride 2019

Courtesy of The Metropolitan Museum of Art
Lurking low-key amid the legendary parties, outsized personalities, and unabashed revelry of NYC Pride is a collection of only-in-New-York arts and cultural events you won't want to miss, even if you're mostly here to get your boogie on. This year, unsurprisingly, many take inspiration from the 50th anniversary of the Stonewall uprising, which will be commemorated (rightly) all over town. Here are five of our favorites.
OutCinema

Courtesy of SVA Theater
This year's OutCinema opens impressively on June 17 with Adam, a coming-of-age story from Transparent director Rhys Ernst that generated major buzz during the film's Sundance debut earlier this year. When an awkward high schooler spends the summer with his sister and her activist queer community in Brooklyn, comic misunderstandings ensue—you know, the old boy-meets-girl-who-thinks-he's-trans story—along with a humbling education in gender, identity, and acceptance. On June 18, catch up on the Manchester, UK, ball scene with Deep in Vogue, a documentary that looks at two houses in the northern city that do battle in the spirit of '80s New York. On June 19, you'll be taken back to a night in 1984 when drag queen/DJ Lady Bunny and some friends staged a drunken show in Tompkins Square Park—and gave birth to Wigstock, the annual end-of-summer drag fest that continued through 2001—and sprung back to life last year with a little help from Neil Patrick Harris. Wig—produced by Harris and his husband, David Burtka, among others—looks at the event's history, creators, and impact on modern drag culture. At the post-screening Q&A, Lady Bunny will tell you anything else you've ever wanted to know.
Mapplethorpe at the Guggenheim

Robert Mapplethorpe, "Phillip Prioleau, 1982." Gelatin silver print, 38.4x 38.9cm. Solomon R. Guggenheim Museum, New York. Gift.
© Robert Mapplethorpe Foundation. Used by permission.
It's been 30 years since Robert Mapplethorpe's death, yet his photography—so often censored, banned, and maligned—feels more important than ever. Implicit Tensions: Mapplethorpe Now, on display through July 10, is the first part of the Guggenheim's year-long look at the groundbreaking artist. More than 80 works have been curated from an archive donated to the museum by Mapplethorpe's foundation; they run from his early Polaroids to flowers and nudes to the S&M scene in New York City to the artist's friends (including Andy Warhol). A number of arresting self-portraits deepen the intimacy. 
Stonewall Commemorations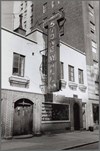 Courtesy of The New York Public Library / Stonewall Exhibition
On the 50th anniversary of the riots that led to the modern-day fight for LGBTQ+ rights, events around the city will offer context and conversation about that historic June day. Here's a short list of the ones you shouldn't miss.
At the Greenwich Village site itself, the official rally will reimagine and reenact the original on June 28 from 6:00-9:00PM where Christopher Street meets Waverly Place. Fifty years later, with renewed attacks on LGBTQ+ and human rights, the cause feels just as urgent. The event's free and open to all.
Further uptown, at the stately NY Historical Society on Central Park West at 77th St., Stonewall 50 will feature two exhibitions, one on nightlife before and after Stonewall, another on lesbians' contributions to the LGBTQ+ movement—plus a special installation on 50 years of Pride and public programs. Pro tip: the museum's café serves the best coffee in the neighborhood; grab a cup before  your walk in the park.
Admission is free to the New York Public Library celebrations, which map the LGBTQ+ civil rights movement through the lenses of Kay Tobin Lahusen and Diana Davies, photojournalists who captured the people, places, and pivotal events of the '60s and '70s. You'll also find a schedule of special programs, like The Library After Hours: Pride, which promises to be "the city's most cerebral happy hour" with curatorial talks, readings, and—on point here—a literary drag show.
Camp: Notes on Fashion

Courtesy of The Metropolitan Museum of Art
 "Camp" as a concept may not be synonymous with queerness, but the overlap's substantial—and as curator Andrew Bolton notes, camp originated in gay culture. But whatever "camp" is—and that, of course, is hotly contested—this show has made the Met's Costume Institute one of the most colorful spots in NYC right now. Through over-the-top pieces from John Galliano, Jean Paul Gaultier, Marc Jacobs, Karl Lagerfeld, Gianni Versace, and other purveyors of fabulosity, the exhibition tracks notions of camp from Susan Sontag's influential 1964 essay Notes on Camp to the present day, drawing from historical examples and modern-day moments of fanciful irreverence. You'll find Bjork's Oscars swan dress, as well as a "prosciutto dress" from Jeremy Scott that recalls Lady Gaga's 2010 VMA meat dress. (Gaga co-chaired the Camp exhibition's kickoff gala, so … you get the picture.)
On the (Queer) Waterfront

"Stevedores Bathing Under Brooklyn Bridge" (1939) by Edward Casey. Courtesy of the Green-Wood Historic Fund and the Brooklyn Historical Society.
With On the (Queer) Waterfront: The Factories, Freaks, Sailors & Sex Workers of Brooklyn, historian Hugh Ryan set out to shed light on Brooklyn's fascinating and rarely documented LGBTQ+ history. The exhibitions kicks off with a look at the life of Walt Whitman, who published his genre-shattering poem Leaves of Grass while living in Brooklyn Heights; then moves on to "male impersonator" Ella Wesner, who was buried in Brooklyn, per her request, in "men's attire," and Madam Tirza, a queer Coney Island Burlesque dancer whose act included bathing in a fountain of wine.
---
Do some good for GLAAD—and get entered to win a trip to the Côte D'Azur!
We've teamed up with Omaze to support GLAAD and give you the chance to win a luxurious getaway for 2 to the Côte d'Azur! Flights, hotel and $2,000 cash are all included, and best of all, Travelzoo members get 100 extra entries at the end of the campaign! Enter today.