Why Wyoming winters are wild and wonderful

While some may shy away from the elements, the allure of Wyoming is undeniable for those seeking a rugged alternative to the typical winter getaway.
Snow falls from early fall to late spring, transforming the state into a playground for outdoor enthusiasts of all persuasions. Wildlife roams freely, unencumbered by summer visitors, and the untouched terrain offers a sense of serenity unlike anywhere else. To find yourself barreling down pristine slopes, the wind rushing against your face as you carve through freshly fallen powder—there's no feeling quite like it.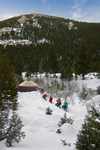 In Wyoming, winter isn't something to be endured but rather embraced, and the rewards of the season are unmatched. With its combination of unique geography, diverse wildlife and outdoor recreational opportunities, an unforgettable adventure awaits. Here's how to make the most of the season.
Hit the slopes
With an average annual snowfall of more than 500 inches in some areas, skiers and snowboarders flock to Wyoming for some of the best powder in the country. Jackson Hole, located adjacent to the snow-capped peaks of Grand Teton National Park, is the main draw for those who visit Wyoming in winter, attracting both experienced skiers and novices eager to experience the thrill of gliding down its legendary descents. 
There are three major ski resorts in the area, each with their own distinct character. Boasting a mix of highly regarded ski schools with challenging terrain, visitors can mix and match their mountains to fit their needs.

Commonly referred to as the "Town Hill," Snow King Mountain in Jackson offers a more intimate, budget-friendly skiing experience well suited for families and beginners, plus alternatives like snow tubing and their Cowboy Coaster ride. Snow King was Wyoming's first ski resort, opened to the public with a single rope tow in 1939, and has since maintained its charm as a local favorite, with some residents even sneaking in a few runs during their lunch break. Located five blocks from the town square, it provides convenient access to the vertical drops and stunning views of the surrounding mountains—perfect for visitors who want skiing to be just one of the many activities they enjoy in Wyoming.
Grand Targhee Resort is a welcome alternative for powder hounds looking for a more laid-back and less-crowded ski experience. About an hour's drive from Jackson up and over the scenic Teton Pass (daily shuttles are available from Jackson Hole and Teton Village), Grand Targhee boasts shorter lines than Jackson Hole Mountain Resort with an abundance of fresh snow. The resort also features a Nordic trail system, where you can either strap on some snowshoes or Nordic skis for a slower-paced activity. After an exhilarating day on the trails, take advantage of the on-mountain massage services, with options like a deep tissue massage or aromatherapy. Like the rest of Wyoming, it requires a bit more work to get to, but the payoff is well worth it.
Frequently rated among the best ski resorts in North America, Jackson Hole Mountain Resort combines world-class terrain with slope-side luxury and amenities. The resort is known for its steep and challenging runs, including the longest continuous vertical rise of any ski area in the United States at 4,139 feet, and is home to Corbet's Couloir, a legendary run brave skiers keep on their must-ski list. The rest of the resort has grown to include a variety of intermediate and beginner trails to accommodate all skill levels. Still, even experienced riders take lessons to familiarize themselves with the mountain and improve their technique before tackling some of the most highly regarded ski trails in the world. Others are content to ride the Big Red aerial tram to Corbet's Cabin for a plate of "Top of the World Waffles." Served at an elevation of 10,450 feet, breakfast at this repurposed patrol shack is available even if you don't want to ski down.

Venture past Jackson Hole to where the rest of Wyoming lives and plays, though, and you'll discover that alpine activities are in abundance throughout the state. Sleeping Giant in Cody, Hogadon Basin in Casper and Snowy Range Ski Area in Laramie are all excellent stops for an afternoon run amid a greater Wyoming road trip. Or you can bypass the lift lines and enjoy a human-powered journey through the snow via cross-country skiing. 
Find serenity at the springs 
A day on the trails ought to culminate with rest and a reward, both of which can be found at hot springs throughout the state. Granite Hot Springs Pool, located south of Jackson, is the local oasis you dream of: a natural hot spring tucked away in a secluded location surrounded by snow-covered mountains. Accessibility during the winter is limited to snowmobiles, dogsleds, cross-country skiing or fat biking, as cars and SUVs aren't suited for the snow-covered roads. Astoria Hot Springs, located along the Snake River in Jackson, is easily accessible by car and features five hot soaking pools filled with natural thermal waters, as well as a newly added cold plunge.

Saratoga Hot Springs Resort is located in Saratoga, a gateway to the Snowy Range Mountains, and offers an opportunity for relaxation after heading back from time in the mountains. A full-service resort with western-themed suites, the mineral hot spring pools provide a therapeutic and soothing experience. Located nearby and with fewer amenities, Hobo Hot Springs is free and open 24/7 for those seeking a more budget-friendly option.
Hot Springs State Park in Thermopolis was established in 1897 as part of the original agreement with the Eastern Shoshone and Northern Arapaho tribes, who sold the land to the federal government with the condition that the hot springs would remain open and accessible to all. That treaty is still honored today, as Hot Springs State Park invites visitors to relax in the naturally heated waters at the park's indoor bath house for no fee. The park also offers views of the scenic Bighorn River, where bison can sometimes be seen roaming in the distance. Thermopolis is also home to Star Plunge and Hellie's TeePee Pools, privately-owned hot spring pools with indoor and outdoor options, plus amenities for kids like water slides.
Sit a spell and fuel up
As Wyoming's food and drink scene has matured in recent years, Tim Trites at Cowboy Country Distilling in Pinedale has been at the forefront of crafting unique and flavorful spirits that showcase the local ingredients and traditions of Wyoming. Most of the ingredients that go into Cowboy Country Distilling's spirits come from Wyoming, save for the Colombian coffee in one of the liqueurs and the Bolivian sugar cane used in the rums. The result is a range of award-winning offerings that pair nicely with a warm fire and a hearty meal after a day of outdoor exploration.
Amber Pollock, co-founder of Backwards Distilling Company, has also made a name for herself in the craft distilling industry with her innovative spirits and commitment to using local ingredients. Corn is sourced from just down the road at Casper's first distillery, while beet sugar comes from a couple of hours away in Worland. A visit to Backwards Distilling Company after grabbing dinner at Racca's Pizzeria Napoletana (order the pistachio pizza) is sure to satisfy after burning off all those calories skiing.

The Cavalryman Steakhouse, located on the grounds of historic Fort Sanders, and Bond's Brewing Company in Laramie offer another one-two punch of culinary delights and locally-crafted beverages. The Rhuberry is a local favorite, as is the Citra-Hop-a-Dopolis Pale Ale.
Snake River Brewing, Wyoming's oldest and America's most award-winning small craft brewery, has a celebrated brewpub and can be found on tap in most restaurants in Jackson. The Bird is widely regarded as having the best burger in the state. These burgers—always served on English muffins instead of traditional buns—go down well with any of Snake River Brewing's signature beers.
Experience an outdoor playground 
Wyoming's winter activities don't stop at the slopes. Swap your skis for a seat on a dogsled and experience the thrill of mushing through the snowy wilderness. Jackson Hole Iditarod Sled Dog Tours offers half- and full-day tours into the Bridger-Teton National Forest or to Granite Creek Canyon, including Granite Hot Springs. Owned and operated by Iditarod veteran Frank Teasly, who also founded the Pedigree Stage Stop Race, this is the original sled dog company in the area, providing the opportunity to interact with a team of well-trained Alaskan huskies while gliding across trails that take you deep into the Wyoming wilderness.

Continental Divide Dog Sled Adventures, owned and operated by Billy Snodgrass, a third-generation cowboy and fellow Iditarod veteran, specializes in multiday tours and is the only company that offers dogsled tours on Togwotee Pass and the Shoshone National Forest. Call of the WYld also offers one-hour dogsled tours at the base of the Teton Mountains—perfect for a ski break or for accompanying a day filled with other activities—and Brooks Lake Lodge & Spa near Dubois offers dogsled outings to its guests as well.
Wildlife is easier to spot in the winter because their coats contrast with the bright white snow, and your chances of encountering Wyoming's iconic animals increases even more when booking a wildlife tour with a local guide. Climb into a horse-drawn sleigh and venture into the National Elk Refuge in Jackson Hole to witness the largest migrating elk herd in North America. 

When the snow comes in, so do the elk, as thousands of these antlered creatures wander the nearly 24,000 acres devoted to their winter habitat. Listen as the sound of snow crunching under hooves fills the air and observe these magnificent animals up close surrounded by the Tetons. You may also see other wildlife such as coyotes, foxes, badgers, bison, deer, wolves and a variety of bird species including trumpeter swans and bald eagles (be sure to brush up on the National Park Service's safety guide, and never approach wildlife).
A similar collection of animals can also be found in the nearby Yellowstone National Park through Jackson Hole Eco Tour Adventures, or in Bear River State Park, located just outside Evanston. This park is home to a small herd of penned elk and bison (including rare white bison) kept open to visitors to view, and the foot paths also double as cross-country ski and snowshoe trails in the winter. 
Seedskadee National Wildlife Refuge, stretching along 36 miles of the Green River in Southwest Wyoming, is famous for its birding; an abundance of arctic rough-legged hawks and migratory birds like rosy-finches, waterfowl and trumpeter swans can be observed during the winter months, as well as big-game mammals like elk, moose, pronghorn antelope and white-tailed deer. Some of this refuge's roads are closed to vehicles in the winter, so contact the refuge's headquarters before visiting for more information. 
Reaching these animals is often best done via snowmobile or snowshoe, though the former may startle the wildlife before you get the chance to see them. Nevertheless, exploring the Wyoming winter wilderness aboard a snowmobile is an exhilarating way to venture deep into the untouched landscapes and encounter the diverse wildlife that calls Wyoming home. Just be sure to travel responsibly, and always keep your distance from wildlife.

The Continental Divide Snowmobile Trail System covers 600 miles of groomed trails below the towering peaks of the Absaroka and Wind River Mountain Ranges and offers access to some of the most remote and pristine areas in Wyoming. Highly visible signs and maps allow for self-guided exploration through the Shoshone and Bridger-Teton National Forests, and outfitters like Gary Fales Outfitting, Scenic Safaris and Old Faithful Tours provide expertise and equipment for those who prefer a guided experience.
Sled Wyo offers snowmobile rentals and tours in the backcountry of the Bighorn Mountains. Pinedale offers 300 miles of groomed trails from powdery valleys to ice-covered lakes. The Medicine Bow National Forest is a preferred option for adventurous riders.
Fat biking—bikes equipped with extra-wide tires designed to handle snowy and icy terrain—and snowshoeing are available in most places where you can find snowmobile or cross-country ski trails. Quieter and thus more serene, these activities allow visitors to explore the winter wonderland of Wyoming while minimizing disturbance to the wildlife. The Bridle Trail in Casper is accessible when the snow is too deep for regular hiking.
Wyoming is also a top destination for ice climbing, and it isn't as daunting as it may seem. Waterfalls that typically flow during the warmer months freeze over in the winter, covering rocky cliff sides with a glittering veil of ice. The upper South Fork valley in Cody is home to the highest concentration of natural waterfall ice in the lower 48 states, and Wyoming Mountain Guides provide customized trips to fit each climber's abilities.
Join the party
The truest representation of Wyoming can be found in the remote and rugged areas of the state. Winter festivals and events fill the calendar, allowing towns to showcase their unique charm and encourage locals to bundle up and embrace the season.
In a state known for its snowy playgrounds, Pinedale stands out as a hub for winter activities in Wyoming. Nestled at the base of the Wind River Range, this town comes alive when the snow begins to fall.

Held each February over President's Day Weekend, the annual Pinedale Winter Carnival is a rowdy multiday event featuring snow sculptures, live music and the appointment of a Snow King and Queen at the Snow Ball. The signature event, though, is the Cardboard Derby, a beloved tradition where participants build homemade sleds out of cardboard and race down the slopes in a comical display of creativity and skill.
The Pinedale Winter Carnival is also one of the many events around the state to feature skijoring—a competition in which a horse and rider pull a skier along a course that has gates, jumps and rings. On the spectrum of brazen cowboy shenanigans, skijoring is undoubtedly on the more daring end, extending the spirit of a classic Western rodeo into a year-round activity. You can also find skijoring the at the Saratoga Skijoring Races, Sundance Winter Festival and Sheridan WYO Winter Rodeo (Feb. 10).
In addition to the carnival, the annual Pinedale Stampede, Big Fish Winter Derby and the Drift Marathon make Pinedale a prime destination for winter visitors of the Cowboy State.

Pinedale is also a stop on the Pedigree Stage Stop Race—the largest sled dog race in the lower 48 states. Beginning in Jackson, teams race roughly 300 total miles through towns like Lander, Big Piney and Kemmerer. The 2024 edition is scheduled to begin Jan. 26. 
For those visiting around the holidays, the Laramie Winter Lights Festival and Cody Cowboy Christmas Stroll & Lighted Parade provide a festive atmosphere with parades, food trucks, scavenger hunts and maybe even a visit from Santa Claus himself.
Celebrate Western culture
Periodic stops inside Wyoming's various museums and cultural centers can provide insight into the rich history of the state.

The Museum of the American West in Lander, the Museum of the Mountain Man in Pinedale and the Buffalo Bill Center of the West in Cody are sure to scratch anyone's itch for Western romanticism and a deeper understanding of the state's cultural heritage. The Wrangler in Cheyenne, meanwhile, is a three-story, 13,000-square-foot redbrick building that has housed various forms of retailers since its construction in 1892. Today, visitors can buy stylish Western wear from jeans and jackets to an extensive collection of boots and cowboy hats, including a $12,000 diamond-studded Stetson.
Dig into the Wyoming Dinosaur Center in Thermopolis, home to Jimbo—a 106-foot-long sauropod found near Douglas which is the largest, most complete Supersaurus ever discovered. Browse through exhibits like the Thermopolis Specimen Archaeopteryx—one of only 10 known specimens of the species, thought to be the first true bird in the world. 

Hot Springs County Museum and Cultural Center is nearby to explore as well, showcasing the history and culture of the area through exhibits on Native American artifacts. Belly up to the original Hole In The Wall bar where the infamous Butch Cassidy and the Sundance Kid once sat, or walk through an old-town setting that depicts the rugged frontier lifestyle of the early settlers.
The Big Boy Steam Engine in Cheyenne and the Wyoming State Museum offer engaging and educational experiences for families, while the Brinton Museum near Sheridan and National Historic Trails Interpretive Center in Casper provide opportunities for art enthusiasts and history buffs to delve into the natural beauty and historical significance of Wyoming.
Travel safely and responsibly
The only commercial airport within national park boundaries, Jackson Hole Airport offers direct flights from 13 major cities. Airfare can be expensive to this resort town, but Jackson Hole Resort Reservations is offering a $400 air credit per person up to $1,600 for a family when you book your roundtrip flights, lodging and qualifying activities (rental car, lift tickets, etc.) through their website. (Book by December 31, some restrictions may apply.)
Nearly all Wyoming airports, including Casper, Cheyenne and Laramie, offer direct flights to and from Denver International Airport and Salt Lake City International Airport, or you can rent a car after flying into a major gateway and include a road trip in your Wyoming itinerary. Centennial Scenic Byway, Star Valley Scenic Byway and Wind River Scenic Byway provide stunning routes to explore the state by car at your own pace.

Keep in mind that winter storms develop quickly across Wyoming, especially in mountainous areas. The combination of low temperatures, high winds and heavy snowfall can cause blizzards that last for days at a time, resulting in road closures and hazardous driving conditions.
The unpredictable nature of Wyoming winters makes it crucial for travelers to be well-prepared and informed before embarking on their journey.  Leave yourself plenty of extra time for travel, and make sure to fuel up regularly, as gas stations and cell phone service may be sparse in certain parts of the state. Safety should always be a top priority, even if it means adjusting your itinerary. Save your fearless streak for the slopes—not the roads.
---
Ready to go? Start planning your trip to Wyoming now with places to stay and things to do on an unforgettable journey through the wild and wonderful winters of this beautiful state.