Why & How You Should Visit the Caribbean Now

From our earliest discussions of this story, here was our working assumption: Any trip aboard the MSC Seaside was going to be good. The ship, after all, had been purpose-built for one of the planet's most stunning tracts of turquoise—i.e., the Caribbean—with record ratios of outdoor space to ensure vista-induced jaw droppage at every turn. Especially on the glass catwalk suspended over the sea.
But when you're talking about Caribbean travel in 2018, a good trip is just the starting point. Ideally, meaningful factors in, too—and that's easily accomplished on the islands hardest hit by last year's infamous storms, where simply showing up boosts the local economy and morale.
So in hopes of supporting the incredible recovery underway—and getting an updated read on it—we dispatched award-winning social media influencers Andy To and Joycelyn Linh on an MSC Seaside cruise to the eastern Caribbean.
And now, of course, we're hoping to follow in their footsteps (and jeep tracks) ASAP. Read on for five reasons you will be, too.
1. St. Martin really knows how to roll out the welkom/bienvenue mat. 
One of a handful of places on the planet where you can visit two countries on one island, Saint Martin is part Dutch (the southern third, aka Sint Maarten)—and part French (the northern two-thirds, aka Saint-Martin). But at 34 square miles, this northeastern Caribbean gem is small enough that the international boundary feels mostly like a formality—in fact, pretty much the only formality you'll find there.  

As Andy discovered on his jeep tour—one of more than 20 excursions MSC Seaside offers on the island—both French- and Dutch-speaking locals have a gift for making visitors feel totally at home. "A huge highlight for me was getting to hang out with some kids who were fishing on a pier," he says. The mini anglers were master conversationalists, even across language barriers: "In a comical mix of French and English, we managed a great conversation—and a great time."
Other standouts from the day included a stop at a flea market that stocked all kinds of treasures—especially jewelry crafted from island-sourced stones. And of course, there were the vistas, which this mountainous island has in spades. (See: Cole Bay Hill lookout, with its unreal views of Simpson Bay Lagoon and the neighboring islands.) 
---
2. St. Martin's beaches remain some of the most beautiful on Earth.
Andy's just the latest in a series of observers—some from The New York Times, others from Travel + Leisure—to report that now is the time to hit the beaches of St. Martin. Not only have the shores been restored to their pre-storm splendor, but you can still enjoy many in a relatively crowd-free state—that is, a state of pure bliss, by most accounts. (Baie Longue is always a good starting point.)
While the jeep tour includes beach time, MSC offers more beach-centric options as well, whether the power-rafting, snorkel and beach adventure; the kayak snorkel adventure; or simply lunch on the beach.

---
3. Whether you're off-roading or sidewalk-strolling in Puerto Rico, you'll be heartened by what you find.
Having already visited Puerto Rico after the hurricanes for a fund- and awareness-raising project last November, Andy was relieved to see how much progress had been made since then. On a nature-focused ATV tour into some lush countryside—with stops at lookout points and a swimmable stretch of refreshing river water—"the tour guides did a great job of explaining how the hurricane had really affected them, and just how much was involved in the cleanup of the roads and trails."  

Meanwhile, in San Juan, the vibrancy of the street life was once again starting to rival that of the colonial facades. MSC offers various ways for you to see for yourself, but one of the most immersive is the Old San Juan Historical Walk and Coffee Tasting—kicked off with a proper café con leche. 
---
4. The Bahamas are good, old-fashioned fun. 
Having rebounded right away after minimal damage, the main Bahamian tourism centers are not only open for business—but back to business as usual, with all the implied fun for cruise passengers. In Andy's case, that meant exploring all the throwback elements of Nassau's historic district, from the 17th- and 18th-century architecture to the old-timey carriage rides to the natty police officers' uniforms. "There's just such an iconic and fun old-school vibe here," he says. 
If you'd prefer to get out into the Bahamian nature, MSC also offers—among other excursions—a glass-bottom boat tour, a catamaran reef snorkel and sail and a "see & sea" tour in a semi-submarine. 
---
5. MSC Seaside is a great place to call home.
No matter how fabulous your local explorations, this is a ship you're always happy to come back to, says Andy, who was smitten with everything from the aforementioned glass catwalk (because who isn't?) to a little culinary secret: the onboard crepes. "They're served at a spot that's tucked away toward the back of the ship—Venchi—and I was there every day. You have to pay extra, but they're totally worth it, especially if you get any combination of fresh strawberry and Nutella." To say nothing of celeb chef Roy Yamaguchi's first restaurant at sea, the largest Balinese spa at sea, the most interactive aqua park at sea and the longest zip line at sea (in fact, there are two of them, side by side).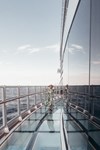 Needless to say, the Insta-ops abound, and if you're a photographer/aspiring influencer yourself, here's Andy's cheat sheet:
The best times to shoot your shipboard panoramas are the early-morning and late-afternoon golden hours. (These are the periods just after sunrise and before sunset, when the sun is low in the sky—within six degrees of the horizon, for sticklers.)
There's an upper-deck viewing bridge where relatively few people go—and though it's not the spot most crew recommend for the best pictures, you can actually get your best shot from there. "You see the Bridge of Sighs and South Beach swimming pool—and the perspective really shows the size of the ship."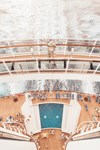 3. If you're able to splurge, go for one of the Aurea Experience Suites with a private outdoor whirlpool bath, and not just because you can shoot from a hot tub. Those particular balconies are curved, giving you—essentially—a built-in wide angle and a huge range of photographic possibilities. Plus, says Andy, "It's just amazing to watch the sunset from your own little intimate perch, with the warm, fresh Caribbean air all around you."
Amazing indeed. See you there. 
---
Ready to go? Check out these Caribbean itineraries on MSC Seaside, starting at $509 per person, including free drinks.