Why Fall is Still a Great Time to Visit Greece

All rights reserved GNTO.
Greece always comes to mind as a summer destination, but few know the secret that it's actually a fantastic destination in the fall as well. As the crowds of tourists dissipate and the high summer temperatures fall to more pleasant levels, Greece is still a traveler's paradise. (And yes, the water stays warm through early October, so you can still go swimming.)
Read on to see our guide of what to do in and around Athens and Thessaloniki, as well as some day trips (on land and sea) for more fall fun in Greece.  
If you're in southern Greece...
In the summer, the race is on to get to your idyllic island destination like Mykonos, Corfu or Santorini, so many folks only see Athens' airport. In the fall, take the time to get to know this historic temple city in all its glory. The iconic Acropolis is visible from most every part of the city, inviting you to explore the Parthenon and other archaeological remains on the hill. But just steps away from the Acropolis is the hidden neighborhood of Anafiotika, which was built in the village-style of the Cycladic islands, complete with whitewashed walls, brightly painted doors, narrow cobblestoned streets and the occasional cat in a doorway.  

Stroll around Syntagma Square, the most famous square in Athens history. (Syntagma means "constitution" in Greek and the square got its name after the people demanded one of King Otto in 1843.) Walk up the marble steps to Amalias Avenue and you can see the Old Royal Palace, home to the Hellenic Parliament, as well as enter the 38-acre National Gardens for free. Or, if you're interested in some retail therapy, walk down the Square steps and find yourself at the beginning of Ermou Street, a pedestrian thoroughfare that has everything from the big commercial chains to independent shops. Walk a bit further down and you can find the Monastiraki flea market, particularly busy on Sundays when locals flock here with their wares.  

In the fall, temperatures drop to the 60s and 70s, making hiking a more appealing activity than in the summer. Take advantage of this with a trip to Mount Lycabettus. The steep walk takes anywhere from 30 to 90 minutes depending on your fitness level (but we won't tell if you take the cable car to the top instead). At 909 feet, Lycabettus Hill is the highest point in the center of Athens, giving you incredible views of the city. There's even a restaurant at the top so you can enjoy an evening meal amid all the sparking lights of Athens and the Acropolis below.
---
Day trips from Athens

About an hour's drive north of Athens is Mount Parnitha National Park, a protected area in the highest mountains in Attica, full of caves, lakes, thick forests and relics of times past like ancient fortresses and Byzantine monasteries. While hiking around, you might catch a glimpse of the red deer, short-toed eagle or Mediterranean mole.  
The south coast of Athens from the bay of Faleron to the coastal town of Vouliagmeni is known as the Athenian Riviera and is full of hotels, villas and rental apartments as well as restaurants, coffee shops and nightlife. This pine-covered peninsula is about 12 miles south of central Athens and is a getaway for the rich and famous (just check out all the mansions along the coast). Anyone can hike the coastal pathway here though; the terrain is flat and well-paved, making it ideal.

Be prepared to try liquid gold if you venture to the Peloponnese region, about 2 hours' southwest of Athens. This area is one of the largest producers of olives, which are harvested in the fall. Take a tour of an olive farm, sample some oil and try to find extra room in your luggage.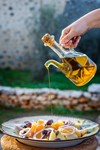 In Greek mythology, Zeus released four eagles from the corners of the (flat) Earth, and they met at Delphi. The ancient Greeks therefore believed Delphi to be the center of the world, and this became the spot where the oracle (a priestess who sat on a three-legged bronze bowl and could predict the future) would answer questions posed to the god Apollo. Located about 100 miles from Athens, the ancient site of Delphi is now a UNESCO World Heritage Site.

---
Hit the water
Ferry service runs all year round as long as weather conditions allow it, and the fall is a great time to visit a few of the seven Saronic Islands, which are relatively close to Athens, perfect for day trips. These islands are known for being picturesque and full of beaches.
Both Aegina and Agistri take about 45 minutes to 90 minutes by ferry from Athens. Aegina is famous for its pistachios and there is an annual celebration of the nut each September that includes cultural events, concerts and children's events. Each year, Agios Nektarios, one of the most renowned Greek saints, is celebrated every Sept. 3 and Nov. 9, attracting lots of visitors. Meaning "hooked," Agistri's pristine beaches and picturesque streets are indeed captivating. Full of pine trees, the island is a popular spot for walking in the countryside or going cycling.  
It takes a bit longer (2.5 hours) to get to Spetses, but it's worth it. Here horse-drawn carriages take people around, and you can stroll around the old harbor and learn about the island's rich naval tradition. September brings the Armata Festival (Sept. 5-10), which recreates naval battles and has fireworks on the last day.  
---
If you're in northern Greece
You might not be as familiar with Thessaloniki as you are with Athens, but it is just as lively and welcoming to visitors. To get to this northern city, you will need a connecting flight from Europe or Athens; Thessaloniki has the second-largest international airport in Greece.
Named to TIME Magazine's "World's Greatest Places" list this year, Thessaloniki is Greece's second largest city — population approximately one million — and has all the attributes that come with that (think: arts, shopping and nightlife). It's also historically important and home to 15 UNESCO World Heritage Sites, 29 museums and this year it celebrates the 63rd year of its International Film Festival (Nov. 3-13).   

Thessaloniki is also a major city for foodies thanks to the influx of Roman, Byzantine, Jewish and French influences over time and is a member of the UNESCO Creative Cities of Gastronomy network. Be sure to check out the completely refurbished Modiano Market, full of food stalls as well as gastronomy festivals and pop-ups, when it reopens in September.
For a taste of what the city offers, venture to the Ladadika neighborhood. Once a commercial marketplace for traders from the nearby port (especially olive oil, Ladadika means "with oil"), the area has been recently restored into a pedestrian-friendly district with narrow cobblestone streets, colorful storefronts and alfresco dining. After a satisfying meal, make sure to find a shop selling bougatsas, a sweet and savory cream-filled pie, and/or Trigona Panoramatos, custard-filled phyllo cones soaked in syrup.

The most popular landmark to see is the White Tower, which stands at the seafront and was built as a fort on top of a Byzantine fortification around the 15th century to strengthen the coastline defenses. It even served as a communication center for Allied forces in World War I. Today the public can visit the museum inside it and check out the impressive views from the highest level.
One of the oldest districts in Thessaloniki is Ano Poli, which is one of the few spots that retained its original character after surviving a fire in 1917 that destroyed much of the old city. Meander through its narrow cobblestoned streets, passing pastel-colored houses and stopping in cozy coffee shops. On a clear day, you can see Mount Olympus from here.
---
Day Trips from Thessaloniki

About one hour west of Thessaloniki is Vergina, which was the first capital of the ancient kingdom of Macedonia and is now a UNESCO World Heritage Site. This is where King Philip II of Macedon lived and died and where his son, Alexander the Great, was crowned before setting off on his quest. In 1977, Philip II's tomb was discovered, unlooted and virtually intact, and you can visit the royal burial chamber today.

Halkidiki (or Chalkidiki) is a popular resort region during the summer months due to its photogenic beaches, but is still beautiful in the fall to stroll along the sand. Halkidiki is a peninsula that is then divided into three smaller peninsulas: Kassandra, known for its nightclubs; Sithonia, with its picturesque fishing villages; and Mount Athos, or the Holy Mount, the only place in Greece completely dedicated to prayer and worship of God.
As the oldest monastic republic still in existence, the Holy Mount is a self-governed part of the Greek state and visitors must submit a copy of their passport to the Mount Athos Pilgrims' Bureau. Women, however, are not allowed at Mount Athos, to ensure celibacy and also because according to Greek Orthodox tradition, the Virgin Mary tried to sail to Cyprus and was knocked off course to Mount Athos, a place she loved, so she alone is allowed to represent women there.
---