Why DC is the Capital of Everything

Washington, D.C. welcomes everyone to visit with its affordability and world-class offerings — and this truly is a city that has something for all. Want history? Check. Want green spaces? Check. Want world-class cuisine? Check. Want the kids to learn something? Check. Oh, and to top it all off, lots of stuff here is a four-letter word you can scream from the rooftops. (That would be free.)
Read on to see why DC is the capital of…
Affordable Getaways
Thanks to so many free (or super cheap) activities to fill your day, D.C. makes it easy to balance your vacation budget. (Weekend hotel stays are often cheaper as well as the politicians, lobbyists and businessmen go home to their constituents.) Start your trip by getting your bearings on the nation's capital with a guided tour. DC by Foot's pay-what-you-like guided walking tours covers the city from the awe-inspiring monuments of the National Mall, the ghosts of Georgetown, scandals on Embassy Row, the Arlington Cemetery and more.

You're no doubt familiar with the term "The Smithsonian," but it's actually a collection of 21 world-class museums and galleries, 17 of which are in Washington, D.C. —  and all of which are free.  You can excite (and exhaust) your brain with knowledge on topics literally ranging from A (art) to Z (zoological) as you explore the world's largest museum, education and research complex.


For just a taste of what's available at the Smithsonian: watch the revered French cathedral's journey through time with "Notre-Dame de Paris: The Augmented Exhibition" an interactive reality immersion experience (through Sept. 26) at the National Building Museum. Explore America's pastime full of memorabilia at the National Postal Museum's exhibit "Baseball: America's Home Run" which opened this year and runs until Jan. 5, 2025. See who had celeb status back in the day with the newly launched "Powerful Partnerships: Civil War-Era Couples" exhibit at the National Portrait Gallery (running through May 18, 2025). The National Air and Space Museum is scheduled to re-open this fall with eight new galleries.
---
Family Adventure
If your children tend to wake (you) up early, you're in luck as the National Zoo opens at 8 a.m. every day. Part of the Smithsonian Institution, the zoo is celebrating 50 years of giant panda care, collaboration and conservation this year. Come say hi to Mei Xiang, Xiao Qi Ji and Tian Tian, as well as the 2,700 other animals that live at these 163 acres in D.C.'s Rock Creek Park (more on that later).


As if being home to all those Smithsonian museums wasn't enough, D.C. is also host to a number of museums that cater to kids (and kids at heart). Advanced ticket purchases are recommended for the following places: The National Children's Museum is open daily (except Tuesdays) and has interactive exhibits exploring science, technology, engineering, art and math. Test your undercover and code-cracking skills at the International Spy Museum, open daily. Head to the world's first voice-activated museum, Planet Word, and immerse yourself in language, open daily (except Mondays).  


If all that indoor activity has you itching for the outdoors, go mini golfing at East Potomac Park. Open daily and built in 1931, this mini golf course is the oldest continuously-operated miniature golf course in the United States. At one point, there were approximately 30 mini golf courses in D.C.; today it is the last outdoor one standing and is listed in the National Register of Historic Places.
---
Culture
It's not just the elite who can head to the prestigious Kennedy Center for a night on the town. The center's Millennium Stage offers weekly free outdoor performances curated by artists and organizations from around the DC area. Be sure to check out the calendar of events so you don't miss out when you visit. Visit The Reach, the center's newest extension, which offers classrooms, studios and a variety of multi-use public spaces for things like dance classes and film screenings.


Step inside the Library of Congress and be dazzled by the Gilded Age architecture (and all the books). While you can't actually check out a book, you can check out a reading room or take a guided tour — all free of charge. Strolling around the National Gallery of Art is also free, and you'll be rewarded with world-famous works by legends like Matisse, van Gogh, Picasso, Rembrandt and da Vinci.   

Walk under the latest (and very Instagrammable) Palmer Alley installation, Coneflower Canopy (through Aug. 31). The current installation pays tribute to Echinacea, a flower indigenous to the area, and features 230 neon coneflowers. Palmer Alley is part of CityCenterDC, a mixed-use area of shops, restaurants and public spaces; the installations are constantly being updated. 
---
Craft Cocktails & Cuisine
As a beacon for people around the world, it's no surprise then that D.C.'s restaurant scene caters to all taste buds – and excels at it. (It even has its own Michelin Guide.) The city now has 24 Michelin-starred restaurants, including four that were added to the list this year with one star: Albi, which serves Middle Eastern cuisine; Oyster Oyster, also a James Beard Award nominee in 2022; Reverie, which focuses on the local daily catch; and Imperfecto, a blend of Mediterranean and Latin American cuisines.  



Locals (and dignitaries) have been making a beeline for Ben's Chili Bowl in the U Street Corridor for more than six decades. This family-run legend offers a half-smoke dog that many consider the city's signature dish. Opened since 1958, Ben's Chili Bowl was an integral part of history during the last century; not only did the owners' donate food to the 1963 March on Washington (when Martin Luther King, Jr. gave his "I have a dream" speech), but they stayed open during the 1968 riots when both law enforcement and activists ate there.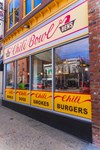 After all that eating, unwind with a drink and view of the city at one of D.C.'s many rooftop bars. Reserve a spot, dress to impress and head 11 stories up at Hotel Washington to get a bird's-eye view of the White House from aptly titled VUE. Another hotel rooftop bar, Crimson View is a great place to catch the Washington Monument at sunset; bonus, if you're hankering for a whiskey bar, there's one inside the building too (Motto by Hilton Washington DC City Center). Sip on a cotton candy gin sour or an olive oil-washed gimlet with mint oil while looking at the US Capitol dome or downtown D.C. at Ciel Social Club; with a name meaning "the heavens" in French, this penthouse lounge and restaurant is on top of the AC Hotel Washington DC Convention Center.   



Sometimes you just want to grab a drink without getting gussied up, and for that, there are tons of local bars. DC9 Nightclub has two floors; the first floor is a typical bar but with a dingy punk rock feel to it while the second floor has a DJ spinning tracks for the dance floor. There is a rooftop deck as well. Jimmy Valentine's Lonely Hearts Club is more off the beaten path, with only a pink lightbulb above the door to let you know it's the right place; expect craft cocktails, counterculture art along the walls and red lighting that gives it all a sexy vibe.
---
Historic Spots
If you've already seen the major monuments by day, gain an awesome new perspective on them with a Monuments by Moonlight Tour, a trolley tour that takes you to some of the city's most evocatively lit memorials—from Lincoln's to Martin Luther King Jr.'s—while a knowledgeable guide recounts history along the way. If you buy your tickets online, you can save 5%.


Part of the Smithsonian, so therefore free to visit, the National Museum of American History offers a dazzling array of Americana items. The diverse collection of objects range from advertising campaigns, domestic furnishings and food to musical instruments, clothing and popular entertainment. Here is where you can see the flag that inspired America's national anthem, Dorothy's ruby slippers, Julia Child's kitchen or 3 million other historical objects.


Go beyond the history book and get up close to the Declaration of Independence, the U.S. Constitution and the Bill of Rights at the National Archives Museum, the museum wing of the National Archives building. Cooler temperatures prolong the life of the documents, so bring a light sweater if you tend to get chilly. Photography is prohibited here, so just use your mind as your camera this time.


The site of President Abraham Lincoln's assassination, Ford's Theatre, is still an active theater with performances; the President's Box is decorated with an American flag and a portrait of President George Washington, just as it was in 1865. Visitors can head to the museum in the building to see artifacts related to the assassination as well as explore exhibits on Lincoln's presidency and Civil War milestones.
---
Natural Retreats
While D.C. is an action-packed city, you can also just take a pause and head into nature for some zen time. Officially authorized in 1890, making it the third national park to be designated by the federal government, Rock Creek Park encompasses 1,754 acres (including the National Zoo). There are over 32 miles of hiking trails and paths here, as well as opportunities to go horseback riding, golfing, boating and play tennis. Part of Rock Creek, the 12-acre Meridien Hill Park, known locally as Malcolm X Park, sits on a prominent hill north of the White House; its 13-basin cascading fountain is one of the longest in North America.  


Free to enjoy every day of the year (apart from Christmas Day when it's closed), the U.S. National Arboretum covers 451 acres. Stroll through collections that include herbs, perennials, azaleas, magnolias and a grove of state trees. The National Bonsai & Penjing Museum has now reopened to visitors as well to enjoy those plants.  


If the Potomac beckons you, you can rent a kayak or canoe to paddle around part of the river. (It stretches 355 miles.) Sail around the Georgetown waterfront, Theodore Roosevelt Island, go under the Francis Scott Key Bridge or past some of D.C.'s monuments.
---
Diversity
As the capital of a melting pot nation, D.C. is also the place where you can learn more about various cultures at no cost. The National Museum of African American History and Culture highlights the contributions of African Americans and is home to more than 40,000 artifacts. The current exhibit, "Make Good the Promises: Reconstruction and its Legacies," uses artifacts, interactive media and first-hand accounts of women and men to focus on the period following the Civil War through an African American lens. Free timed tickets are required to enter, so plan in advance.


The Arthur M. Sackler Gallery and the Freer Gallery of Art together form the National Museum of Asian Art, which contains more than 45,000 objects dating from the Neolithic period to today from the ancient Near East to China, Japan, Korea, South and Southeast Asia and the Islamic world. Current exhibitions include "Once Upon a Roof: Vanished Korean Architecture" (through Oct. 30) and "Underdogs and Antiheroes: Japanese Prints from the Moskowitz Collection" (through Jan. 29, 2023).


The National Museum of the American Indian has one of the world's most expansive collections of native artifacts, covering the entire Western Hemisphere from the Arctic Circle to Tierra del Fuego. These artifacts include objects, photographs, archives and media. Current exhibitions include "Nation to Nation: Treaties Between the United States and American Indian Nations" (through Jan. 25, 2025) and "Why We Serve: Native Americans in the United States Armed Forces" (through Nov. 30, 2023). The museum opened the National Native American Veterans Memorial on Nov. 11, 2020 to recognize those who served and there will be a dedication ceremony and native veterans procession on Nov. 11, 2022.
---