Refresh with a Weekend Getaway in Tempe

Tempe, Arizona is overflowing with cool things to do — we mean that both literally and figuratively — and the city's wide range of activities provides plenty of incentive to get out and explore something new. 
Located between Phoenix and Mesa, Tempe is the proud home of Arizona State University and, as such, is infused with engaging art, enriching culture, diverse dining and educational events that come with being a college town. The city offers fun diversions for the whole family, as well — with activities and amenities aimed at pleasing parents and kids alike.    


And Tempe's got ways to beat the seasonal heat from all angles. Cool down from the inside with local craft beers and frozen cocktails; on the outside with splash pads and rooftop pools; from above aboard breezy paddle boats and horseback rides; and from below with trips into underwater tunnels at the local aquarium.    
Make a Splash with Pools, Water Parks & Boating Fun
Pool days have been raised to an art form in Tempe, where sparkling blue waters, lounge chairs and icy drinks are a heavenly antidote to rising temps. Even more pleasurable: take in sweeping  views along with your refreshing swim or soak at a number of rooftop pools.


To get in on the sky-high pool action, try AC Hotel by Marriott Phoenix Tempe/Downtown, whose deck offers spectacular views of 'A' Mountain and Tempe's glorious sunsets; Residence Inn by Marriott Tempe Downtown/University, where you can score lovely vistas of Tempe's skyline while you bask; or Hyatt House Tempe, boasting one of the newest rooftop pools on the scene — and great views of Sun Devil Stadium by day, and the city lights by night.


Traveling with little ones? You'll want to include the Splash Pad at Tempe Marketplace on your itinerary. Parents can relax in shaded sitting areas and peacefully enjoy an iced coffee or snack from an adjacent café while kiddos rejoice in the spurting and spraying bursts of water.
Kiwanis Wave Pool is another fun-filled water adventure, and its indoor location means you don't have to fret about sunscreen. It boasts waves of up to three feet, water slides and raft rentals. The facility will reopen in mid-April after maintenance, but its impressive outdoor splash pad, called the Cloud, is up and running now.  


Boating is yet another way to enjoy the water in Tempe. Rent a kayak, rowboat, standup paddleboard or even a swan-shaped pedalboat at Boat Rentals of America on Tempe Town Lake. You can also enjoy views of the scenic lake from the bike path that circles the lake, or with a picnic at the expansive Tempe Beach Park.
Chill Out with Craft Brews and Icy Drinks
It doesn't matter how old you are — nothing says "summer vacation" like a tasty ice-cold treat. In Tempe, this means a stop at Joe's Italian Ice for the kids, where the treats are made of real fruit from California farms and ice cream straight from a Philadelphia dairy; or at Bahama Bucks, where overfilled cups of airy shaved ice come in more than 100 flavors, from the unexpected (blueberry cheesecake and sugar cookie, for example) to the traditional (pina colada and pink lemonade, for example).  


Adults, on the other hand, will fancy a Prickly Pear Frosé 'Rita from Ghost Ranch. The southwest cuisine restaurant mixes up tequila, rosé, lime and bonafide prickly pear puree (whose flavor has been described as a mix between watermelon and bubblegum) to achieve frozen libation perfection. The House Pineapple Daquiri at The Golden Pineapple Craft Lounge is another must-sip — and their brunch menu, which includes specially tailored options for kids, is another great reason to pay a visit.


Alter Ego is a world cuisine fusion restaurant (think sashimi crudo, ham and asparagus empanadas and crab quiche, all on the same menu) that serves up signature cocktails like the Tamarind Mule — an infusion of local gin, tamarind syrup and island-inspired ginger beer — alongside other worldly, refreshing concoctions.  


Beer lover? There's a ton of unique craft brews to try while you're in town. Huss Brewing Company's "Scottsdale Blonde" and The Shop Beer Co.'s "Church Music," described as a juicy IPA, are fun to sample — and just beginning of the options available on Tempe's rich craft brew scene.
Scope Out Kid-Friendly Fun
At SEA LIFE Arizona Aquarium, visitors can dive into an underwater world filled with porcupine pufferfish, zebra sharks, seahorses, stingrays and even a rescued sea turtle. Interactive exhibits include the brand-new Pirate Event (through April 10), which gets kids involved in an aquarium-wide treasure hunt in search of Captain Careless' missing loot. Always awesome is the 360-Degree Ocean Tunnel feature, which allows you to walk under a convex, 15-foot tank as 20 diverse ocean species flip, float and flutter overhead.


Kids can get their STEM on at LEGOLAND® Discovery Center (which, incidentally, also has a fun pirates even going on through April 10th) or, for those who are serious about science, the ASU School of Earth and Space Exploration. At the latter, families and individuals are welcomed to check out planetarium shows (Wednesday and Saturday afternoons), an extensive collection of real meteorites and the Mars Space Flight Facility. There, you can peek in on researchers as they use information beamed down from spacecraft on the Red Planet to answer questions about Mars' geology and mineralogy.  


The Hall of Flame Museum, filled with shiny red firetrucks and more than 90 pieces of firefighting equipment dating from 1725 to 1960 and collected from all over the world, is sure the "ignite" the imaginations of any aspiring rescue workers in the family. The sprawling space includes a truck kids can climb on and a children's play area complete with helmets and jackets to try on.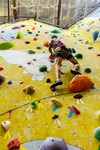 When indoor playtime is in order, Tempe offers escape rooms, rock climbing facilities and entertainment centers like Main Event, Dave & Buster's and Tilt Studios, all of which are equipped with air conditioning so families can truly chill out. Or catch a natural breeze with a ride at KOLI Equestrian Center in the Gila River Indian Community.     
Fuel Up with Local Specialties
You'll need plenty of energy for exploring all Tempe has to offer, which means a hearty breakfast is in order. Despite its name, Snooze, an A.M. Eatery, is totally up for the job. Their mouthwatering pancakes come in varieties like sweet potato, vegan bliss and blueberry Danish — and they've got bars proffering lattes, fresh-pressed juices and brunch-ready cocktails, so there's literally a beverage for every mood.


Fuel up on with a healthy and yummy breakfast at Daily Jam on Mill Avenue and then take an early morning hike up 'A' Mountain just across the street.  Or hang out with the locals at Harlow's Café on University Drive which offers a classic diner experience for when only a hearty omelet and a side of hash browns will do.        
When dinnertime rolls around and the kids are in tow, you'll want to try Rustler's Rooste. It's hard to beat a place that combines an indoor slide, balloon artists, a wood-chip strewn floor, great views, live music and cotton candy for dessert. The jungle-themed Rainforest Café is another sure kid-pleaser. The theme park-like restaurant even lets families make reservations to dine with their little ones' favorite rain forest friends.

If you're lucky enough to score some time for adulting, your first order of business is to decide where in the world you'd like to take your palate. There are a host of flavorful Asian options —like vegetarian-friendly Chutney's Indian Cuisine; Japanese Azusa Ramen; longtime Tempe favorite Thai Elephant Bistro; and pan-Asian Little Szechuan, just for starters.


For Italian, try family-owned Vincitorio's, whose chicken cacciatore is a house fave; or for authentic Mexican, pop into Rosita's, where Tempeans have been enjoying traditional dishes for over 50 years.


Top of the Rock is a, well, "top" fine-dining choice for anniversaries or birthdays, as its panoramic windows overlooking the valley offer views as stellar as their farm-to-table menu is delicious.


If you're (understandably) having trouble deciding among these tempting venues, you can always mull it over at one of Tempe's numerous happy hour spots.    
Find Your Comfort Zone
You'll need several days to even begin to uncover all this dynamic destination has to offer, and a good night's sleep between adventures. Besides the aforementioned rooftop pool options, Tempe's got numerous inviting hotels in which to hang your hat.


There are budget-friendly lodgings, expansive suites and even pet-friendly choices for those traveling with four-legged friends. If centrally-located digs are paramount, there are sleek options downtown and near buzzing Tempe Marketplace, too — where shopping, dining and entertainment opportunities abound.   
---