Ways to Celebrate Summer, Saint Lucia Style

Swaying in a seaside hammock somewhere along Saint Lucia's nearly 100 miles of coastline—a frosty Piton in hand and the bottle's namesake emerald slopes in the backdrop—you'll feel like you've already achieved peak summer vibes.
And the point is hard to argue. But this is an island where "the diverse landscapes—the mountains, valleys and culture of the sea" are, to borrow from local Nobel Laureate Derek Wolcott, just the start of what's special. So, you'll definitely want to venture beyond the powder sugar shoreline.

That said, the pull of the hammock is undeniably strong. So for anyone who needs a little bonus incentive to get out and explore, consider that many of the island's top experiences are on sale this summer—from deep discounts on fabled resort rooms to special offers for tours and excursions. Read on for eight greats.
Tet Paul Nature Trail 
If you're a hiker who associates the biggest panoramic payoffs with the toughest trails, meet Saint Lucia's most compelling counterpoint. Though you'll be walking for only about half a mile on this easy-to-moderate loop trail, you'll be rewarded with views for days.

For starters, you'll gain stunning perspectives on the island's signature emerald peaks: Gros Piton and Petit Piton, or simply "the Pitons"—a UNESCO World Heritage Site. And on a clear day, you'll also take in views of Martinique, St. Vincent and Maria Island, among others. Plus, an onsite guide will in walk you through the lush trailside flora, a working organic farm and a local history lesson.
Mud baths at Sulphur Springs 
Having last erupted in the 1700s, the Soufriere Volcano—for which the famed neighboring town is named—remains a hotbed of activity: boiling mud, steaming earth, bubbling water…and a steady stream of wellness seekers. In a newly expanded mud bath complex, you'll see what draws these travelers here from across the globe, whether they have a skin condition, or arthritis, or just a general craving to detox.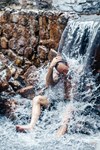 There's little that feels more restorative (okay, or fun) than a good dip in the mud. While you're onsite, you'll also want to do a tour of the famed "drive-through" volcano.
Snorkeling or diving at Anse des Pitons 
Saint Lucia is home to countless gorgeous snorkeling and dive sites, with a range of accessibility and difficulty that accommodates any experience level and vacation schedule. For sheer majesty, however, you can't beat this spot off Sugar Beach between the Pitons, which stand sentinel over the teeming turquoise waters of the National Marine Reserve.

Beneath the surface of Anse Des Pitons, look out for Technicolor parrot fish, trumpet fish, moray eels, eagle rays and so much more. "Anse," by the way, means bay or cove, so wherever you see that word around the island, beauty is sure to follow. Another great example is Anse Chastenet, home to not only the fabled resort of the same name, but also another beloved snorkeling spot.
Toraille Falls 
On an island of rain-forested peaks, waterfalls go with the territory. But you need not wander too far into the wilderness to reach the most beautiful and beloved among them.

Pouring over a flora-festooned cliff, for example, Toraille is a little slice of Eden you can find by following an easy nature trail through a botanic garden. And just because you didn't work hard to arrive doesn't mean you should deprive yourself of a proper reward. Be sure to swim in the pool beneath the waters' 50-foot drop before refueling at one of the onsite picnic tables. 
Walking tour of Castries 
One of several experiences on sale this summer, a stroll around the island's capital is a must. Arguably the heart of any tour is the iconic market. Opened in the 19th century and recently renovated, this orange-roofed emporium of all things local is so special as to have ranked among National Geographic's top 10 food markets around the world.
At a minimum, pick up some of the most famous island-grown spices (think cinnamon, cloves, mace, star anise and turmeric). But to go all in on the experience, try such specialties as accras (fish cakes), coconut-filled turnovers and tamarind balls. The market is also home to exceptional crafts, from straw baskets woven by artisans in a rural coastal community to handcrafted herbal soaps. Beyond the market, be sure to take in some of the most important neighboring cultural sights—not least, Derek Wolcott Square, named for the aforementioned Nobel laureate, who was born in Castries.
Gros Islet 
Though he was a child of Castries, Wolcott lived out his later years in Gros Islet—at the heart of which lies an atmospheric old fishing village. Some fans make the pilgrimage here to see the principal setting for Wolcott's famed epic poem Omeros.

But even if you knew nothing of the author or his work, you'd still want to make the trip to the island's northern reaches just for the Friday night Jump Up. Starting at sunset and running into the wee hours, this fish fry and street party in one is a beloved, decades-old tradition that blends music, dance and whatever the local fishermen have just brought in. Then again, you can find grilled deliciousness of any kind—from chicken to conch to pork—on the local BBQs. To experience a more mellow version of Gros Islet, visit during the day and head out for a scenic horseback ride — one of the many experiences that's discounted this summer.
A stay at a gorgeous getaway
On an island so stunning, the best stays distinguish themselves by—at least for starters— showcasing the land- and seascapes to the max. Some of the most legendary examples are the neighboring sister properties of Jade Mountain and Anse Chastenet, where you'll find rooms that would seem to be missing entire walls.


The effect is, of course, intentional—leaving you with floor-to-ceiling, open-air windows onto the jaw-dropping surrounding nature. And these are just two of the A-List resorts (and stays of all kinds) that are on sale here this summer. Whether you're seeking romance, wellness, water sports, foodie finds or all of the above, you'll find at least one discounted stay that calls to you.
A sunset sail 
At day's end, there's nothing better than a sail around the island in pursuit of the mythic green flash—that moment when the sun hits the horizon and maybe, just maybe, there's an emeraldine blaze to rival the island's bright green slopes.

But even absent the flash, the pink-orange skies and free-flowing rum punch (a hallmark of private charters) make for a dreamy way to wind down your day—or your entire stay. 
---
Ready to go? Explore great Saint Lucia hotel deals and plan your summer getaway.