Venturing into St. Kitts' rums, rainforests and relics

"Gorgeous" is a word that readily comes to mind as the eye wanders across St. Kitts and Nevis' emerald-green peaks, unspoiled coastline and the sparkling sea that surrounds. But one of the most appealing things about this island nation is that there's much more to love below the surface.
St. Kitts' rolling green hills are good for more than a stunning view—there are hikes, birding expeditions, ATV rides and more earthy adventures to be had within them. The same goes for the imposing relics of colonial times—mills, manor houses and fortresses, for example—you'll see dotted across the island. Visitors can dive deeper into the layered story of sugar cane in St. Kitts, and how that's evolved to shape a delicious rum scene—plus "Sugar Mas," the island's electrifying annual Carnival.
So no, a St. Kitts getaway is not your "run-of-the-mill" tropical vacation, but getting there is easier than you might expect, thanks to a new direct flight route from JFK on top of nonstops from five other U.S. gateways. To make a fall getaway even more attractive, a handful of luxe St. Kitts hotels are offering up to two free nights when you stay a week. Here's a closer look at the top experiences on an island whose beauty is more than skin deep.   
A world of beaches
Before diving into the lesser-known St. Kitts attractions, it's worth saying that the island's variety of beaches is a topic of intrigue all its own. Sand colors tell stories about the island's ecology, with golden stretches stemming from age-old corals, and black- and gray-sand beaches resulting from volcanic lava and basalt rocks.   

At two miles long, Cockleshell Beach has a patch of sand for every kind of beachgoer: lively spots with beach bars, beer shacks and loungers with drink service, plus quiet areas with little more than sand and surf. Though it's a popular spot for people arriving by cruise, its size gives plenty of room to spread out even on busier days. 
Set in a crescent-shaped inlet on the island's Caribbean coast, South Friars Beach draws sun-seekers in with its relatively calm waters and even balance between low-key relaxation and helpful amenities (restrooms, showers, beach bars and beach chairs for hire, for example). 
If you'd rather skip the bars and facilities in favor of a nature-rich, serene spot, opt for Banana Bay Beach. Besides its relative quiet, a perk in Banana Bay's favor are the gorgeous views of Nevis you can catch from its shores. Another plus? When you're in need of a snack, a cocktail or a shower, Cockleshell Beach and its amenities are just a short walk north. 
Historic excursions 
Between sun and surf sessions, there's ample historical intrigue here. Native Carib and Arawak people inhabited the land for centuries before St. Kitts became the site of Great Britain's first Caribbean settlement—which led to the colonization of many nearby islands. 
There are many vestiges of Britain's presence on the island—English is the official language, for one, and remnants of the sugar cane plantations that once covered much of the land still stand.  

Among the most outstanding examples of colonial-era architecture, Brimstone Hill Fortress National Park is a well-preserved British military fortress constructed by slaves over more than 100 years during the 17th and 18th centuries. The UNESCO World Heritage Site consists of thick basalt-stone walls built into the side of a steep volcanic hill rising 750 feet above sea level.  
You can walk through the Citadel, home to the complex's historical museum, preserved rooms and antique cannons jutting out in every direction. Ring the fort's tower bell, possibly once used to alert soldiers to meal times or shift changes. And above all, spend ample time admiring the lush greens of the surrounding hills and tranquil blues of the expansive sea.  

For a slice of history served with a side of botany, pay a visit to the Fairview Great House & Botanical Garden. Guided tours of the 18th-century French plantation house include views into its rooms, outfitted with period furniture, as well as walks through its verdant gardens. Aspiring Caribbean cooks can opt to add a culinary and/or rum experience to their visit.
Rum experiences 
Speaking of libations, the legacy of the island's 350-year-long run in sugar production (which largely ceased in 2005) has gone on to spawn a burgeoning rum industry. While on St. Kitts, visitors can embark on a course they only wish had been offered in college—the Kittitian RumMaster program—to hear, see and (best of all) taste all the inner workings of creating the classic Caribbean liquor. 

The master class begins at Wingfield Estate, a scenic 18th-century sugar estate and the site of the Caribbean's oldest surviving rum distillery. There, "students" will tour a preserved aqueduct, mill house and boiling house while sipping a glass of the house spirit: Old Road Rum. 
The convivial lesson continues at Spice Mill Restaurant, one of the island's top eateries, where the resident rum expert will explain how spiced rum and rum blends are created. Eager learners will then get to apply their knowledge by creating their own unique spiced rum creation.
Hiking and birding 
It takes only a glance at St. Kitts' volcanic peaks and lush valleys to understand that it's a great place for hiking. Indeed, from climbs up dormant stratovolcanoes to treks through densely forested vervet-monkey habitat, there are scores of immersive adventures to embark on here.

The Mount Liamuiga Crater Rim hike is a particularly engaging one for skilled hikers, and gorgeous vistas from multiple outlooks at the top (which is, as its name implies, a crater rim) are a huge payoff. You will work for those 360-degree views, though, to the tune of a 3,792-foot elevation gain, though the path through brilliant-green rainforest will give plenty of nature-made distractions along the way. (You might see yellow-bellied Bananaquits, or Lesser Antillean Bullfinches as just two of hundreds of bird species that have been spotted on the island).
Take an expert guide along for safety, plus insight on the native plants and animals you'll spot along the way. 
For a more leisurely hike, the Major's Bay to Shitten Bay trail is a beloved option. The out-and-back trail crosses a shrubby peninsula, ultimately leading to a rocky beach where a wrecked ship's hull juts out of the water. Be sure to factor in a bit of extra time for relaxation and snorkeling at the secluded beach.
Thrill-seeking adventures 
On the topic of snorkeling, that's just one way to get your blood flowing amid the myriad outdoor adventure options in St. Kitts. Certified divers will have their pick of intriguing sites, including several wrecks (Wreck of the Corinthian—a well-preserved, fully upright tugboat set next to a reef—is a popular option) and dozens of reefs at various depths. Octopus, stingrays, eels and even Caribbean reef sharks are among the marine species frequently spotted here. 
Throughout the island, you'll also find land-based excursions that make venturing into the diverse terrain as exhilarating as it is interesting. ATV tours are a popular way to explore the rainforest, hills and remote beaches. For those who need an aerial view of the tree canopy (or a shot of adrenaline), there's a zipline adventure park set right next to the Wingfield Estate, and its course includes lines strung over 250 feet above the valley floor.    

If you need a bit more time to soak in all the scenery, opt for a horseback ride across lush trails and to scenic overlooks. 
Flavor chasing 
Colorful, flavorful, fresh and seasoned with just a hint of spice—that's the quick version of the dining scene on St. Kitts. But like so many things on the island, if you dive a little deeper, there's quite a bit more to it. 
Honeymooners and gourmands will have a difficult job narrowing down which lauded local restaurant to visit each evening. Should it be the brand-new Orchid Bay Beach House Restaurant, set on a gorgeous stretch of Frigate Bay waterfront, which juxtaposes authentic Italian cuisine (handmade pastas, wood-fired pizzas and fresh cannoli for dessert, for example) with a Caribbean coastal-chic ambiance?

Or Serendipity, where the eclectic menu (featuring French-, Caribbean- and Asian-influenced dishes) and serene harbor views have brought guests back for over a decade?
Poinciana Restaurant, named after the tree with brilliant coral-colored flowers, is another standout for its creative Caribbean-fusion fare served on a screened-in garden patio or colorful dining room. Lucky for those who choose "all of the above," these and many other top restaurants are set within 10 miles of each other on the peninsular southern end of the island, so you can hop easily between hot spots.
That's not to forget about the more casual eateries on the island, many of which feature authentic Kittitian fare prepared by locals. Afro-Caribbean, Indian and European traditions come together in the national cuisine, exemplified in dishes like salt fish (salted cod) and dumplings, goat water (a spicy stew made with green papaya, yams, breadfruit and, of course, goat meat) and roti (an Indian-style flatbread stuffed with curried vegetables, chicken or shrimp).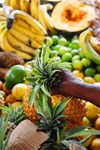 Many dishes like these are served from street carts in the capital Basseterre and at bars and grills on the beaches. For another authentic, like-a-local food experience, pencil in a visit to the Public Market (Wednesday and Saturday mornings in Basseterre) to browse just-picked local fruits and line-caught seafood.
Sugar Mas Carnival 
At the end of each year, the St. Kitts and Nevis Carnival alights on the two-island nation, culminating with a Grand Parade through the streets of Basseterre. This winter marks the 52nd anniversary of the Sugar Mas festival, running from Dec. 15, 2023 to Jan. 2, 2024.

Pageants, live soca bands, night markets, holiday light displays, contests, galas and street parties galore are all written into the lineup of the marathon-style festival. If you're looking for a high-vibing, festive and uniquely Kittitian experience, you'll want to attend—and to book your accommodations now while there are still rooms available. 
If you can't make this year's Carnival, there are many other happenings on the island throughout the year, from music festivals to cricket tournaments to restaurant weeks. See the events calendar here. 
Limin' time 
There are many interpretations of the colloquial term "limin'" on St. Kitts, but everyone seems to agree that it involves having a good time. If you're doing any of the above-mentioned things—kicking back on the beach, strolling through botanical gardens, tasting Caribbean rums or eating a delicious meal, you're limin'. If you're dancing at St. Kitts' Carnival, you're definitely limin'.

And there are many more opportunities to get your lime on—from Frigate Bay's nightlife hub, The Strip, where Mr. X's Shiggidy Shack Beach Bar and many other popular venues light up the night; to low-key live-music Sundays at Shipwreck Beach Bar on South Friars Beach. If life allows, stay a week or longer, so you'll have time to perfect the art of limin'.
---
Ready to go? Browse St. Kitts fall travel deals and get ready to venture deeper in St. Kitts.