The experiences I've had over the past four years with my husband Max Loong have felt like a dream. A big part of that has to do with travel. I know the theme of this blog post is "How Travel Sparked Love," but perhaps it should be "How Love Sparked Travel"!
You see, travel is so vitally important in a romantic relationship. It not only allows you to get to know your partner better, but you also come to better understand the intricacies of that person that you potentially will spend the rest of your life with. Like how particular he is about where he goes, what he does and the hotels he stays at; how clean one is, organized and patient. You name it, you learn it.
I always loved travel, and since being with Max, I've traveled more than I ever could imagine. He is a successful host, actor, producer and hotelier. His jobs are primarily overseas, so for much of our relationship, we traveled together. That is really how we got to know one another.
There are many moments from the past four years that stand out to me, but I will highlight the top three.
1. Antibes, France:


Antibes holds an incredibly special place in my heart, as this is where my husband proposed to me. We were actually on a road trip, headed to a friend's wedding, when he decided to take me to stay at one of the most beautiful hotels I've been to, the famous Hotel Du Cap Eden Roc. He surprised me with a visit to the salon and a romantic dinner. Prior to dinner, we enjoyed the Champagne lounge and then were escorted to dinner, which was not in the direction of the restaurant. I soon saw rose petals and a private table adorned with flowers in a private cabana overlooking the ocean with the most incredible sunset. Max took me out on this little ledge as he got down on one knee and proposed; we spent the rest of the evening having a fantastic four-course meal and calling our family and friends.
2. Bali, Indonesia: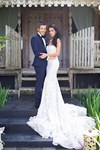 This magical and spiritual place will always be our second home. We have a family resort there called Hidden Hills Villas, and it is one of the first places I visited with Max after we became a couple. I remember when the resort was just under construction and his mother, Beatrice Loong, was designing it. It is now 2 years old and one of the most stunning affordable luxury resorts I've been to. With six private villas, each uniquely designed with its own private pool, 180-degree sunset ocean views and butler service, it's to die for.
In fact, we are currently doing a contest where we have partnered with Travelzoo and Honeyfund to give away a six-night/seven-day trip to our resort, along with a $1,500 Honeyfund Gift Card! All you have to do is tell us your travel love story and you will be entered to win.
Bali is also an important place for us as we got married here. We shared one of the most important days of our lives in this wonderful country of Indonesia. We had surrounding parties and events, over a week long period, that we will never forget and were able to share with family and friends from all across the world. People whom decided to come to meet in one location just for us. Additionally, since travel has been such a big part of our lives, our wedding was also travel themed, beginning with passport invites, boarding passes handed out to guests by Pan AM dressed stewardesses which informed the guests where they were sitting, globes where our guests could write messages for us, luggage decor, tables named after countries we have visited, etc.
3. Maldives:


We spent our honeymoon in this paradise at the gorgeous Per Aquum Niyama. Talk about the most magnificent over water villa: Words cannot describe this resort. We were able to experience a romantic time alone on a remote island with wine, jet-skiing, snorkeling, bicycle riding, neon underwater bar and club, massages, amazing food -- the list goes on. It was one of the few times I actually did nothing but relax. Pure heaven.
My fond memories of us traveling expand and go far beyond this list (from time spent in Japan, Monaco, Italy, etc.), but I would never complete this blog post if I kept going. To follow me on my travel adventures, please check out my blog at www.SimplySepi.com.