Trade cold for gold in Georgia's Golden Isles this winter

While the words "winter wonderland" have a cute ring to them, the case could be made that the most wonderful part of winter is escaping for a warm-weather vacation. If the chance to thaw out tempts you, but a sunny island vacation feels out of reach, it's worth planning a trip to four not-so-far-flung islands off the coast of Georgia.


Their names are St. Simons Island, Sea Island, Jekyll Island and Little St. Simons Island. These barrier islands set midway between Savannah and Jacksonville are dripping with southern charm and hospitality. And their winter temps — which hover in the mid-60s even at winter's peak — only enhance their welcoming vibes. Whether your ideal winter escape entails casting a line, treasure hunting (we'll explain) or shopping open-air holiday markets sans mittens, you can do it in the Golden Isles while saving big on stays compared to summer travel.       
Here's our guide to an island vacation that's as good as gold — but much easier to find.
Discover a treasure trove of cheery events
The calendar is so packed with feel-good happenings during the winter months, you're likely to stumble upon a good one regardless of when you travel to the Golden Isles. However, it is worth planning your trip to coincide with some of the region's signature festivals and events. 


Jekyll Island, the southernmost of the barrier islands and a protected park full of natural and historic sights, sparkles for the entirety of the holiday season with its Holly Jolly Jekyll lineup (Nov. 25 - Jan. 8). Highlights include trolley tours of the dazzling holiday lights and decorations, a light parade (Dec. 10) and fireworks shows (Dec. 22 & 29).
And its festivities don't stop after the holidays. Island Treasures (Jan. 1 - Feb. 28) gives participants the opportunity to hunt for — and take home — a real treasure: an artisan-crafted glass orb, reminiscent of the hollow glass balls local fishermen here once used to mark their nets.


Jekyll Island hand-picks artists from across the country to create unique pieces for the annual treasure hunt. Scour the island (or better yet, use this map to narrow down your search) to find plastic replicas, which you can trade in for the real deal at the island's information center. Even if you don't find an orb, you'll win, as your hunt may lead you to sites like the Jekyll Island Landmark Historic District, once frequented by Rockefellers, Vanderbilts, Pulitzers and more of the wealthiest Americans of the Gilded Age; plus the picturesque natural beach at Great Dunes Park, among other scenic areas.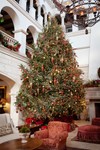 On Sea Island, a gorgeous private island accessible to those with reservations for stays and meals at its resorts and/or restaurants, you can expect a slew of holiday celebrations, too. These include a Santa surprise breakfast (Dec. 3) little ones will delight in. There's a menorah lighting ceremony (Dec. 18), a 5-day Christmas extravaganza (Dec. 22-26) and over-the-top New Year's events as well (Dec. 27 - Jan. 2). Of course, these happenings are made all the more magical by Sea Island's ambiance of old-world luxury, evident in its charming historic beach club, the Forbes Five-Star designated The Cloister hotel (tip: check out the award-winning spa) and the 5-mile stretch of pristine private beach that characterizes the island. 


You can cross holiday shopping off your list while supporting local artisans by perusing the handmade pottery, jewelry, sculpture, woodworking and more one-of-a-kind works of art at St. Simons Island's Mistletoe Market (Dec. 3-4). This nostalgic, beachy island (think uncrowded sands, a pedestrian-friendly pier and an adorable, strollable downtown) also hosts kid-pleasing events, like Fireside Stories with Santa (Dec. 7-14) and Teddy Bear Teas (Dec. 11 and 18). 


And we'd be remiss if we didn't mention the festive events taking place in Brunswick, a historic fishing town and the Golden Isles' mainland anchor. Locals and visitors look forward to the annual Christmas parade (Dec. 3), which features dozens of merry floats, marching bands, decorated vehicles and walking groups. The spirited parade ends at picturesque and historic Mary Ross Waterfront Park, which is also the site of Brunswick's very unique New Year's celebration, the Shrimp Drop (Dec. 31). Expect toe-tapping live music and special appearances from local celebrity Bob the Shrimp.  
Spend priceless time in the great outdoors
If your holiday wish list includes the chance to trade screen time for views of serene water, pristine marshland and open sky, a Golden Isles getaway will tick all the boxes. Fishing, hiking, biking, birding and wildlife spotting are all in easy reach, even in the winter months — and golfers will find a little "slice" of heaven here, too. 

Fishermen and women of all skill levels can angle for redfish, snapper and grouper, whether from the scenic St. Simons Pier, at a marina or during a paddle through the marshes or tidal pools. Boat charters and tours are another relaxing and surprisingly accessible way to spend time on the water, whether or not you've brought your tackle box. 


Land lubbers can get in on the outdoor serenity as well, with the numerous nature trails that criss-cross the largely wild landscape, past live oak forests, brackish estuaries and expansive tidal marshland. And the season's mild temperatures mean you can enjoy all the natural beauty without breaking a sweat.
Take the Earth Day Nature Trail in Brunswick across boardwalks and rugged bridges to get a view of the coastal marshes from above. Keep your eyes peeled for resident wildlife along the way, including fiddler crabs and wading birds like egrets and ibis.

Or head to Cannon's Point Preserve on St. Simons Island, reached via a dirt hiking and biking trail that winds past numerous middens — a.k.a. historic refuse heaps, piled high with the shells of oysters and other shellfish consumed by residents here as far back as 2500 B.C.E. At the midpoint of the 5-mile loop, you'll encounter the ghostly ruins of a 19th century plantation. Climb the preserve's observation tower for a birds-eye view. 


For a true taste of rugged nature, designate a day to explore uninhabited Little St. Simons Island and take a naturalist-led tour of the preserve, which is only accessible by boat. You'll learn about the hundreds of native plant and animal species that have been recorded among the 11,000 acres of old-wood coastal forest, salt marshes and canals here. Enjoy an organic lunch made with ingredients plucked from the on-site garden before continuing your exploration at your own pace, or simply reclining on a plot of the 7-mile natural beach.


For a longer retreat, you can book a stay in the onsite eco-resort, The Lodge on Little St. Simons, whose six cabins constitute the island's only accommodations. 
Another way to be surrounded by endless green and blue in the Golden Isles? Book a tee time at one of the region's five public or semi-private golf courses. The islands have been a golfing destination for more than a century, with courses that weave through the coastal marshland and live oaks. Guests at The Cloister or Lodge at Sea Island can tee it up at the Sea Island Golf Club, which hosts a PGA Tour event every fall.

Stay for less loot
On top of all the holiday merry-making and welcoming coastal Georgia weather, there's another compelling reason to plan your Golden Isles vacation this season: seriously affordable lodging rates. You can find midweek rates starting in the low $100s, and luxe hotels offer deep discounts compared to peak summer pricing, too.


This makes winter an ideal time to try the upscale, centrally located Hotel Simone on St. Simons Island — a modern adults-only hotel located a short walk from the beach and some of the neighborhood's best restaurants and shops. Or settle into a suite at the Jekyll Island Club Resort to experience the glamour of a bygone era. Family- and budget-friendly options like The Westin Jekyll Island, The Inn at Sea Island (located on St. Simons Island) and Hilton Garden Inn Brunswick offer a solid blend of value and comfort for your Golden Isles vacation base, and special offers at many area hotels help stretch your dollar even further.


If you're considering a family reunion in the Golden Isles over the holiday season, there are myriad vacation rentals — apartments, villas and entire homes — where your group can make memories to treasure for years to come. 
---