Top Wedding Destinations for Same-Sex Couples
I knew I had met my travel mate from the first trip my husband and I took together to glitzy and glamorous Williamsburg, Va. In celebration of our fifth wedding anniversary this summer and the Supreme Court's landmark decision in favor of same-sex marriage today, here's our short list of destinations (comprised from our own travels) that every same-sex couple should consider when planning their nuptials.
Ireland


Less than a month ago, the country became the first to legalize marriage equality by a popular, national vote.  Billing itself as Ireland's first and only gay friendly wedding site, Gay Weddings Ireland.ie is a good place to start if your fantasy wedding includes emerald green fields, brooding castles and dancing jigs till dawn with pints of Guinness.
South Africa


The only African nation to legalize same-sex marriage, Cape Town's breathtaking scenery makes for truly memorable backdrop for a wedding, from Table Mountain to Kirstenbosch National Botanical Gardens to the Stellenbosch vineyards. Plus, you're already in the perfect place for an incredible honeymoon at a luxury game reserve.  Known as the "Pink City" or gay capital of Africa, the warm and hospitable city makes same-sex wedding planning easy. To make planning even easier, Gay Unity Abroad specializes in coordinating weddings for those from abroad.
Maui


You don't need a passport for a paradise wedding since Hawaii's legalized same-sex marriage since 2013. Maui's one of the gay-friendliest islands in the chain, and its beauty hardly needs any selling. Gay Hawaii Wedding has been booking and advocating for marriage equality since 1994 and has been featured in the Los Angeles Times and Travel Weekly.
Massachusetts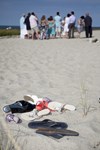 The state that started it all in the U.S., it was the first to issue marriage licenses to same-sex couples in 2004. From Boston to Provincetown, the state has celebrated thousands of same-sex weddings, so it's truly a seamless process. Having gotten hitched on Cape Cod, complete with full on lobster bake, I'm partial to the sand dunes, lighthouses and clam chowder of this destination. Consider Com a great resource when starting your planning.
Iceland


When then-Prime Minister Johanna Siguroardottir married her partner in 2010, she was the first openly lesbian head of government in the world.  If a white wedding is your thing, consider getting married on Europe's largest glacier, Vatnajokull. And since two-third of the entire island nation's population lives in the capital city of Reykjavik, it's easy to find a secluded outdoor location for your ceremony. Travel agency Pink Iceland, is a great resource to plan a wedding, or even just a vacation. They'll walk you through every step of the paperwork process to make this destination wedding simple and easy to understand.
Enter Travelzoo's search for love contest for a chance to win a romantic 6-night Bali vacation. Looking for a romantic vacation? Search all of our romantic vacation deals around the globe.