Top 10 Most Photogenic Spots in Charleston

With its charming homes, lush trees, gardens and ocean views, Charleston, South Carolina, is truly one of the most picturesque cities in the U.S. And if you don't believe us, here are 10 places in the city that are proof.
1. Rainbow Row
No matter what kind of day you're having, walking down Rainbow Row is sure to put a smile on your face. This stretch of pastel-colored homes is one of Charleston's claims to fame.


2. Zero George
Zero George is one hotel in Charleston that truly embodies the Southern spirit. Every detail in this hotel is photo (and drool) worthy. The hotel is made up of five restored circa-1804 buildings surrounding a courtyard.


3. The Mills House
Because who doesn't love pink?

4. Husk
There's no better place to experience a true Southern meal than Husk, which is housed in a gorgeous Southern home.

5. The Battery
Not far from Rainbow Row, the Battery is set along the ocean, the perfect place to stroll among arching trees and catch perfect views of the Ravenel Bridge.


6. Broad Street
This historic street is as rich in historic preservation as it is in photo ops.

7. King Street
The soul of the city, this street is where you'll find some of the best eats, galleries, shops and hotels. Each building has a different personality, and the aesthetics alone are enough to entertain you during your walk.

8. House Hunt on Tradd Street
Tradd Street is one of the prettiest streets in Charleston -- you'll feel like you're walking down Notting Hill in London.

9. The French Huguenot Church
The unique architecture and blush pink color of the church make it a beautiful sight to see.

10. Dock Street Theatre
The original dates back to 1736 and is still going strong after a few renovations.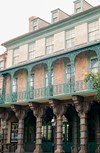 ---
Nastasia Yakoub, a labor and delivery nurse turned travel blogger, leveraged her passion for travel and photography by founding Dame Traveler, a curated women's travel blog where solo female travelers can inspire and connect with one another. Her eye for stunning travel visuals has helped build a large Instagram following, with close to 400,000 followers on @dametraveler and 100,000 on her personal account, @nastasiaspassport, in addition to a large network of travel bloggers. Her hard work has led her to be featured in publications such as Travel + Leisure, AFAR, Vogue and others. More than 50 countries into her journey, she's created a sizeable community of female travelers, and her mission is to empower them to travel more, do more and be more. Whether sipping on chai in Istanbul or volunteering abroad in South Africa, Nastasia continues to find and share the beauty of this world, thus inspiring people to change the way they see and experience life.