This 5-star Mexican wellness resort is good for your soul

I am a hotel lover. There's nothing I enjoy more than a fluffy branded robe, cocktails delivered poolside, well-landscaped amenities and even overpriced room service. I regularly scour all the "Best of the Best" hotel editorial lists to see which earned a top spot. I do extensive research, analyze reviews and bookmark photos. I look for things like high marks on service, a chic design, solid food-and-drink and, whenever possible, a 5-star rating.
Enter Palmaïa, The House of AïA.
Not only did this Mexican resort check off all my boxes, but also they bill themselves as a "luxury wellness retreat."  This piqued my interest as anything wellness is right up my alley, so I decided to book a 3-night getaway with two of my girlfriends to check it out.
First impressions
We landed in Cancun International Airport and took a 45-minute car ride to the resort in Playa del Carmen. We were greeted with cold, scented towels and a refreshing hibiscus tea beverage while they checked us in. Upon arriving, I felt transported to a quiet, zen oasis, which felt more like a far-flung, secluded island resort than a typical Mexican all-inclusive resort. We were set up with our "Nomadic Guides" (a.k.a. concierge service), Sofia and Omar, who provided us with a schedule of the daily activities and assured us they could help us book anything from restaurant reservations, excursions, private classes, spa treatments and more. They were incredibly thoughtful, friendly and quick-to-respond.

Palmaïa's location is breathtaking—it's a tranquil sanctuary situated between the lush Mexican jungle and the turquoise Caribbean Sea. The resort, which opened in 2020, has beautifully-designed pools, restaurants, beach loungers, artwork, sculptures and cenotes; the attention to detail throughout the property is superb and the photo opportunities are endless.
The vibe of the resort is bohemian, yet modern, which is reflected in the design of the guest rooms, common areas and the stunning spa. The rooms were spotlessly clean and had refillable water bottles. It's also worth noting that the resort is 100% plastic-free, with eco-conscious, sustainable materials used throughout. The ocean was warm and clear without any seaweed (we traveled in November) and the sand was soft and pristine. The resort features a wide swath of private beach for its guests with a ton of loungers and daybeds, so you have your space and privacy from other guests. We saw couples, families, solo travelers and friend groups, but all of them were looking to relax and rejuvenate (this is not your place if you want to party).

---
Zen time
Aside from the resort's beauty and peaceful setting, what makes the resort special and memorable is its curated list of wellness programming, with over 20 rotating classes, ceremonies and rituals offered. We were truly spoiled for choice, and wished we had more time to try them all. We tried the yoga, breathwork, meditation, shaman talk, gong bath, Tibetan bowls and Transmutation ritual, and were blown away by the kind, soulful instructors and spiritual leaders, who were experts in their craft and dedicated to their practice. Some were indigenous healers and shared ancient traditions and sacred music with us. If you're curious, the full list of classes can be found here; it includes arts and crafts, dance, forgiveness ceremonies, energetic cleansing and more. In addition to the free group classes that are offered in the nightly rates, you can book a private 1-1 class with an instructor if you wish.

---
Chow down
Forget about buffets. The Palmaïa resort prepares all its menus à la carte with full, plant-based ingredients—a vegan's paradise. However, I am not a vegan, I enjoy eating meat, and so do my two friends who accompanied me on the trip. To be honest, we were a bit worried how everything would taste, but we tried to commit to eating as much of the plant-based food as possible. And let me tell you! It exceeded all our expectations, and everything was absolutely delicious. I still think about the vegan tacos at the food truck on the beach, but we also loved the casual breakfast and snack options at Plantissa, as well as the Mexican, Asian and Italian options. If you aren't vegan, you can ask them to add protein to your meal (chicken, fish or steak), which we did at times, and everything was cooked and seasoned perfectly.
As part of the Travelzoo deal we booked for the hotel, we took a cooking class with the head chef, who had been trained at a Michelin-starred restaurant, and he showed us how to make fresh tortillas and a variety of salsas. (Normally, this would be an additional cost.)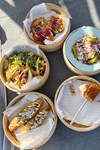 As for the drinks? The craft cocktails were fantastic and prepared with fresh-pressed juices, herbs and fruits, as opposed to the syrupy drinks you might find at other all-inclusive resorts. We even drank fresh coconuts on the beach. Thanks to the all-inclusive resort rates, cocktails (along with meals and snacks) were unlimited. Paradise, indeed.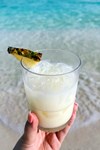 ---
Stay and play
Usually when I travel, I plan a variety of off-property excursions, but the beauty of the Palmaïa resort is that there is so much offered on its grounds that you don't need to leave. You can spend hours at the beach, hop to a few wellness classes throughout the day and gather by the bonfire at night to have cocktails with other guests and listen to the DJ. We rode our bikes every day throughout the resort and my friend had a wonderful experience at the spa. There are several thoughtfully curated spaces and corners throughout the resort to read a book, meditate, journal or watch the sun rise. All the staff we encountered were extremely friendly, waving to us and saying "Hola" as we rode by on our bikes or walked by.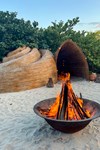 After staying at Palmaïa, I can say I experienced a magical resort. Not only does it have a beautiful, peaceful spirit, but also top-tier wellness programming, great food, 5-star service and a picture-perfect location. It embodies luxury, but with soul, and I felt restored, refreshed and content after my visit. This reigns at the top of my favorite hotels list now, and my friends and I have already discussed going back to experience its magic once again.