The One Beach Destination You Can't Miss

Though Myrtle Beach has long been a beloved getaway, this 60-mile stretch of South Carolina coastline has so much going on, it's arguably THE beach to hit this summer. Think live music of all kinds (much of it free), food fests, art happenings—and that's just the short list.
Put otherwise, the "something-for-everyone" quotient here is off the charts, in part, because we're really talking about 14 diverse communities in one, from the bustling boardwalk of Downtown Myrtle Beach to the laid-back fishing village of Murrells Inlet. So whatever your preferred vacation vibes, you'll find them—and that feeling like you belong—here.
The bonus? Getting to Myrtle Beach is increasingly easy, with 10 new direct flight routes launching in May and June (in addition to the already wide-ranging service). But before you plot out your dates, read on for some of our favorite highlights of the summer lineup.
The right note
The return of Myrtle Beach's summer music scene is so hotly anticipated that one of the big-ticket items—the legendary beachside Carolina Country Music Fest (June 10-13) lineup—is already sold out except for the Thursday night kickoff concert. And with names like Luke Combs, Darius Rucker and Kelsea Ballerini among the dozens on the docket, no wonder. Tickets for that concert are available here. Bonus: If you haven't yet had your jabs but would like to, the festival is partnering with Tidelands Health to make Covid-19 vaccinations easily and readily available.


Another local music legend—One the Show at North Myrtle Beach's Alabama Theater—is staging a comeback that same weekend, on June 10, and will run for six nights a week throughout the summer until August 31. Produced by the Grand Ole Opry's owners, this blend of country, gospel, Broadway, pop and rock (with some comedy thrown in for good measure) changes from year to year, but never fails to win raves. On nights off, the show will cede the stage to everyone from country stars Josh Turner and Easton Corbin to Motown and Beatles tributes.
Meanwhile, at Myrtle Beach's Carolina Opry Theater, the beloved eponymous musical revue has been back since late April with everything from hip-hop cloggers to championship fiddling to power vocals. On alternating nights, the Opry is home to a different kind of revue: Time Warp, a best-of retrospective of '60s, '70s and '80s pop, complete with special effects and fabulous period costumes. Periodically throughout the summer, you'll also find special events here, whether the June 12 Salute to the Eagles, the August 1 Allman Brothers Tribute or the September 12 AC/DC Experience.


But then, summer wouldn't be summer here without an abundance of free music, too, and 2021 is reviving that tradition with a vengeance. Starting June 3 and running every Thursday night through October 14, the Music on Main Concert Series will bring a genre-spanning series of performers to downtown North Myrtle Beach.  And for four Friday nights over the course of the summer, North Myrtle Beach will also host the particularly family-friendly Sounds of Summer Concert Series. For free Sunday concerts throughout the summer, head to Myrtle Beach's Landing at the Boathouse, where you can catch everyone from the Jebb Mac Band to Acoustic Syndicate.
---
All fun and games
Speaking of the Myrtle Beach Boardwalk, after reporting on the months-long makeover to the site's biggest icon, we loved the big reveal of the 10th anniversary edition of the SkyWheel. There have been upgrades to everything from the hub to the gondolas, but the new LED lights are the most dazzling addition.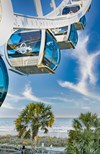 Once you've gone for a spin, check out all the fun there is to be had within a few-block radius: Ripley's Believe it Or Not (Star Wars fans should check out Han Solo's blaster from Return of the Jedi); Ripley's Aquarium (at a minimum, check out the jellies and the penguins); Myrtle Beach Zipline Adventures (you can book tours Thursdays-Sundays through end of July) and Family Kingdom Amusement Park (just one of a whole succession of amusement parks you'll find up and down the Grand Strand).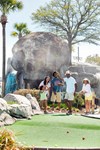 You know what else you'll find all along the Grand Strand? So much putt-putt golf that some consider Myrtle Beach the mini golf capital of the world, with an annual ProMiniGolf Association Masters tournament in North Myrtle Beach to underscore the point. From the tropics (Hawaiian Rumble; Cancun Lagoon; Jungle Lagoon) to dinos (Jurassic Golf; Professor Hacker's Dinosaur Adventure Golf), there's a theme and a course that will appeal to you, but you can't go wrong with the old-school favorite in downtown Myrtle Beach: Mount Atlanticus. Of course, if actual golf is your game, you'll find just as much selection, with dozens of courses that range from beginner-friendly (try Myrtle Beach National's West Course) to intermediate (check out Arcadian Shores) to advanced (you can't go wrong with TPC Myrtle Beach).
---
A taste of summer
Between its coastal backdrop and bountiful waters, Myrtle Beach has long been known for epic summer meals, particularly in Murrells Inlet. An old fishing village turned—by some accounts—seafood capital of the world, the community is the scene of everything from the centuries-old Hot Fish Club to new stroll-and-eat feasts by Carolina Food Tours. (Or, for a DIY version, hit a couple of the spots along the MarshWalk.)

Then again, foodies fare well throughout the area, the newest case in point being Crooked Hammock Brewery in North Myrtle Beach. Snack on fried bread and butter pickles or a honey fried chicken sandwich while you make your way through the season's best brews in the backyard, then head to Tortuga Island—the bar on the brewery's own pier—for sundowners.
Another new favorite is Local in Pawleys Island, where brunch is a particular favorite (see: the biscuits and gravy or hash & eggs)—especially when you factor in the frequent live musical accompaniment. Check the calendar for blues brunches, jazz brunches and more.
But no true foodie should leave the area without checking out its longstanding icons on the (sometimes overlapping) BBQ and chicken bog trails. If you get to only one, make it Radd Dew's in Aynor, where the ever-changing menu might include BBQ ribs, fried chitterlings, vinegar BBQ, chicken bog, corn casserole, hush puppies and peach cobbler. Just be sure to call in advance and make sure the restaurant is open.
---
A feast for the eyes, too
If you don't think of Myrtle Beach as a serious art destination, you have yet to visit Brookgreen Gardens in Murrells Inlet, where—for example—the internationally renowned light artist Bruce Munro created his lone installation in the Eastern US last year. This year, the beloved historic gardens aim to dazzle in a different way: Summer Light; Art By Night consists of nine installations that cast the landscapes, galleries and sculptures in, well, a whole new light. The event takes place Wednesdays through Saturdays from June 9 to August 21, when you'll also find live music in the Pegasus field.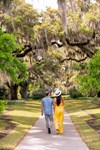 Then again, whenever you visit, you'll be treated to a visual feast: Brookgreen Gardens is home to the nation's largest collection of American figurative sculptures, to say nothing of the lush botanical gardens. And if you've got the kids in tow, be sure to take them to the onsite Lowcountry Zoo, where they'll learn firsthand about local wildlife—and the efforts underway to conserve some of the rarest species.
Another summer event that serious art lovers shouldn't miss: Resilience, an exhibit of 30 thought-provoking works by the internationally acclaimed Leo Twiggs from June 1 until August 28 at the Myrtle Beach Art Museum. This retrospective spans six decades, from some of his earliest batiks to his famed modern-day Requiem for Mother Emanuel series. And while you're there, explore the museum's other summer exhibits: Joe Karlovec's Private Property, Edward Rice's Beyond Depiction and Lynn Clibanoff's Inside Out.
---
Beach time
Of course, that 60-mile coastline we mentioned at the top makes beach time the centerpiece of any summer visit here. And for every kind of beachgoer, there's a corresponding stretch of sand.

Nature lovers shouldn't miss Huntington Beach State Park, a protected and wildlife-rich coastal zone where—beyond the pristine beach—you'll also find a freshwater lake, walking trails and historical sights. For the full-immersion experience, plan to camp here.   
If fishing is your thing, head to one (or a series) of Myrtle Beach's fabled fishing piers, from the serene Myrtle Beach State Park Pier to the buzzing Garden City Pier (think: live music, great ice cream and an arcade for the kids to peel off to if the day's fishing requires more patience than they have).

For straight-up beautiful beaches, head to Litchfield or Garden City, where lolling the day away is as perfect a pastime as summer provides. 
---
Ready to go? Check out these hotel deals.