One of the 7 New Wonders of the World, Machu Picchu is a destination that can only be believed once seen in person. But this 15th-century Incan citadel in the Andes is hardly Peru's only claim to fame. With coastal, mountain and jungle regions, this South American country is brimming with natural beauty and opportunities for outdoor adventure, including some that are just now being discovered.
Peru is both traditional—with a cultural heritage that reaches back millennia—and trendy—some of world's best restaurants can be found in the capital city of Lima. The country is now on many foodie bucket lists for cuisine that melds ancestral traditions with flavors from across the world.
Perhaps the best part? All of this is an overnight flight away. You can visit Peru via nonstop flights from 8 U.S. airports without worrying about jet lag. (Lima is synced with the Eastern or Central time zones, depending on the time of year.)
So let's have a look at Peru's many wonders, and five of the regions you'll want to visit to best experience them.
Lima: The City of Kings (and much more)
Your flight from the States lands in Lima, where ancient, colonial and modern merge to form a one-of-a-kind city perched on Peru's Pacific coast. 


Colonial architecture frames the Plaza de Armas, with the twin bell towers of the 17th-century Lima Cathedral standing guard over the city's historic center. A few blocks away, the Convent of Santo Domingo is even older, dating back to the 16th century. A visit inside reveals peaceful manicured courtyards in addition to a library with more than 25,000 volumes—fitting since this was once home to the first university in the Americas. A similarly impressive library and Baroque design can be found nearby at The Church and Convent of San Francisco, although some may choose to visit for what's underneath the imposing complex: the largest series of catacombs outside of Paris.
You don't have to go far to skip even farther back in time. Amid apartment buildings in the upscale neighborhood of Miraflores, you'll find the Huaca Pucllana—an adobe and clay pyramid complex over 1,000 years older than Machu Picchu. Tours are available by day, but it's worth visiting the on-site restaurant at night when the dramatically illuminated pyramid makes a striking backdrop for your meal.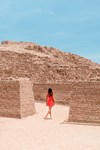 But no matter how old the surrounding buildings are, you'll find that the menus here are a modern marriage of Andean, Spanish, Chinese, Japanese and African influences. Peru is home to dozens of diverse microclimates, perfect for growing all kinds of fresh produce—including some 3,000 kinds of potatoes of all shapes, sizes and colors.
Buoyed by this fusion of flavors and creative chefs, Lima is the country's gastronomic powerhouse. Three of the World's 50 Best Restaurants call Lima home, a distinction the city shares with Copenhagen, Paris and Tokyo. Set a splurgey budget and make reservations early if you're trying to score a table at Central, Maido or Mayta, and balance that budget by checking out Lima's burgeoning street food scene or sampling incredibly fresh fruits in the Surquillo market.


You'll want to spend extra time in Lima just to get to try all the food, whether that's chifa—Chinese-Peruvian food—or salchipapas from a street food stall. While in the seaside city, order impossibly fresh ceviche or tiradito, the Japanese twist where raw fish is sliced sashimi style and served with a spicy citrus sauce. Wash it down with a pisco sour (pisco, key lime juice, simple syrup, egg whites and Angostura bitters), the national drink using brandy made from the pisco grapes grown in the coastal valleys of Peru. Don't settle for just one pisco drink—there's also the Chilcano (pisco and ginger ale) or pisco punch (pisco, pineapple and key lime juice) to try.
Properly fueled, you can choose to thrill or chill along El Malecón, the scenic walkway that traces a six-mile route along Lima's coastal cliffs. Those looking for adventure will want to head to Parque Raimondi to hire a tandem paraglide for an unforgettable view of the Costa Verde. Those content to stay grounded can walk with their travel companion over to the Parque del Amor, with its mosaics set amid undulating walls, to catch a romantic Pacific sunset.


Cusco & the Sacred Valley: More than Machu Picchu  
Most travelers planning to visit Machu Picchu take the short flight from Lima to Cusco, the historic capital of Peru. Once there, it's wise to spend a few days acclimating to the altitude in Cusco. At more than two miles above sea level, the city is actually higher than Machu Picchu.
Use this time to walk the narrow cobblestone streets and stop in cafes in the bohemian San Blas neighborhood. Visit the bustling San Pedro market for a freshly made juice and affordable eats and shop for clothing made from impossibly soft alpaca wool or silver jewelry in the city's historic center. Throughout your walk, you'll see vestiges of what was once the most important city in the Incan empire. (Some streets are still named in the ancient Quechua language.)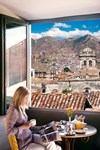 Many Spanish buildings were built on top of Incan structures as reminders of the colonial conquest. The best example of this can be found at Qoricancha. Once the Incan empire's richest temple and most sacred site, the walls were literally covered in gold. (Qoricancha means "Golden Temple" in the Quechua.) These treasures were looted by the conquering Spaniards, who then built a church on the site using the Incan stone masonry as the foundation. You still see the massive blocks that have stood strong against both conquering armies and earthquakes. 


Once acclimated to the altitude, you can walk or hire a taxi to visit the nearby Sacsayhuaman archaeological site, which provide both a fantastic view of Cusco and an impressive example of Incan engineering. Some of the remaining stone blocks in the zigzag ramparts weigh more than 100 tons and make you wonder, "How did they build this without modern machines?" Pro tip: Buy a Boleto Turistico del Cusco, which gets you admission valid for 10 days to many of the major archaeological sites in Cusco and the Sacred Valley.
If you're collecting photos for Instagram, consider planning a day trip to see Palccoyo, one of the region's most accessible "rainbow" mountains where melting glaciers have revealed the multi-colored rock layers beneath. Wear layers and bring plenty of water, as you'll be ascending to nearly 3 miles above sea level to see the Crayola-colored landscape.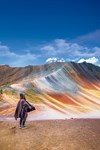 From Cusco, there are many ways to get to Machu Picchu. The adventurous (and physically fit) may choose to hike some or all of the Inca Trail. Numerous tour operators specialize in leading groups on this experience through cloud forests, over mountain passes and past smaller ruins along this well-worn path that connected Cusco, Machu Picchu and other sites throughout the empire. If your heart is set on getting to Machu Picchu this way, plan ahead: trekking permits are limited and spots sell out up to a year or more in advance.
The payoff of finally arriving at the awe-inspiring, maze-like grounds of The Lost City through the Sun Gate is incredible. But getting there the old-fashioned way is a physically demanding trip that requires strong legs and lungs during the four-day trek through the thin Andean air. To lighten the load a bit, you can try glamping (think: solar- and wind-powered domes, hot showers, chef-prepared meals) if you want the physical challenge without the raw camping experience. Those wishing to go even further off the beaten path may choose the Salkantay trek, which takes an alternate route that includes the gorgeous blue waters of the alpine Humantay Lake. 


The more common path to Machu Picchu takes travelers through the Sacred Valley. If time allows, follow the Rio Urubamba for a few leisurely days and visit additional Incan archaeological sites along the way. Explore the curious man-made terraces at Moray or the immense hillside fortifications at Pisac and Ollantaytambo, the last Inca stronghold against the Spanish invaders. Stop in the small nearby villages to shop for hand-made goods and eat hearty dishes prepared using centuries-old methods with ingredients from the fields of the valley's fertile farmland. You'll also find plenty of opportunities for adventure as you travel the valley—whether that's white-water rafting on the Urubamba, kayaking on nearby lakes or hiking to scenic overlooks. On a clear night, don't miss the chance to see the amazing starry skies framed by the mountain peaks on each side of the valley. 

If you're short on time or want to get to Machu Picchu in style, trains are available from either Cusco or Ollantaytambo to Aguas Calientes, the town at the base of Machu Picchu. Companies like Belmond Hiram Bingham and IncaRail provide luxury train experiences that include gourmet meals, drinks and observation cars to watch the Andean landscape rush by your window. 
Since you've come all this way, it's our recommendation not to rush through your visit to Machu Picchu. Plan on spending a night in Aguas Calientes either before or after visiting the mountain stronghold. Access to Machu Picchu is tightly controlled so it rarely seems crowded, but you'll find fewer travelers if you visit early or later in the day. A bonus to being early—you may catch the sunrise and misty morning clouds can provide an ethereal backdrop to the already incredible views. If you're there later in the day, the setting sun casts a golden glow and looming shadows across the ancient stones. 


Keep in mind that tickets need to be secured months in advance, and specific entry tickets are needed if you wish to climb Huayna Picchu for a different perspective on this stunning scene.
Puno: Islands in time
While most visitors to Peru may stop at Lima and Machu Picchu, continuing on to Puno gives one a much deeper sense of the ancient traditions and strong cultures that still exist as islands in time—quite literally in the case of the two communities that live on Lake Titicaca, the highest navigable lake in the world.
Located a two-hour flight from Lima or an overnight train from Cusco, Puno is the launching point to visit Taquile Island and the Uros Islands to see societies that are somehow equally isolated and accessible. 
The people of Taquile Island are known as master weavers, creating textiles with complex designs using centuries-old traditions, earning UNESCO World Heritage status. Visitors can learn how to weave, buy goods from the villagers (a traditional chullo hat is a good choice) and hike to vantage points such as the Mulsina Pata at the island's highest point for a panoramic view of the lake.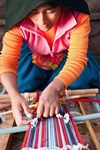 The Uros Islands are unique in that they are man-made, built from the totora reeds that can be found along the lake's shorelines. Centuries ago, the Uros left the mainland and built the islands to escape the expanding Incan empire. The lake surface is dotted with dozens of these islands, which require constant rebuilding. The reed is used to make everything—homes, furniture and the brightly decorated canoes they use to fish and travel to other islands or the mainland. 


For full immersion into these cultures, you can choose to stay overnight with a family in these communities or on nearby Amantani Island, where you'll eat simple meals, learn traditional dances and sleep in their homes. 
Madre de Dios: Unspoiled natural beauty
Named for the "Mother of God" river that flows through this area of southeastern Peru where the Andean foothills and outskirts of the Amazon meet, Madre de Dios boasts some of the world's highest biodiversity. You can fly to Puerto Maldonaldo from Lima in under two hours or arrange tours from Cusco, and trade the city experience for a decidedly more laid-back one. From here, two protected areas provide a chance to see flora and fauna that you may not find anywhere else on earth.
Birdwatchers flock to the Tambopata National Reserve to watch macaws and parrots feed at clay licks and with hopes of glimpsing the elusive harpy eagle across the 1,060-square-mile stretch of forest.


Manu National Park is six times larger than Tambopata and just as untamed. Granted Natural World Heritage Site status by UNESCO in 1987, the high jungle is home to 1,800 species of birds, nearly as many types of butterflies, 200+ different mammals including spider monkeys, rare orchids and a variety of ecosystems. Jaguars, caiman, turtles and river wolves (aka giant otters) can often be seen along the riverbanks as a boat takes you to one of the local lodges. Visit in the drier months (June to November) as the access in the rainy season can be limited. 
Loreto: Peru's entry to the Amazon
Contrary to what you might think, Peru is as much about the Amazon as it is about the Andes. More than half of the country's landscape is the Amazon basin, and the headwaters of the Amazon River are found in Peru, as melting snows from the Andes form the myriad waterways that merge into the world's largest river. 
In Loreto, the Amazon is a lifeline, serving as a de facto highway and a source of both food and income for people in this part of northeast Peru. Visitors will take the short flight from Lima to Iquitos, the world's largest city that cannot be reached by road. While here, try traditional jungle cuisine such as juane (chicken, rice, egg and olive steamed in a banana leaf) or start any number of adventures, including river day tours to see the native pink dolphins and canopy walks amidst the treetops to spot birds and monkeys.


But if you're going all in, you'll first need to decide between raw and refined.
The Pacaya Samiria Natural Reserve covers more than 8,000 square miles of rain forest, an area only slightly smaller than the state of New Jersey. Much of the region floods during the rainy season, and the reflection of the jungle flora off the placid water earns it the name "mirror forest." The reserve is home to an immense amount of biodiversity.


Visits must be made through an official guide, and camping here is about as close to nature as you can get. But when properly equipped, the "boots on the ground" experience can be incredible—measuring yourself against the massive ceiba trees, seeing the table-like Victoria amazonica water lilies dot the lakes and catching glimpses (and hearing the calls) of brightly colored macaws. If you want to stay in the jungle but not "rough it," several eco lodges also offer varying levels of comfort and amenities.


If your travel style lends itself to cocktails instead of campfires, then you may choose to join one of the luxury cruises that sail down the Amazon from the port of Nauta. Considered a bucket-list trip by many serious cruisers, these small ships are purpose-built to get travelers as close as possible to the region's lush flora and wildlife, with options to explore on naturalist-led excursions or to stay on board for a spa treatment inspired by the rain forest.