The Best Places to Travel in August
If Bust-a-Move Month were a thing, August would be it. From Argentina's tango dancers to Mustang's horse riders to Tanzania's wildebeest, creatures great and small consider the coming weeks go time, and travelers are the lucky beneficiaries. To see what we mean, head to any of these six spots.  
Buenos Aires

Grip a red rose between your teeth and make your way to the Tango Festival and World Cup (Aug. 8-21) in Buenos Aires—the obvious spot for this off-the-charts annual celebration, with free concerts, talks, and lessons, among many other tango-related treats. The excitement peaks at Mundial de Tango, the dance-off to end all dance-offs. If you fancy your chances as a world champion, apply here—you could end up performing at Luna Park Stadium for the finals. In the meantime, you'll find plenty of #dancespo (and ideas for fabulous outfits) at Hotel Faena's Rojo Tango show. Kick back with a glass of Malbec, feast on beef tenderloin with truffled mashed potatoes and keep your eyes peeled for dance-obsessed celebs. Everyone from Bono to Katy Perry has turned up here.
---
Svalbard
This Norwegian archipelago—which is more or less the halfway point between the mainland and the North Pole—is also polar bear central. While most expeditions to see the King of the Arctic run between May and September, August can be an especially good time because of the nearly endless daylight and newly melting pack ice, a combo that lets you cover maximum ground and find groups of the big boys in the remaining icy areas. How big? The heaviest adult males have weighed in at around 2000 lbs. according to ye olde Guinness World Records, though 1500 is much more common (and woe to whoever's trying to get these guys to stand still on scales). The safest—and surest—way to spot them in this part of the world is on an expedition cruise. Consider Natural World Safaris' 11-day arctic expedition and you have a good chance of spying walrus, reindeer, and whales, too. 
---
Tanzania
Some things are worth traveling around the world for—like, watching one and a half million wildebeest and friends migrate across the Mara River. Though the Great Wildebeest Migration happens throughout the year, the river crossings (considered the pièce de résistance by many a wildlife fanatic) are generally best viewed in August. But old softies, take note: You'll likely have to avert your gaze during the occasional alligator ambush. Check into the award-winning Asilia Sayari Camp for easy access to the river. Here, you can join a 4X4 game drive, or get your pulse racing on a hot air balloon safari over the Serengeti. While you're at it, why not double your bucket list bragging rights with a trip to Mount Kilimanjaro? August is one of the best months to climb Africa's tallest mountain thanks to dry, clear skies (still: brrrrrrr). 
---
Minneapolis
Hold on to your helmets: It's time for Summer X Games (Aug. 1-4), probably the best BMX and skateboarding competition on the planet. Music comes courtesy of Diplo, Wu Tang Clan and Incubus, and the XIP Experience pass gets you access to behind-the-scenes tours, athlete meet-and-greets, and complimentary beer and wine. When you need a break from the nonstop action, you're a ten-minute stroll from Hotel Emery, a new midcentury-style hotel with some serious Draper-esque glam. Head to the rooftop restaurant, Giulia, for a negroni and a plate of chef, Josh Hedquist's signature blueberry panna cotta. Or, for a completely different kind of break, hit Minnesota Fringe (Aug. 1-11), where you'll find 130 shows, with genres ranging from Clowning to Spoken Word.
Then again, there are those who would say that if you do nothing else here in August, the Minnesota State Fair (Aug. 22 – Sep. 2) is the way to go—especially as the Great Minnesota Get-Together turns 160. (Fun fact: 2019 also marks the 50th birthday of the beloved, five-story Giant Slide—and the 120th anniversary of the introduction of electricity to the state fair.) You already know about all the improbable foods on sticks (spaghetti and meatballs pop, anyone?), and you've probably heard about the requisite cookies and milk, but this year will see plenty of additions to the fair's lineup, from the Minnesota Corn Fairstalk (a 24-foot-tall agriculture-themed art installation and selfie magnet) to the Goat Booth (the crowd can't get enough of the caprine cuties, who now have their own dedicated space) to Zero Gravity (where supersonic spins and centrifugal force make for a crazy new Mighty Midway ride). But of course, the news that has the whole world talking—or the food world, anyway—is the 2019 menu.  
---
Whitehorse
If you think Canadian cuisine is all about bacon and maple syrup, the capital (and, well, only city) of Yukon is here to tell you otherwise: Bison, arctic char and elk are just some of the delicacies on offer at the Yukon Culinary Festival (Aug. 1-4). The signature Feasting and Foraging event sees local chefs cooking alfresco over an open fire, while lucky guests (that's you) relax with Yukon beers and craft cocktails. You'll also find a welcome party with live music and gourmet nibbles at the newly-renovated MacBride Museum, a '50s-themed shindig on the paddle steamer S.S. Klondike; and cooking demos at the outdoor Fireweed Market. By happy coincidence, August is also the perfect month to paddle the Yukon River. Now's your chance to take a canoe trip from Whitehorse to Little Salmon Village, a four-day extravaganza of gold rush towns, wildlife sightings (think moose, beaver and bald eagles) and campfire cuisine.
---
Mustang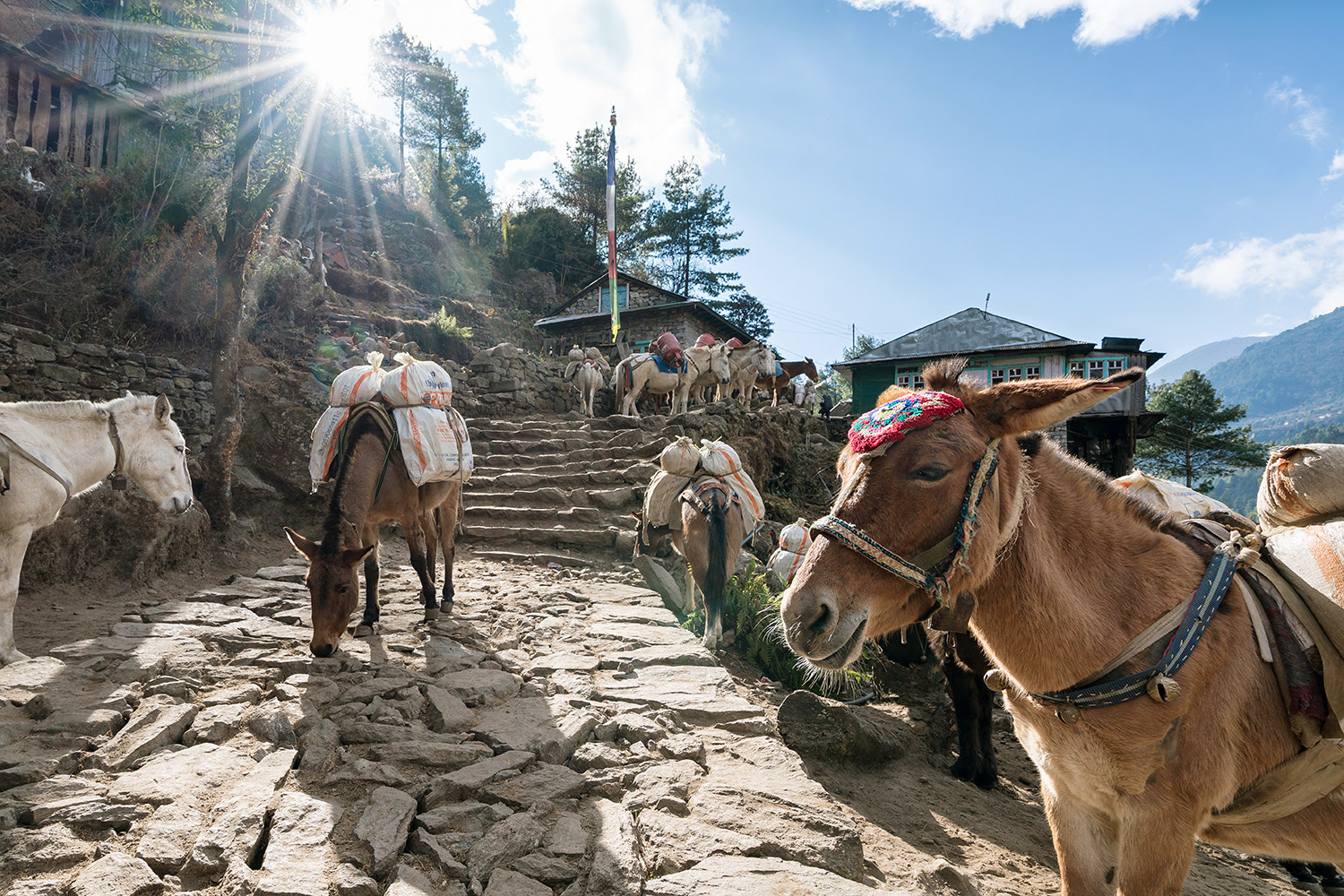 Though you'd want to see Nepal's remote Mustang District—the region formerly known as the Kingdom of Lo—for the sheer Himalayan gorgeousness of it all (the photo at the top of this page will start to give you an idea), time your trip to Yartung (Aug. 15-18). This end-of-summer festival is celebrated throughout Mustang, but one of the best places to catch the action—think high-speed horse races through winding streets and chhaang-fueled singers and dancers—is Muktinath, a sacred site for Buddhists and Hindus alike. Be sure to visit the ancient local temple to Vishnu, which sees thousands of pilgrims every year.