The Best Places for Chocolate Lovers

Heart-shaped boxes of chocolate are poised to become the nation's top Valentine's candy this year—and fair enough: They're a classic of the genre. But imagine if your sweetheart popped the lid and found a brilliant bonus inside. No, not a diamond. We're talking something even more dazzling (at least to true chocolate lovers): plane tickets to any of the cocoa capitals below.
Belgium
Widely considered the chocolate capital of the world, tiny Belgium is home to some 2,000 chocolate shops, 500 of which are in Brussels. And though the earliest evidence of local cocoa commerce dates back to the 17th century, things didn't really get going until 1857, when Jean Neuhaus opened his shop—the eventual birthplace of the Belgian praline, among other gloriously immoderate innovations. You can still visit the original Neuhaus in Brussels' Galeries Royals Saint-Hubert, where you'll also find an array of other chocolatiers (a chocolate tour is a good way to curate your options). To learn even more about Belgium's chocolate-making history—and see live demos—visit Brussels' 322-year-old Musée du Cacao et du Chocolat. And for extra brownie points (sorry, couldn't help ourselves), visit the Belgian Chocolate Village in Flanders, where you'll find more exhibits, a cacao-filled tropical greenhouse, and chocolate made right on the spot.
---
France

France's renowned relationship with chocolate goes back to 1615, when Princess Anne of Austria gifted some cocoa to her new husband, King Louis XIII. And thanks to a servant who knew how to make hot chocolate, the drink soon became the toast of the upper classes and the court of Versailles. In 1659, the next King Louis authorized Paris' first chocolate shop—and by the 19th century, new machinery made the onetime delicacy exponentially more accessible. Now, French chocolate is so prevalent that eating your way through it requires a guide. If you're in Paris, a good place to start is ChocoParis, an online directory of the city's best chocolatiers and chocolate walks. There are also guided chocolate tours that serve up a blend of history and delicacies. But if you want a more hands-on approach, enroll at the Ecole des Trois Ponts in Riorges, where you can take both chocolate-making and French language classes.
---
 St. Lucia

When St. Lucia's cacao business got going in the 1700s, it was mainly an export operation. Now, this lush corner of the West Indies is a bean-to-bar hotspot, where some of the best hotels come with their own cacao groves and small-batch chocolate. The owners of Jade Mountain and Anse Chastenet, for example, also own Emerald Estate—an organic farm repurposed from a colonial plantation, where the Tree to Bar Tour will give you the full picture (and flavor) of local chocolate production. Those same cacao groves supply the restaurants and spas at both resorts, where you'll find chocolate-infused dishes and drinks of all kinds (see the chocolate stout above)—and no fewer than eight chocolate wellness rituals (don't miss the Hot Chocolate Candle Massage). You'll find another variation on the theme at Hotel Chocolat's Boucan, right in the middle of a working cacao plantation. Learn to make your own chocolate, or just submit to its healing properties at the all-cacao-treatment spa. Then there's the aptly named Sugar Beach resort, home to a chocolate sculpting room where you can learn to make the insanely good local chocolate tea. And if you have enough will power to wait several months, head to Saint Lucia for Chocolate Heritage Month in August.
---
Utah

Suspend your disbelief, and just go with us on this: Utah—yes, Utah—has quietly become a chocolate mecca over the last several years. An early boost came from Amano Artisan Chocolate, a Salt Lake City-based bean-to-bar company that put the state's craft chocolate on the world stage after medaling at the 2008 Academy of Chocolate Awards. Now, you'll find endless varieties of Utah-made chocolate at Salt Lake's Caputo's Market, home to what the Food Network calls the nation's largest craft chocolate selection (to say nothing of the store's chocolate-themed class schedule and annual Chocolate Fest). Several bean-to-bar makers—including Solstice Chocolate, the Chocolate Conspiracy, Millcreek Cacao Roasters and Ritual—offer tours and tastings. Just check to see if you need an appointment before you go. And for more info on events, classes, and tastings, check out the Utah Chocolate Society.
---
Ghana

Ghana got into the chocolate business end of the 19th century, when—at least according to the most popular version of events—a blacksmith named Tetteh Quarshie returned from his travels down the central African coast with cacao pods. And for most of the 20th century, Ghana was the world's top producer, until the market price dropped in the late 1970s, when many farmers were forced to close up shop. Decades (and several twists and turns) later, Ghana's once again a serious player, producing a quarter of the world's beans, give or take. Though most of those are exported, local advocates are aiming to change the equation. So if you're the kind of traveler who likes be in the vanguard, go now, and sign up for tastings at the famed '57 Chocolate and Midunu—two of a handful of artisanal producers.
---
Peru

True Amazon originals, cacao trees are native to the South American rain forest, where they now provide raw materials for some of the world's best chocolate makers. To learn about the beans behind the bars, head to the Choco Museo (there are five locations in Peru), where you can also take chocolate workshops. Another great workshop to consider: the daily Bean to Bar classes at Chaqchao Chocolates in Arequipa, where should try one of the country's most iconic old-school chocolate brands: La Iberica. Not for nothing, this volcano-framed colonial baroque town also happens to be drop-dead gorgeous—and home to the famed mummy Juanita, so give yourself plenty of time here. But of course, Lima is the country's culinary capital (and now a world culinary capital), where chocolate is used to exquisite effect. Two good places to see for yourself: Central and its upstairs neighbor Kjolle (his-and-hers restaurants—the chefs are married). Or, for a more immersive experience, stay on the cacao trees' home turf, where you can pair a jungle farm visit, with, say, jaguar tracking and macaw spectating.  
---
Mexico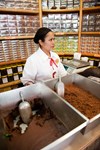 Mexico's chocolate history goes way back—thousands of years, in fact, with modern research pointing to ever older origins. While some of the earliest signs of cacao domestication date back to the Olmec period, the Aztecs get the credit for coining the word chocolate—or at least chocoatl.  And though—unlike in Aztec times—cacao no longer doubles as actual currency, it's still a hot commodity here: Mexico now consumes more chocolate than it produces. But there's still a lot of action along the so-called Cocoa Route in Tabasco—the state where most of Mexico's cocoa is farmed. Along the way, you'll find a number of colonial-era cacao plantations, some of which offer tours and chocolate-making workshops. The city of Oaxaca is another must for wandering cocoaphiles: At outdoor markets, you'll find every conceivable form of the chocolate—ground, toasted, fermented, and liquid. And if you travel 20 minutes out to the village of Zaachila, you'll find a tourable chocolate factory. Or—if you'd prefer an escapist chocolate retreat—head to any of Mexico's five Velas Resorts for Sabor Cacao, a chocolate celebration that runs between April 1 and 21 2019, when you'll find choco-centric dishes and cocktails at the restaurants, chocolate mole massages at the spa—and custom-made chocolate candies in your room.
---
Hershey, PA

Named for native son Milton S. Hershey, who founded his chocolate plant here in 1903, the so-called Sweetest Place on Earth has since grown into an entirely chocolate-themed town, where the biggest attraction is now Hershey's Chocolate World. The complex houses the Hershey Museum, Create Your Own Candy Bar classes, expert-led chocolate tastings, a cocoa-centric food hall and a historic trolley tour, for starters. And when you need a break from touring, drop into the downtown MeltSpa by Hershey for the likes of Chocolate and Champagne Facials and Dark Chocolate Immersions (a Hershey's Dark Chocolate Sugar Scrub followed by Hershey's Dark Chocolate Body Wrap). Stay in the historic Hotel Hershey, where even your bathroom amenities are in keeping with the theme (they come from the in-house Chocolate Spa). As for your turndown treat? Hershey's Kisses, naturally.