Tempe, Arizona: The unexpected hub of holiday fun

When your mind starts wandering toward holiday vacation plans, you might envision snow-covered hills as opposed to cactus-covered desert. But there's a strong argument for rethinking that in Tempe, Arizona, where the celebratory spirit ramps up bigtime, just as the temperatures fall.

Just 5 miles from Phoenix Sky Harbor International Airport, Tempe is home to Arizona State University and a host of other attractions that light up for the autumn and winter seasons. In other words, the town makes an excellent base for a holiday adventure for the memory books — and you don't even have to pack your snow boots. And its proximity to Phoenix, Scottsdale and Mesa opens possibilities for days filled with even more festive fun.
Here's a look at some of the whimsical festivals, jolly events and dressed-up shopping experiences worth planning a trip around. 
Events & Festivals: Dazzling, Dreamy and Daring
In the heart of the downtown district, the Tempe Fantasy of Lights Parade and Holiday Market (Nov. 25) is an event that will have bystanders young and old completely starry-eyed — and chock full of the holiday spirit. Dancers twirl their bedazzled, holiday-light-bedecked skirts. Bulbous blow-up Frosties, Santas and Rudolphs float regally down Main Street, followed closely by the "real-life" jolly old soul himself.

The smell of funnel cakes wafts through the air as red-and-green-clad, beaming little kids wave from the bed of tinsel-trimmed trucks, DJs put their spins on upbeat Christmas classics and local businesses display their unique, giftable creations. This is just a small snapshot of what to expect at this annual event, held the day after Thanksgiving this year — a brilliant way to kick off the season. 


If you can't be in town for the land-based version (or you just need another dose of festivity), fret not — the Fantasy of Lights Boat Parade will take over Tempe Town Lake just a few weeks later (Dec. 10). Bring the family and a blanket to Tempe Beach Park for great views of the cheery vessels carving shimmering paths across the water. The twinkling procession will be set to the sound of live holiday music performed by local artists. There will be food vendors and a market, to boot, and the merry evening will be capped with a fireworks finale. 
Flora fans will want to mark Las Noches de las Luminarias at the Desert Botanical Garden as a must-visit exhibit, running select nights in December. Now in its 45th year, this holiday tradition includes live musical acts and thousands of luminarias (paper lanterns — a staple of Christmas time in the southwest) casting a glow on the garden trail against the dimming night sky. A special treat this year, colorful, whimsical, large-scale sculptures by Arizona artist Rotraut will also adorn the already-gorgeous landscape during the event. Her paintings and smaller sculptures will also be on view in the Garden's indoor gallery. 

Make an over-the-top celebratory day of it by following the Luminarias exhibit with another "illuminating" experience: a stroll through ZooLights at the Phoenix Zoo (Nov. 23 - Jan. 15). This long-running annual spectacle lights up the grounds with millions of colored lights, draped and wound around cactuses, animal sculptures and trees — including a 50-foot-tall digital Christmas tree that will light up with videos and images for a truly dazzling show.

Also new this year will be the zoo's Polar Park — an illuminated igloo where families can take special photos with Santa, lounge on a dozen sparkling LED-lit swings and roast s'mores at a fire pit. Guests can also enjoy holiday drinks, the sight of lanterns aglow along the Africa trail and even access to the Dinosaurs in the Desert exhibit. There, visitors can feast their eyes on 23 beastly creatures basking in the shimmering holiday lights like kaleidoscopic, prehistoric works of art.
Speaking of art, there's a festival focused solely on creativity during this time period as well. Set on historic Mill Avenue, the Tempe Fall Festival of the Arts (Dec. 2-4) has been a fixture of the community for more than half a century.


While it's not holiday themed, the free admission, enticing food trucks, live entertainment and drink vendors (beer and wine included) would put anyone in a festive mood. And you might easily find a one-of-a-kind holiday gift (or several) amid the 350+ artist booths.
Shopping: Merry Markets, Sparkling Streets & Great Eats
On the theme of gift-giving, Tempe offers a treasure trove of shopping opps — with special holiday flare — making it easy and fun to check off all the people on your "nice" list while you're in town. (Tip: Tempe is full of artful and delicious breakfast spots, so make sure to fuel up before your spree.)

The holiday markets at the aforementioned Fantasy of Lights fests (both the street and the boat parades) offer great opportunities to support local businesses and artisans while picking up homemade crafts and gifts you won't find anywhere else. And the "always-on" Tempe Marketplace harbors holiday joys for visitors as well.

The Thanksgiving Eve tree-lighting ceremony, starring Santa and characters from the Nutcracker, kickstarts the magic at the Marketplace. Then, from Nov. 23-27, a free ice skating rink will pop up at the mall. (Kids age 5 and up; skates will be provided.) 
In addition to an ice rink, Tempe Marketplace promises something else you might have thought you'd miss while celebrating in the desert: snow. The nightly "snowfalls" put on at the Marketplace (Nov. 3 - Dec. 31 at 7 p.m. and 8 p.m.) make a white Christmas (or a white Christmas-adjacent day) possible for anyone, even though actual flakes were last recorded in the area in 1933. You might even hear Elvis's classic song on the theme of holiday precipitation, thanks to the fun holiday soundtrack that accompanies each "snow show."
Holiday community performances (weekends), story time with Mrs. Claus (Dec. 3 and 10) and gingerbread-themed holiday decor are also attractions families can look forward to at Tempe Marketplace this season. And after a "snow" or trip around the rink, shoppers can "warm up" with a steamy, cinnamon-topped cup of Mexican cocoa spice from Churroholic; all-you-can-eat, cook-it-yourself Korean barbecue at Gen Korean BBQ House; or a gyro fresh off the spit at It's All Greek to Me.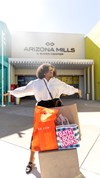 Arizona Mills — the largest indoor outlet mall in the state of Arizona — also celebrates the giving season in a big way. The shops will offer major discounts for Black Friday as well as a "Santa's Arrival" event (Nov. 19, 11 a.m. - 1 p.m.), with free giveaway items (while supplies last) and photo opps with both Kris Kringle and The Grinch. Concerts by local school children, holiday selfie stations and a "Christmas Angel" Salvation Army gift-giving station to benefit local children are among the additional holiday happenings at Arizona Mills this holiday season.
Conveniently, the mall also hosts family-friendly restaurants that are ideal for recharging amid all the reverie. Try the Rainforest Cafe, a themed eatery with a realistic indoor rainforest, tropical "rainstorms" and animatronic jungle animals. A visit here (or to Johnny Rockets, Pangaea Dinosaur Grill or the Doc Popcorn snack stand, for that matter) will incentivize the kids to keep shopping sans complaints just a little longer — a gift every parent appreciates. 
---
Ready to go? Check out Tempe festivals and hotels and start planning your trip.