In April, at the height of spring, we headed to Wheeling, West Virginia for a peek at the foods, recipes and talent driving the culinary scene in this special part of the country. Chef Matt Welsch, the man behind the very popular Vagabond Kitchen in downtown Wheeling, became our guide -- cooking us through a multi-course meal featuring regional and in-season produce and introducing us to his neighbor purveyors who supply his ingredients daily.


After spending several hours in Chef Matt's home kitchen, we savored Soup Beans, Pork Confit, Potato Medallions, Skillet Cornbread and, for dessert, Apple Stack Cake. We also got to go foraging for Ramps -- wild onions native to West Virginia and available only in spring -- which have a starring role throughout our menu.
Watch Tasting West Virginia here:
Tasting West Virginia is an exclusive presentation by Travelzoo, in conjunction with the West Virginia Department of Tourism. Check out the recipes for a few of the items we cooked up with Chef Matt Welsch.
Soup Beans
Yield: ~5 qt
2 Yellow Onions, minced
4 Cloves of Garlic, peeled and crushed
1 Quart Ham, small dice
½-Cup White Wine
1 Gallon Canned White Northern Beans
1 Ham Hock
½-Cup Bacon Fat
Heat bacon fat in 5.5 quart Dutch oven. Once shimmering add 1 minced onion (reserve second minced onion for garnish) and cook until translucent over medium high heat. Add diced ham and cook until all the water is cooked out and ham starts to get some color to it. With a wooden spoon work the caramelized bits of ham and onion up off the bottom of the Dutch oven. Once ham is fully rendered (starting to stick but not burn), add white wine and really work all the bits off the Dutch oven with the wooden spoon. Once white wine is mostly cooked off, add beans, bean liquor, and ham hock. Bring to boil, then turn down to low simmer and stir occasionally for 3 or 4 hours. Serve with raw onion as garnish.
---
Skillet Cornbread
Yield: Serves 8 to 10
1 Cup Cornmeal (5 ounces)
1 Cup Flour (5 ounces)
2 Tbsp Maple Sugar
2 tsp Baking Powder
¼ tsp Baking Soda
¾ tsp Table Salt
1 Cup Frozen Corn, thawed
1 Cup Sour Cream
2 Eggs
½ tsp Hot Sauce
4 Tbsp + 2 tsp Bacon Fat
¾-Cup Jalapeno or Ramps, diced (optional)
Adjust oven rack to middle position and heat oven to 450 degrees. Whisk cornmeal, flour, sugar, baking powder, baking soda, and salt in large bowl. Pulse corn, sour cream, eggs, and hot sauce in food processor until corn is coarsely chopped and mixture is combined. Fold corn mixture and optional jalapenos or ramps into cornmeal mixture, then stir in 4 Tablespoons melted bacon fat. Heat 2 teaspoons bacon fat in 10-inch skillet over medium-high heat until just beginning to smoke. Take skillet off heat; quickly add batter and place skillet in oven. Bake until toothpick inserted in center comes out clean, about 25 minutes. Cool cornbread in skillet on wire rack for 20 minutes (handle will be hot). Serve warm.
---
Apple Stack Cake
Chef Matt recommends this recipe from Epicurious.
---
More deliciousness from Chef Matt Welsch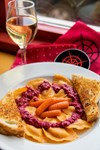 Ready to go? Follow these links for more information and inspiration.
West Virginia Department of Tourism | Vagabond Kitchen in Wheeling, West Virginia | Chef Matt Welsch on YouTube | The Blended Homestead on Facebook | 8 Foods You Need to Taste in West Virginia | A Trip Down West Virginia's Country Roads