Spiritual Sites & Modern Delights in Türkiye

Throughout history, many of humans' greatest creative achievements have been undertaken out of devotion. Nowhere is this more evident than in Türkiye.
Over centuries, Türkiye has been home to all three of the world's great monotheistic religions —Christianity, Islam and Judaism — a fact to which Türkiye's numerous dazzling churches, monasteries, mosques and temples are a testament.
The chance to soak in the beauty, history and magnitude of these religious shrines firsthand is more than enough reason to plan a trip, but when you add in the thrilling modern-day diversions that surround each one, the allure becomes irresistible.
Here's our brief guide to experiencing the holy — and the wholly entertaining — in Türkiye. 
Süleymaniye Mosque & Ahrida Synagogue in Istanbul
Thanks to Turkish Airlines' frequent nonstop flight service from 10 U.S. cities, it's likely you'll start your Turkish exploration in Istanbul — and there are few cities in the world that provide a better starting point for a pilgrimage to ornate and historic spiritual monuments. 
Istanbul literally has thousands of them — mosques, churches and synagogues — constructed over the past 1,800 years. The city is a crossroads not only for European and Asian cultures — which you would expect, seeing as it straddles both continents — but also for religious history, having been an epicenter for Christianity, Judaism and Islam throughout the centuries.

With the wide range of significant and stunning religious buildings in Istanbul — many of which are free and open to the public —  the question of where to begin looms as large as the domes of the city's magnificent mosques. Why not jump in with one of the grandest — the Süleymaniye Mosque, whose position atop one of Istanbul's seven hills befits its stature as one of the most impressive buildings of the Ottoman empire? The mosque was commissioned by Süleyman "the Magnificent," a sultan who ruled the empire from 1520-1566 and who is credited with overseeing great in advancements in law, literature, art and architecture during his reign. The sultan and his wife are buried in ornate mausoleums located just southeast of the mosque's main entrance. 
Inside the mosque, visitors are greeted by a soaring domed ceiling awash in sunny golden hues and florid geometric details. The space seems to shimmer with eye-pleasing patterns, and the breathtaking views are uninterrupted thanks to the architect's incorporation of the buttresses into the walls. Said draftsman is none other than Mimar Sinan, the most celebrated of the Ottoman architects, and certainly one of the most prolific. He designed hundreds of structures in the 16th century, and served during the reigns of three sultans. 
It may take a while to absorb the beauty of this divine building, but once you've soaked in all you can, we suggest taking the tram northwest along the Bosphorus where you'll find another example of enthralling religious architecture, this time from the Jewish faith. The Sephardic Ahrida Synagogue is one of the oldest temples in Türkiye, having been built by Jews of the Byzantine Empire in the mid-1400s. The building has been reconstructed and restored throughout the years, with effort to retain earlier design elements and preserve its history. 


Beyond the synagogue's detailed woodwork, ornate vaulted ceiling and gleaming crystal light fixtures, one of the most interesting features of the interior is its unique ship-shaped bema (or pulpit), which is said to symbolize Noah's ark. (As with all synagogues in Türkiye, travelers must secure appointments to visit Ahrida by contacting city's Chief Rabbinate.)
Having nourished your soul with visits to two of the Golden Horn's historic spiritual centers, it may be time for sustenance of the corporeal kind. You'll have your pick of well-reviewed restaurants within walking distance of the synagogue in the colorful, cobblestoned Balat neighborhood, where everything from fine dining to casual cafes and even vegan options are on offer. Once you've tamed your tummy rumbles, stroll through scenic Balat Park to the ferry terminal, where you can hop on a sightseeing cruise of the Bosphorus. 
Capadoccia
A visit to Capadoccia's whimsical-looking towers, cones, valleys and caves is necessary simply to begin believing the erosion-carved volcanic rock formations are real. Located in eastern Anatolia in the center of the country, the area has been inhabited since at least 6th century BC and has served as an important refuge for the faithful throughout its history.


Early Christians and followers of St. Basil the Great sought asylum from religious persecution in the region during the 4th century AD. It was at St. Basil's direction that the first churches in Göreme Valley were carved by hand into the rocky hills. You read that right — residents here literally chiseled the beautifully detailed buildings out of the soft volcanic stone (known as "tuff"). You can now see the network of small Christian communities that sprang up in — or, more accurately, were etched into — the arid region, with a tour of the Göreme Open-Air Museum. With their vibrant frescoes and numerous elegant interior arches, Tokali Kilise (translated as "Church of the Buckle") and Karanlik Kilise ("Dark Church") are some of the best examples on view.  
Later inhabitants took on an even more staggering feat — carving elaborate underground cities up to 18 stories deep into the soft volcanic rock. Visitors today can tour the underground city of Derinkuyu, which shielded 20,000 people from invading Mongolian armies during the 13th and 14th centuries. Wine cellars, stables, chapels and even a large underground religious school have all been uncovered amid the intricate hand-carved network of rooms and tunnels.


Located less than 6 miles from Derinkuyu and connected by tunnel (which is not open to the public — that would be a long, dark stroll, though, eh?), the subterranean city of Kaymakli was also inhabited by those fleeing persecution during the Arab-Byzantine wars between the 7th and 12th centuries AD. To no one's surprise, the site was awarded UNESCO World Heritage Site status in 1985. 
Once you've witnessed this divine region of human achievement and natural beauty on land, underground and from above via popular sunrise hot air balloon tour, Capadoccia holds still more to explore. See both antique and modern examples of ceramics and pottery at a subterranean art museum. Or drink in the region's earthly pleasures with a visit to a local winery. 
The Wooden Mosques of Anatolia 
If Türkiye's near-impossible monuments to religious devotion ended with massive, yet pillar-less mosques and churches hand-carved from stone, it would still be impressive. But in reality, the country's outstanding works of religious architecture seem to be limitless. 
Take, for instance, the visually thrilling, nail-less wooden mosques of Anatolia (that's eastern, Asian Türkiye) — some of which have endured for almost 800 years. Striking examples of these architectural wonders are spread throughout Anatolia's near 300,000 square miles. One of these — the Aslanhane Mosque — stands near Türkiye's capital city, Ankara. 


While the building's exterior is deceptively plain, its history and its interior are both striking. The structure was built in 1290 AD, making it one of the oldest surviving wooden mosques. Inside, 24 hand-hewn pillars support the labyrinthine wooden roof and an elegant walnut-carved minbar (the stairs and platform where the imam rises to deliver the sermon) is itself a spectacle, bedecked with mind-bogglingly intricate stars and rosettes.   
In addition to basking in the splendor of this marvelous mosque, there are innumerable attractions to experience in the modern city of Ankara. Art galleries and museums and a beloved opera house contribute to the rich cultural scene. Stroll into Gençlik Parkı for relaxing views of the landscaped green space, complete with a pretty pond and fountains that light up at dusk. Kids (and kids at heart) won't be able to resist a ride on the ferris wheel at the amusement park on the south end.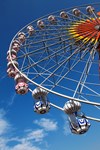 Replenish with a delicious plate of Ankara Tava, the capital's signature dish, at one of the many nearby restaurants. Composed of orzo, meat, sweet peppers, tomato and onion and seasoned with garlic and cumin, the casserole is so prized, it's often served at weddings. 
Seven Churches of the Revelation – Plus the Synagogues of İzmir
Scattered around western Türkiye, the Seven Churches of the Revelation — seven spiritual centers Jesus' apostle John wrote about in the book of Revelation at the end of the Bible — are a pilgrimage site for many Christians and students of religion. At the time (that is, ca. 96 AD), these churches, located in the then-leading cities of Asia Minor, faced oppression by the Romans. 
Today, visitors to Türkiye can explore all of these remarkable historical sites — Ephesus, Smyrna, Pergamum, Thyatira, Sardis, Philadephia and Laodicea — via self-guided or widely available organized tours. Though the churches are now in ruins, the towering arches, pillars and sprawling stone foundations that remain make it easy to imagine the Roman-era grandeur that once existed.


Many tours begin with Ephesus, the church that first received the Book of Revelation due to its proximity to the island of Patmos, where John is said to have been imprisoned when he wrote it. Among the many fascinating sights here, the Church of the Virgin Mary, where Jesus' mother is thought to have spent the last days of her life, is a standout.


About 40 miles north, Smyrna is another impressive site, characterized by gravity-defying arches that once covered a bustling marketplace. The ruins are just a few blocks from the modern city of İzmir, where you can find another cluster of significant religious monuments: a group of nine 16th-century synagogues. This area, known also as the Central İzmir Synagogue Complex, is held to be the densest concentration of Jewish landmarks in the whole country, and has been the focus of ongoing restoration efforts since it made the World Monuments Watch list in 2004. Also noteworthy as evidence of centuries-long harmony between various religious communities here, six mosques stand in the area immediately surrounding the synagogues.  


Amid the intriguing history that won the city center UNESCO World Heritage Tentative List status in April 2020, modern-day İzmir holds plenty more to discover. Kemeralti Bazaar, established in the 17th century, still thrives today, comprising street after street of vendors proffering jewelry, leather goods, handmade glassware, fresh fruits and spices and a plethora of other delights. Stroll along the port for gorgeous vistas of the Aegean Sea — or, for an even more comprehensive view, take a trip up the Asansör Elevator that juts up the side of a coastal cliff. 


Flaky boyoz pastries, fried and syrup-soaked lokma dough and savory, overstuffed kumru sandwiches are among the specialties you'll want to try in İzmir's bountiful cafes and restaurants. More tasty dishes and indulgent shopping await with a day trip to Çeşme Marina, a chic coastal village a short drive west. Nestled between the two locales is the town of Urla, home to series of vineyards and boutique wineries that invite visitors for tastings. You'll simply have to stop — it's on the way, after all. 
---
Ready to go? Check out this array of destinations for more can't-miss experiences in Türkiye.