Slow down in this Northern Michigan town this summer

Near the very tip-top of Michigan's "mitten" sits Cheboygan (shə-BOI-gən), along the shores of Lake Huron, less than 20 miles southeast of the Mackinac Bridge that connects the state's Lower and Upper Peninsulas.

This quaint Northern Michigan destination is ideal for a summer retreat. You'll find local coffee shops to start your mornings and outdoor dining options to wind down in the evenings, a classic Main Street to stroll down and pop into a few shops, sandy beaches, lots of water and recharging outdoor activities like fishing and hiking. It's also a good home base from which to launch day trips, like catching a ferry to Mackinac Island.
If this sounds like the getaway you're looking for this year, let this quick guide be your starting point for a trip to Cheboygan. 
Scenic shores and historical lighthouses 
Head to the sweeping Cheboygan State Park, which sits on over 1,000 acres and includes the beaches of Lake Huron. Enjoy a beach day here in the sun on the soft sand and take a dip in the Great Lakes' refreshing waters. 

Before leaving the park, check out the Cheboygan Point Light, which includes remnants of a once-operating lighthouse originally built in 1851. Michigan is home to more lighthouses than any other state, so this can be the first stop of your "tour de lighthouses" around Cheboygan. Sitting at the mouth of the Cheboygan River is the Cheboygan Crib Light, which makes for a great photo op and a peaceful place to take in the views and fresh air. Further along the river is the Cheboygan Front Range Light, a former tower and keeper's dwelling built in 1880 and now open to visitors on the weekend.
In addition to a picturesque coast, the Cheboygan area is home to one of the best multi-purpose trail systems in the U.S. It serves as a trailhead for two of the state's highly acclaimed trails that are favorites of hikers and cyclists. The North Eastern State Trail, which stretches over 70 miles southeast to Alpena, and the North Central State Trail, which runs north and south connecting users to several communities including Mackinaw City and Gaylord.
Have a reel nice time on the water
The Cheboygan River is positioned at one end of Michigan's Inland Waterway, which stretches over 40 miles west toward the Petoskey area. Nautical North Family Adventures offers kayak rentals for anyone who wants to see the river up close. They also offer tours on their glass bottom boats where you'll venture along the river, into Lake Huron and over three shipwrecks. 

With so much pristine fresh water, you'll also find prime fishing opportunities here. Diabolical Sport Fishing and MFM Sport Fishing offer charters for all experience levels. You'll cast lines for fish like trout, salmon and walleye, and they'll help you clean and bag what you catch.
Food, brews and an ice cream or two
Start your mornings along the charming Main Street with a coffee from Cheboygan Coffee Roasters, where in addition to their locally roasted coffee you can find smoothies, teas, bagels with homemade cream cheese and baked goods like brioche cinnamon buns. Just off the main strip is State Street Coffee Company where you can find unique lattes like their "Razzleberry Latte," a mix of raspberry and blackberry flavors.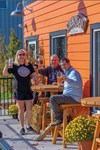 With hundreds of breweries around the state, Michigan's craft brewery scene is well represented in Cheboygan. The Cheboygan Brewing Company is located on Main Street and offers up a comfortable outdoor patio where you can sip on their brews, with locally inspired names like a Pigeon River Pilsner and Lighthouse Amber. Nearby is The Hive North, which features Michigan-made hard ciders and mead.
If you're more of a wine connoisseur, the town is also home to the Nicholas Black River Winery. You can partake in a tour of the vineyard and winemaking room in town, or visit their tasting room located nearby in Mackinaw City. 
Grab a bite to eat at Mulligan's Restaurant in the heart of the downtown area. They offer an expansive menu including pasta, Tex-Mex and burgers plus a full bar with 16 rotating taps featuring local brews. If you're looking to enjoy dinner with a view, head a few miles south of downtown to Pier M33 on the Cheboygan for a family-friendly restaurant with finer fare, including short rib pasta and maple-dijon salmon. 
End the days on a sweet note with ice cream at The Dipper. Opt for a scoop of Superman ice cream, unique to the Midwest and a favorite of kids and kids at heart. The colorful ice cream twists red, blue and yellow flavors into a delectable dessert that's as sweet as it looks (and guessing what the actual flavors are is half the fun). 
Saunter down Main Street 
Downtown Cheboygan has all the makings of an ideal relaxing getaway. Find events like a classic car show in June and this year's Music on Main series, featuring live shows around town at spots like Beau Est Beau and Pub 27. You can find more entertainment at The Cheboygan Opera House, a historical building originally constructed in 1877 and The Lark Theater, an intimate venue featuring a lounge where you can enjoy a pre-show beverage. 

Stop into the shops along Main Street and enjoy some retail therapy with a souvenir or two to commemorate your Northern Michigan vacation. MichMash Gallery & Gifts and Bittersweet are treasure troves of specialty gifts and Michigan-made items, like locally made candles and seasonal decor.
---
Ready to go? Start planning your summer getaway with these tips.