Six ways to see Ireland in its autumn glory

Savvy travelers know the Emerald Isle is a smart choice for fall: As airfare and crowds diminish, other factors flourish—namely, the kinds of only-in-Ireland experiences that can totally make a trip. From the pub banter along a foliage-flanked pilgrimage route to Halloween celebrations in the holiday's spiritual birthplace to theater festivals in the old stomping grounds of Beckett, Shaw, Wilde and Yeats, the offerings are endless.
Meanwhile, it's not just the seasonal decrease in airfare and crowd size (or even the current exchange rate) that make Ireland so manageable. This is, to date, the only place in Europe with U.S. Customs and Border Protection Preclearance facilities. So whether you're flying out of Dublin or Shannon, you can take care of immigration and customs before you board rather than stateside, where you'd be lining up with a world's worth of incoming fellow passengers—and facing who-knows-what kind of delay before any connecting domestic flight.
Of course, these kinds of practicalities are a mere bonus. The real joy of plotting your escape to the island of Ireland this fall is figuring out which indelible memories you'll make upon arrival. Here, six of our favorite options.
Trick-or-treat travel
Here in the homeland of Halloween—where October 31 is an official Bank Holiday—you'll find amazing festivities island-wide. Many go for days, so you could easily fest-hop. But if you hit only one, make it Púca (October 29-31), a celebration of the holiday's earliest roots in Ireland's Ancient East. 

A blend of archeology, history and lore traces Halloween to the Celtic tradition of Samhain, old Irish for "summer's end." A transitional moment marked by a blurring of the boundary between the otherworld and this one—when previously departed souls were believed to drop back in for visits—Samhain prompted the living to disguise themselves, lest any returning ghosts be less than friendly. For good measure, there were also offerings to ward off evil spirits and honor deceased ancestors. And thus were born the earliest Halloween costumes and treats. 
To see where these traditions and others began more or less two millennia ago, check out the presumed birthplace of Samhain: Athboy's Tlachtg, aka the Hill of Ward, one of two neighboring locations for this year's Púca. Legendary for a huge ceremonial bonfire, from which all the fires of Ireland were said to be rekindled on Samhain, this hill is also home to 2,000-year-old archeological evidence of some serious celebrating and feasting. In that spirit, this year's festival will include vast quantities of locally-sourced specialties (more on one of the icons—barmbrack—shortly). But the music, storytelling, folklore and comedy lineups will be just as bountiful, with everyone from the dance band King Kong Company to the headlining author and podcaster who's been deemed "Modern Ireland's biggest cultural export," Blindboy.

But again, this is just one of several such festivals across Ireland. Other great ones to consider include the music-, food-, and costume party-filled Derry Halloween (October 29-31), billed as Europe's biggest Halloween festival, when even the city's 400-year-old fortified ramparts are "no match for the darkness of the spirits that are awakened" and Dublin's Bram Stoker Festival, "finally crawl[ing] out of our underground crypt into the streets" after a two-year hiatus, so the return promises to be epic.
No matter how you celebrate here, though, be sure to try at least one local Halloween treat: barmbrack, a sweet bread typically spiced with nutmeg, cinnamon and clove and filled with dried fruit, whether cherries, sultanas, currants or other seasonal favorites. 
---
Wondrous walks

With all due respect to fall foliage hikes everywhere, there's nothing like capping off your walk in the woods with a pint at the pub—and all the implied trad music, storytelling and general fireside coziness. Now multiply that experience by a few days, and you start to get a sense of Ireland's best fall walking festivals. Again, you won't want for choice here—you'll find a number on offer this season—but one of the best takes place in the so-called garden of Ireland: County Wicklow. That "garden"—with its woodlands, rolling hills and forested slopes—turns particularly vibrant in the fall—as you'll discover during the Wicklow Walking Festival (October 28-31). Whatever your desired exertion level, you'll likely find at least a few guided hikes that look good to you, a number of them through the Wicklow Mountains National Park. Then again, a number of these trails are so iconic that you don't have to catch the festival to enjoy them.  

There's the "Camino de Glendalough," for example—a literal ancient pilgrimage route that takes you through the Wicklow Mountains from St Kevin's Church in Hollywood to the famed Monastic City of Glendalough. While the full Camino is almost 19 miles, you can pick up the path at various points along the way—and the seasonal scenery will be stunning throughout.

A few other great fall walking festivals (or just great fall walking and hiking areas, if the festival timing doesn't happen to work out): the Mourne Mountains' Wee Binnian, which gets our vote for best name and translates loosely to little mountain of horns (Sept. 9-11); Connemara Mountain Walking Festival (Sept. 10-11), where the blend of mountain and sea views is unrivaled; Inishowen Walking Festival (Sept. 16-24), an entire week's worth of walks across Ireland's largest peninsula; and the Carlow Walking Festival (Sept. 30-Oct. 2), with 17 highly varied walks and a kickoff event that in and of itself is worth attending for: "Magic, Myth and Moonlight Under the Stars Night Hike."
---
Screen stars

The only such attraction on earth (or if you prefer, in the Seven Kingdoms), the Game of Thrones Studio Tour opened earlier this year in Banbridge to great—if not at all surprising— fanfare. And that GOT excitement is only growing, given the recent release of House of the Dragon. So for fans of the franchise, there's no better place on earth to be this fall (as winter is literally coming). In fact, House of the Dragon watchers—whose numbers have somehow increased since the already record-breaking premiere—will find that the Studio Tour amplifies the experience with a foray into Dragonstone, as well as some other seasonal surprises.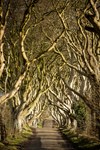 Of course, you can also go visit the real-life backdrops—forgive us—beyond the walls of the studio tour. In fact, countless shows and movies have filmed across Ireland, and serious fans make entire trips of location visits. Continuing in the GOT vein, don't miss County Antrim, where you can see everything from the iconic trees of the Kingsroad (the Dark Hedges near Ballymoney) to the Iron Islands (aka Ballintoy Harbour) to Melisandre's labor and delivery suite (Cushendun Caves). Another GOT-rich region not to miss? County Down, home to Winterfell (aka Castle Ward), a swath of the Riverlands (Inch Abbey) and the direwolf pups' birthplace (Tollymore Forest Park).

Traveling in mixed company with "Star Wars" fans? There are plenty of locations from "The Force Awakens" and "The Last Jedi", but no one—even the Star Wars-agnostic—should miss one particular sight: Skellig Michael. A UNESCO-listed islet on the Wild Atlantic Way, this almost pyramid-shaped outcropping harbored not only Luke Skywalker, but—around 1500 years ago—Irish monks who found the place equally suited to solitary spiritual practice. 
---
Creatures great and small
For wildlife lovers, autumn in Ireland is heaven on earth—or in the skies, as the case may be along one of the busiest bird migration routes anywhere. In fact, the aforementioned Skellig Michael (together with its neighboring smaller Skelligs) is as famous among birders as it is among Star Wars fans. (And some would argue that birders are the bigger diehards.) Get to Little Skellig before the end of September, and you'll find one of the world's largest gannet sanctuaries—home to around 20,000 mating pairs this time of year. You're also likely to see cormorants, terns and razorbills—but you'll have to come back in the spring and summer to see the island's adorable puffins.

If you're a birder who's visiting later in the fall, make your way to the Wexford Wildfowl Nature Reserve, where—as of October—these brackish channels and grasslands start to welcome somewhere between a third and a half of the world's population of Greenland white-fronted geese, who are joined at by a migratory menagerie of swans and ducks, to say nothing of the many non-fowl species you'll find here.  
Raptors more your thing? You can not only try your own hand at falconry all over Ireland—even onsite at your hotel, if you're staying at the likes of the legendary Ashford Castle, Dromoland Castle or Adare Manor—but you can also expand the experience. At the Burren Birds of Prey Centre, home to a vast and varied flock, you can also interact with eagles, hawks and owls.

For those who love fin spotting, welcome to Europe's first whale and dolphin sanctuary. Though all the waters off of Ireland became a safe haven for cetaceans in the '90s, the Wild Atlantic Way—and specifically the waters off West Cork—have become the island's most famous whale watching spots. On a fall whale-watching tour, depending on when you go, sightings might include fin whales, dolphins and/or humpbacks.
---
Culture on every corner
For fans of the arts—performing, visual and even experimental—fall in Ireland approaches sensory overload, in the best possible way, of course. Starting in the old stomping grounds of every iconic playwright from Yeats to Beckett to Shaw to Wilde, you'll find the venerable Dublin Theater Festival (September 29-October 16) and the newer Dublin Fringe (September 10-25) and all manner of production in between. 
This year, among several noteworthy themes, the Dublin Theater Festival is celebrating the centenary of the publication of James Joyce's Ulysses (check out Joyce's Women), plus a return to a truly global spirit—with projects by artists from around the world—in the wake of the pandemic's effects on international travel and artistic exchange. For its part, the Dublin Fringe will include hundreds of diverse performers with spoken word, poetic, theatrical and musical takes on everything from how we sound (see "Accents" ) to where our travels take us (see "Hotel Happiness" or "The Birdwatcher's Trip to Alpha Centauri").

Music lovers, meanwhile, shouldn't miss the Guinness Cork Jazz Festival (October 27-31), when the festivities—hundreds of acts strong— inevitably spill out of the pubs and other performance venues and into the streets. You may even catch the occasional NoLa-style second line parade.

And all-around culture vultures won't want to miss the Belfast International Arts Festival (October 5– November 6), when the 60th anniversary edition is going to be epic. The autumn 2022 season kicks off with the UK premiere of "Dinner with Groucho," a new play by the venerable, Tony Award-winning Frank McGuinness, and continues with dozens of performances that range from theater and dance to visual arts and film to talks and ideas. But given Belfast's designation as a UNESCO City of Music, the festival's musical lineup is particularly defining and includes acclaimed singer songwriters (Paul Carrack), gospel legends (The Staples Jr. Singers), chamber musicians (the Fews Ensemble)—and everyone in between.
---
An abundant harvest
Because you'll clearly need to refuel between walking festivals, Halloween festivals and arts festivals, Ireland comes through with a whole menu of fall food festivals. One of the most renowned is the Galway International Oyster and Seafood Festival (Sept. 23-25), when—among other events—the World Oyster Opening Championship will see competitors from across the globe vie for the coveted title. Then there's the Kinsale Gourmet Festival (Oct. 15) , when the Mad Hatter's Taste of Kinsale will be a foodie walking tour for the ages, complete with Alice, the March Hare and the Queen of Hearts. County Armagh is famous for its apples, and if you love them too, head here between September and late October to enjoy festivals, events, tastings, demos, markets, pop-ups and more. 

Of course, you need not hit a festival to fill up on the seasonal abundance. The farmers' markets are destinations unto themselves this time of year, as you'll discover at St George's Market in Belfast and the English Market in Cork. For all the beautiful and bountiful produce around, though, arguably the most autumnal dish you can eat in Ireland is Guinness Stew—a dish less about the veg and more about the beef, bacon and namesake Stout. Everyone has a favorite iteration, but you can't go wrong with the one at the nearly 825-year-old Brazen Head in Dublin, where you'll get the bonus of experiencing one of the claimants to the title of Ireland's oldest pub.

---
Ready to go? Plan your fall trip to Ireland with these offers.