Why Now's the Time to See Wicked on Broadway

As the lights dimmed inside the fabled Gershwin Theatre, I found my eyes darting in every direction—from the green glow of the Oz map, to the intricate gears of the epic clock to that humongous dragon overhead. The sights weren't entirely new to me—I'd seen Wicked on Broadway six years earlier—but sitting in the audience again, just weeks after the 15th anniversary performance, I knew something was different.
This look at life in Oz "before Dorothy dropped in" felt bigger. More magical. More relevant.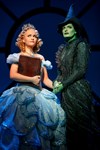 As an entertainment journalist for the last 15 years, I've toasted at a premiere party with Ian McKellen and Patrick Stewart, squeezed past Orlando Bloom on an opening night, interviewed Daniel Radcliffe and Jeremy Jordan about their latest stage endeavors, and hung out backstage with Vanessa Hudgens. 
Still, for all those starry moments, the power of Wicked was next level: When that glowing map lifted, I was transported into what suddenly became the very real world of Oz. The barrier between reality and fiction seemed to  vanish (something today's political climate may have primed me for). For the next two hours and 45 minutes, I was part of Elphaba and Glinda's adventures.
And given that Wicked is the second-highest grossing Broadway show of all time, countless others have clearly felt the same. Whether you're among them—or you're looking at your first trip to Oz-on-Broadway—here's why now is the time to follow the Yellow Brick Road.
Being able to look back on the amazing legacy makes the audience experience richer.
For the last 15 years, Wicked has made 51st Street in Manhattan home. While some things literally haven't changed since the beginning (like a pitchfork from the "March of the Witch Hunters" number), others have evolved into icons—including the roles themselves.
"I always knew it was something special in the beginning," Idina Menzel (aka the original Elphaba) told Playbill. "But I had no idea that it would become this phenomenon." A big part of the magic was her ability to completely get lost in the character and elicit empathy from the audience, even behind a face of green makeup.


While it still ain't easy being green, the role has always been a badge of honor on Broadway (everyone from Saturday Night Live's Ana Gasteyer to the recent The Cher Show stars Stephanie J. Block and Teal Wicks has donned the witch's hat). And each successive Elphaba has found herself proudly walking the streets of New York with the same faint but unmistakable trace of MAC Landscape Green on her face.
These days, that describes Jessica Vosk, who spent a year as Elphaba in the touring production before she began defying gravity on Broadway—first alongside Amanda Jane Cooper, and now alongside Katie Rose Clarke as Glinda. 
---
A new release is going to have you desperate to hear the music live.
In February, Wicked: The 15th Anniversary Special Edition came out with four bonus tracks—each a modern star's own take on the songs recorded during NBC's anniversary special. The lineup includes Ariana Grande's "The Wizard and I," Pentatonix's "What is This Feeling?"—and Adam Lambert and Ledisi's "As Long as You're Mine." Then there's the all-star rendition of "For Good," in which Idina Menzel and Kristin Chenoweth are backed by 18 women who played Glinda and Elphaba through the years.
And of course, the #OutOfOz Wicked Studio Sessions YouTube series—where current artists put their own spins on the tunes—has only fueled the collective appetite for these magic melodies. (Check out the Jennifer Nettles and Aaron Tveit videos if you haven't already.)


Point is, with each new take—not least, the version of "Defying Gravity" that became a wake-up song for NASA astronauts in space—the music reminds you that you really need to go see this show live, whether for the first time or the 150th (which, amazingly, wouldn't even be a super-fan record).
---
The original themes have taken on new and heightened meaning.
The themes of bullying and good vs. evil are certainly evergreen. But when you hear certain Wicked lines today, you think they had to be late-breaking script additions to suit the day's headlines. In fact, not a word has been altered since Stephen Schwartz wrote the music and lyrics and Winnie Holzman wrote the text. We're simply listening through a modern filter that makes them uncannily relevant.


Case in point: At the end of Act 1, the Wizard says to Elphaba, "When I first got here, there was discord and discontent. And where I come from, everyone knows: the best way to bring folks together, is to give them a really good enemy." Elphaba quickly realizes the truth behind the Wizard's facade and replies: "You have no real power!" and adds "That's why you need an enemy. And spies. And cages." Shockingly 2019.
Then there's the exchange in Act 2, Elphaba accuses Glinda of being "too busy telling everyone how wonderful everything is." When Glinda says, "Well, I'm a public figure now and people expect me…," Elphaba interrupts with "to lie?!" Let that sink in.
---
Knowing some behind-the-scenes secrets will make you feel like an insider when you go.


So here are some fun facts: Elphaba is the only one with a makeup team, while all the other actors do their own. Though going green usually takes 25 minutes (only the face, neck and hands are painted), the record is seven minutes.
Another: Although you only see Nessarose in one wheelchair at a time, there are actually three: a regular one, a fancy one, and one just for the spinning scene.
And another: No fewer than 29 yards of 37 different fabrics go into Elphaba's Act II dress.
And I don't just happen to know these things from covering entertainment for so long. They're just a few of the fun insights theatergoers get on the Behind the Emerald Curtain tour (offered select Saturdays starting in January 2020). Led by cast members, the experience includes a tour of the Behind the Emerald Curtain Museum and close-up viewing of the costumes and props. If you can squeeze it in, go! You'll not only feel like a Wicked insider, you'll get a better sense of how all Broadway shows come together, directly from the cast. And—not for nothing—given what Wicked can do for a performer's career, you may just be hanging with the next Idina! 
But whether you go behind the Emerald Curtain or not, once it rises on your first (or 150th) viewing of Wicked, you'll feel as immersed in the magic—that alchemic blend of dazzling stagecraft, electrifying music and deeply affecting themes—as I did. 
---