See the other side of Greece

Waterfall in Neda, in the Peloponnese region. All rights reserved GNTO.
When it comes to Greece, Athens and the Aegean islands (especially Mykonos and Santorini) deservedly get a lot of love (and visitors). But if you skip the country's western side, from the legendary Peloponnese to the Ionian Islands, you're missing out on a wealth of incredible gems too, from archaeological sites and scrumptious dishes to sheltered coves and cascading waterfalls.
Here's our roundup of 11 places you should add to your next Greece vacation itinerary.
The Peloponnese

It's relatively easy to get to the Peloponnese region, which is roughly the size of Massachusetts. After your direct flight to Athens from New York (JFK and Newark), Boston, Chicago, Philadelphia and Atlanta, it's a short 55-mile drive to Greece's southern peninsula.
The rewards for traveling here are many. History lovers and sports fans alike can pay homage to the site of the very first Olympic Games. Sun worshipers can explore unspoilt beaches. Foodies can savor world-famous Kalamata olives in the only place they grow. With natural backdrops like mountains, forests, rivers and caves on your outdoor adventures here, you'll have plenty of personal photos to use as Zoom backgrounds upon your return. Don't miss these spots:
Olympia 

Why visit: The Olympics started here in ancient Olympia in 776 B.C. as a way to unite the then-known world every four years and suspend hostilities. From about the 10th century B.C., this spot was also a place of worship dedicated to the Greek god Zeus. This most celebrated sacred site of Ancient Greece is today a UNESCO World Heritage Site; visit the Museum of the History of the Olympic Games of Antiquity to see the ancient exhibits up close. Outside, walk around the ruins and see famous statues like Hermes of Praxiteles and the statue of Nike of Paionios as well as the sculptures that decorated the Temple of Zeus.

Don't miss: Head about 12 miles south of Olympia to relax in the Thermal Baths of Kaiafas, a natural spring located inside a cave at the foot of the Lapitha Mountain. Let your eyes soak in all the beautiful scenery as your body experiences the healing properties of the water. 
---
Kalavryta

Why visit: No matter what time of year you head to Kalavryta, you can get the blood pumping in this mountainous town where outdoor adventure reigns supreme. In the winter, hit the slopes on Mount Helmos at the Kalavyrta Ski Center; here you can go downhill skiing, mogul skiing, snowboarding and snow tubing. In the fall and spring, embrace the great pine forests and country roads and go hiking and mountain biking. The mountains also make parapenting (a cross between parachuting and hang-gliding) popular in the region.  

Don't miss: Featured in Greek mythology and mentioned in the writings of ancient traveller Pausanias, the Cave of the Lakes is near the village of Kastria, about 10 miles south of Kalavyrta. A long, subterranean rivers snakes its way through three caves, forming lots of small lakes and is surrounded by spectacular stalactite and stalagmite formations. There are three levels to the caves and some historians claim that the cave has been used since the Neolithic period. Fossils from humans and animals such as hippos have even been found on the bottom floor. 
---
Koroni

Why visit: As you get closer to Koroni, a town in the southeastern portion of the Peloponnese, you'll see a castle on a bluff overlooking the town. Built by the Venetians in the 13th century and revamped by the Ottomans in the 16th century, the castle of Koroni is one of the few complexes that included both houses and churches (and is still inhabited today). Walk the narrow passages and cobbled alleys to the gate of the castle and stroll around the small promontory for breathtaking views of the sea below.    

Don't miss: While walking around Koroni, you'll be sure to see lots of large clay pots, locally known as tzares. Ceramic art was an important part of everyday life in Koroni, used for olive oil and food in general, as well as carrying olives from the port and exporting local goods to other parts of Greece and abroad. Miniature versions of these clay pots can be brought back as souvenirs.
---
Elafonissos

Why visit: From May through October, visitors flock to Elafonissos, a tiny island off the southern coast of the Peloponnese, to indulge in Simos Beach, considered one of the best in Greece. Picture white sand flecked with the pink of crushed shells and turquoise water to the front, with sand dunes and a forest of cedar trees to the back. Simos Beach is actually two sandy beaches that join at a narrow peninsula: Megalos (Big) Simos and Mikros (Small) Simo; both are extremely popular and have sunbeds, umbrellas and beach bars to make it a full day of relaxation. Simos Beach is easy to reach by car ferry as well; the trip is about 10 minutes.

Don't miss: Kato Nisi, one of only four small villages on the island of Elafonissos, is home to another charming beach, Panagia. Here you can also find sand dunes, juniper trees and stunning blue waters. Locals recommend staying here until sunset, so you can enjoy the colors as the sun fades below the horizon and the green flash appears. 
---
Ionian Islands
With a prime location in the Ionian Sea between Greece and Italy, the Ionian Islands may number more than 20, but each has its own feel. Luring Venetian, French and British occupiers over the years with their abundant olive trees, sandy beaches and forested mountains, each island has developed different architecture and culture.  
Domestic flights are available from Athens and Thessaloniki to Corfu, Kefalonia, Lefkada, Zakynthos and Kythira, while ferries are also available from western ports in Greece. Here are the seven islands you'll want to include on your next Greek trip:
Corfu

Why visit: Aside from all the natural beauty and the historically preserved Old Town of Corfu, a UNESCO World Heritage Site, Corfu's cuisine is a huge draw. Food here offers a bounty of distinct flavors, mixing Greek and Venetian traditions and tastes. Ancient olive groves are prevalent across the island, as are citrus trees, yielding sweet oranges, lemons, tangerines and kumquats. The latter fruit is infused into a liqueur, making it the traditional drink of Corfu. One of the most traditional Corfiot dishes is sofrito, a tender beef stew teeming with intense garlic and vinegar flavor. Bourdeto, which comes from the Venetian word "brodetto" meaning broth, is a popular fish dish on the island; scorpion fish is cooked with onion, sweet red peppers and a pinch of hot red pepper.  

Don't miss: Not far off Corfu's southern coast, you'll find Antipaxoi, a small laid-back island getaway with sea caves and gorgeous beaches. Voutoúmi on Antipaxoi should be on anyone's beach bucket list for its clear turquoise waters.
---
Ithaca
Why visit: English Lit majors may recall that Ithaca is the homeland of Odysseus, Homer's mythical hero. With its emerald waters, coves and hills of olive trees, it's easy to see why Odysseus made it his mission to return. Once here, you can go hiking on the mountainous terrain or head into the sea for some snorkeling in the clear waters, especially at Sarakiniko Bay.  

Don't miss: Orange-roofed houses intersperse with green trees on the hilly, coastal landscape of Kioni, a traditional harbor village with cafes and taverns lined up along the port. A perfect place for strolling, some of the original houses are still there from the 1500s and feature Renaissance architecture.  
---
Kefalonia
Why visit: The largest of the Ionian Islands, Kefalonia is a mixture of green (pine, cypress and olive trees) and blue (clear seas). Not only are vineyards plentiful here (try the popular Robola wine), but its pristine beaches are home to sea turtles and monk seals. Take a guided boat tour that travels through an underground tunnel to reach the lake inside Melissani Cave. In Greek mythology, this spot is known as the Cave of the Nymphs, where nymph Melissani drowned herself due to unrequited love for the god Pan. Part of the cave wall collapsed centuries ago, so the sunlight filters in; try to time your visit for noon, when the sun's rays hit the water just right and create a magical feel.

Don't miss: Visit Fiskardo village, a historic harbor town on the northern tip of the island. It's the only part of Kefalonia that retains much of its Venetian architecture after an earthquake in 1953. This is where the rich and famous drop in with their megayachts, so expect to see luxury boats along the waterfront, along with upscale seafood restaurants.
---
Kythera
Why visit: With its beautiful raw beauty and Venetian influences, Kythera easily lends itself to romance. In fact, it's the fabled birthplace of Aphrodite, the goddess of love. Bring someone special with you to wander through picturesque seaside fishing villages, hike ancient footpaths, relax on the secluded beaches and indulge on fresh seafood at local tavernas.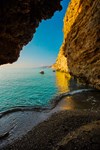 Don't miss: Hire a boat to visit the sea cave on the rocky island of Chytra just off the southern coast of the island. Go in the afternoon, when the sunlight illuminates the cave and you can swim in the emerald water. Don't be surprised if you share the moment with a few seals. The islet is also famed for its yellow flowers called "sempreviva" (always alive), as they don't wither for a long time after being cut.
---
Lefkada
Why visit: Fully accessible by car, thanks to a little bridge from the mainland, the appeal of Lefkada goes way beyond convenience. Expect stunning scenes of sheer cliffs and turquoise waters on the west coast, while the east is full of traditional villages. Windsurfers tend to flock to the southern end of the island.  There are many waterfalls cascading through the mountainous terrain of Lefkada; check out the impressive Dimossari waterfall on the outskirts of Nydri.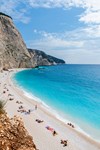 Don't miss: Take a boat to Egremni Beach unless you're up for the challenge of 400-plus stairs to get to this remote spot, and you'll be rewarded with exquisite blue waters and white cliffs seemingly all to yourself.
---
Paxi
Why visit: Legend has it that Poseidon created Paxi (also called Paxos or Paxoi) by striking Corfu with his trident so that he and his wife could get some rest. It is indeed a peaceful retreat where you can soak in thermal springs, go scuba diving in underwater caves and shipwrecks, walk through vast olive groves or lay on the beach.



Don't miss: Get a taste of local history with a trip to the Folklore Museum of Paxos. You'll see a room decorated with traditional furniture, cooking utensils, agricultural tools and costumes, all donated by locals. Other exhibits include weaponry from the Venetian times, the Decree of the Ionian Parliament for the annexation of the Ionian Islands with the Greek state in 1864 as well as a detailed journal account by an Austrian archduke who visited Paxi in 1884-1885.
---
Zakynthos
Why visit: Known as the party capital of the Ionian Islands thanks to its nightlife, Zakynthos (or Zante) also has a softer side. The Venetians called this island "Fioro di Levante," which means "flower of the East" thanks to more than 7,000 flower species found here. It's also an important birthing spot for loggerhead turtles.

Don't miss: The best place to get photos of Insta-famous Navagio Beach, or Shipwreck Beach, is actually from the 650-foot cliffs above it. But if you want to explore the beach and the shipwreck it's named after, you've got to take a boat tour. Combine this tour with the Blue Caves for an amazing day trip that allows you to swim through these iconic natural formations.
---
Ready to go? Start planning your trip to Greece with these tips.