Reinventing the family getaway in Santa Fe

As anyone who is both parent and travel-enthusiast can attest, planning family getaways can sometimes seem like a tug-of-war over the line between kid- and adult-pleasing activities. Not in Santa Fe. "The City Different" earns its reputation as a place that engages visitors young and old just by being its offbeat, adobe-adorned, age-old (at 413 years, it's the oldest capital in the U.S.) yet perennially progressive self. And as proof of this universal appeal, it was ranked among the top 10 Friendliest Cities in the U.S. by Condé Nast Traveler readers last year, among dozens of other accolades.

Venture to this semi-arid steppe at the foot of the Sangre de Cristo Mountains and you'll encounter art galleries that create entirely new realities — and that's not an exaggeration. You'll take hikes to the sites of ancient civilizations; step into living 18th-century villages; and find restaurants that serve grown-up food and drinks with an outdoor playground on the side.
Quirky, fun, and anything but ordinary, Santa Fe has the stuff to keep your whole traveling crew in wide-eyed discovery mode, from morning to sublimely starry night. Read on for inspiration on crafting a decidedly different family getaway in Santa Fe.
Living history and multicultural crossroads
Anything that happens at pueblo-style Santa Fe Plaza in the heart of downtown is as close to a guaranteed hit as you'll get on a multigenerational trip. On the northern side of the square, you'll find the iconic Palace of the Governors, a long adobe building outfitted with a shaded portico. Built in 1610 as a home for New Mexico's first Spanish Governor, it's the oldest European settler-built public building in continuous use.
And indeed that use continues — with gusto — today, notably with the Native American artists' market, an initiative from the Native American Artisans Program that's held under the portal daily from 8:30 a.m. to 5 p.m. There you'll find members of 23 tribes, pueblos or nations selling a range of high-quality, handmade wares.
Summertime at the Plaza is especially exciting because of another tradition: live music at the open-air bandstand. This year, the summer concert series will run on Mondays, Tuesdays and Thursdays from June 8 to August 31 (there will also be shows on Fridays at the Railyard) and include music from a variety of genres and cultures. And the kiddos will be in good company as they dance and sway in the streets; these festive gatherings are a favorite among local and visiting families alike. 
At the eight Northern Pueblos just north of Santa Fe, families can encounter an even more immersive cultural experience — that is, if their visits coincide with events that are open to visitors. The history of these villages (namely Nambé Pueblo, Ohkay Owingeh, Picuris Pueblo, Pojoaque Pueblo, San Ildefonso Pueblo, Santa Clara Pueblo, Taos Pueblo and Tesuque Pueblo) dates back 1,000 years in this region. To witness the sacred dances and ceremonies that have carried forward throughout the centuries is a privilege every member of the family is sure to remember, even in the absence of a photo (recordings in any form are not permitted as a matter of respect; bring the whole family up to speed on proper etiquette with this guide). 
Annual events include the Nambé Pueblo's Easter Sunday dances and July 4th weekend dances at Nambé Falls; the Santa Clara Pueblo's Feast Day of St. Anthony on June 13; and the Tesuque Pueblo's Corn Dance and Blessing of the Fields on June 3. Call ahead to confirm dates and details.
Starting in June, living history museum El Rancho de las Golondrinas will reopen for the season. Set on 200 acres of rural farmland just South of Santa Fe, the ranch was once an important point on the Camino Real de Tierra Adentro (the royal road), a 1,590-mile trail that stretched from Mexico City to San Juan Pueblo. Today, the site is home to adobe buildings built on original colonial foundations dating back to the early 1700s, as well as reconstructions of other historic buildings from other parts of northern New Mexico.

Kids can meet and interact with docents dressed in period garb, and, depending on the day, may get to hear live music, taste freshly prepared foods that would have been a staple in colonial times or witness weavers demonstrating their craft.
Another all-ages experience you'll only find here: the Sky Railway. Over the decades, the Santa Fe Southern Railroad connection contributed immensely to Santa Fe's eclecticism, ushering in the curious and creative: artists, wealthy eastern eccentrics and even presidents Roosevelt and Kennedy.  The railway was reborn in 2020 with a new name and a new form — one part scenic ride and one part history lesson, with a heaping dose of entertainment — bringing new life and creativity to the rails.

Upcoming "Adventures" (as the line calls them) include Flamenco Express, a music and dance performance running select dates through August; and Sunset Serenade, which includes live jazz or cabaret during the golden hour, with many weekend dates available through August.
Active adventures
With Santa Fe's location at the foot of the Sangre de Cristo Mountains and near thousands of miles of Santa Fe National Forest, the chances to unwind in nature with your crew abound. There are numerous trails that can be begun just minutes from downtown, and even the most reluctant little hikers will perk up at the chance to turn these walks into avian scavenger hunts.

Yes, Santa Fe is home to many bird species, and kids' scouting will be even more gratifying if Randall Davey Audubon Center and Sanctuary is incorporated in the plan. The 135-acre preserve is home to at least 190 species, among them diminutive downy woodpeckers, red-cheeked northern flickers, western bluebirds, regal Cooper's hawks and famously loud steller's jays. Free guided nature walks are available Saturday mornings, and two hiking trails, including a 0.6-mile loop that would make a great first foray for little tikes, can be accessed from the grounds. And if your family is eager for more Santa Fe National Forest trails, Dorothy Stewart Trail, Norski Cross Country Ski Track and Quemazon Nature Trail Loop are additional family-friendly options with in-and-out lengths under two miles. 
Explore a range of themed gardens from orchards, to an ethnobotanical garden starring crops with traditional and medicinal uses, to piñon-juniper woodland at the Santa Fe Botanical Garden. The whole gang will be impressed by the range of plants that can be cultivated in a place with annual rainfall of only 14 inches, and the interplay of art and history add depth to the thoughtfully designed and continuously evolving displays.

If your traveling party includes members who need a little extra motivation to get moving, dangle this one in front of them: the Chocolate Walking Tour by Santa Fe Discovery Walking Tours. The tour (one of many the group offers) involves a brief history of chocolate-making along with tastings at five — yes five — Santa Fe chocolatiers. The last stop is Kakawa Chocolate House, a Santa Fe fixture that specializes in handmade, Mesoamerican drinking chocolate elixirs, though you may want to pick up some of their agave caramels and truffles to go as well. This will be a hit with everyone for obvious reasons, but parents' delight will be topped off by the fact that participation for kids 12 and under is free.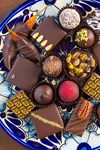 Depending on your group's interests and activity levels, you could embark on a starry sky-gazing adventure (whether self-led or guided), taking advantage of the high elevation, dry climate and relatively low population density that make the region ideal for viewing heavenly bodies. (Indeed, star gazing is an age-old and sacred practice among many indigenous peoples in the high desert.)

Or, if your kids are grown and sturdy enough, take a high-octane white water rafting trip down the Rio Grande; a handful of local tour companies will outfit you with the knowledge and equipment you'll need to navigate this bucket-list experience. 
There are also indoor activity centers families will appreciate when an AC break is in order. Rockin' Rollers Event Arena for the roller skate enthusiast; Alley Lanes for avid bowlers; and Santa Fe Climbing Center to give a positive outlet to kids who like to climb up the walls. 
Family fare
It's common knowledge that the Santa Fe food scene is, like the town itself, elevated, eclectic and closely associated with chiles. And while parental wisdom dictates that wee ones and spicy peppers don't mix, there's still plenty for families to dig into on the local dining front. And for anyone who's not sure how much heat is too much, a good tip is to order Christmas (that's code for the red and green chiles) on the side.
If your littles are fans of eating on the go, the Santa Fe Farmers Market, which runs 8 a.m. - 1 p.m. Saturdays adds Tuesdays to the mix starting in May, is a must-try for its wide selection of baked goods, honey and local produce (and that's local with a capital "L," as the market assures patrons that all the products sold at the market are 100% locally grown — a rarity among community farmers' markets). 

Among sit-down restaurants, Cowgirl Santa Fe is consistently named as one of the most family-friendly in the city, and one look at the place tells you why. In addition to the colorful decor and plentiful outdoor seating, the restaurant has a wooden play set and slide so kids can climb around once their bellies are full, rather than get antsy in their chairs. On the kids menu (or the "little vittles" menu in Cowgirl parlance) you'll find cowgirl quesadillas (notably made without chiles), a cowbell corndog and grilled salmon strips, among a whopping list of 13 kid-centric dishes.
For adults, there are Southwest specialties like chiles rellenos and huevos rancheros, plus a generous list of vegan options, including crimini mushroom fajitas and jerk tofu.

The Beer Hall at HQ from the Santa Fe Brewing Co. has an expansive, grassy green outdoor space with lawn games, and the cantina-style kitchen serves a mashup of Latin bites like birria tacos, torta Cubana sandwiches and chimichangas. The quesadillas and/or the chorreadas are pretty safe bets for kids. Oh, and the beers are really good, too.
Also topping the parent-pleasing list is Tumble Root Brewery & Distillery, a brewing company that has both a playground and a stage with live local music acts Thursdays-Saturdays, so parents can kick back while kids choose between dancing and climbing. The venue doesn't have a restaurant, but food trucks stop in Friday and Saturday evenings so guests can grab a bite. 

Shake Foundation is a kid-friendly, über-casual spot to grab a Santa Fe-famous green chile cheeseburger while the kids chow down on well-priced hand-cut shoestring fries and classic burgers, sans chiles. Once they're done munching, they'll have room to move about on the outdoor, picnic table-furnished patio.  
In any family, balance is key, meaning the kids will surely be down for a few meals that don't include a playground or a game of cornhole. Starting at least one day with breakfast at Cafe Pasqual's is an absolute must. Its signature breakfast burrito manages to nestle scrambled eggs, green chiles, three different cheeses, salsa and hash brown potatoes all inside a warm, slightly crisp whole wheat tortilla.

Other authentic Southwest faves include the chorizo burrito and the huevos motuleños (tip: order it with mole sauce), while sweet-toothed patrons may favor the cottage cheese and strawberry jam-filled golden blintzes or the pancakes. The James Beard Foundation America's Classics award-winner is deservedly popular, so there may be a wait. In that case, you can explore the works by local artists and artisans on display in cafe-owned gallery next door.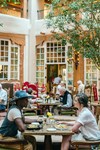 And if you go for at least one truly grown-up meal in town, consider La Plazuela at La Fonda, set in a beautifully designed, high-ceilinged space with hand-painted windows and a fountain at its centerpiece. Kids can munch on the chips and made-at-your table guac while parents savor dishes like campfire trout with tri-color fingerling potatoes or the rellenos de La Fonda, in which two hatch green chiles are stuffed with Mexican cheeses, beer battered, lightly fried and served with pork pozole, beans and more fixings. 
Make the very short walk over to one of two neighboring sweet shops — Señor Murphy Candymaker or The French Pastry Shop & Creperie — if there's room for dessert. 
All-ages art and museums
Santa Fe is well known among art insiders as a hot bed of creativity where Native American, conceptual and world-famous art (read: Georgia O'Keeffe) intersect. In fact, just last year, a British study reported in Travel + Leisure named Santa Fe not only the world's best gallery town, but also the 7th-best art city overall.
Moreover, it's home to three iconic art markets happening this summer: the International Folk Art Market, Spanish Market and SWAIA Indian Market — all worth timing your trip around, especially if the artistic gene runs strong in your bunch. But Santa Fe is also home to numerous art institutes that are accessible year-round, and there are a few standouts that are especially family-friendly.

The Museum of International Folk Art is a perennial favorite, not least because it dedicates an entire gallery, the Alexander Girard Wing, to the display of 10,000 children's dolls, figures, miniatures and other toys from around the world. The objects are displayed in an unconventional way that will appeal to children; the collector insisted the toys be grouped around common themes rather than by provenance, and they're shown in vignettes created by Girard himself, set at varying heights or even hung from the ceiling.

And if the kids in your posse are under age 8, a stop at the Santa Fe Children's Museum is also advisable. With exhibits that allow kids to look at gems and minerals under microscopes; dig into a community sand box; play inside a giant Rubik's cube; hoist themselves to the ceiling in pulley chairs and, for the littlest littles, crawl and toddle in a soft, thoughtfully designed play space. 
The Chuck Jones Gallery showcases art from its namesake, the now 89-year-old creator of Looney Toons and a Lifetime Achievement Oscar award-winner. Grandparents and parents can reminisce over original drawings of Wile E. Coyote, Daffy Duck and Marvin Martian while explaining to kids what cartoons used to be like "in the old days." (Pieces are for sale for relatively affordable prices for truly dedicated fans.)
Back on the topic of art for all ages, hidden gem Art Vault is a small but stunning digital art gallery (the only such public gallery in the Southwest US) with rotating exhibitions showcasing contemporary, historic and global digital art. Through April 15, the All Art is Virtual exhibition employs LED sculpture, digital murals, augmented reality wallpaper and interactive video and sculpture to make the point that all art can create a virtual reality experience. It's sure to be a conversation starting experience — and due to the gallery's small size, one fit for even short attention spans. Bonus: Admission is free.

Another jewel in the crown of Santa Fe's cutting-edge art scene is Meow Wolf located in an up-and-coming art hub, the Siler Rufina Nexus neighborhood. The 20,000+ square-foot immersive and interactive gallery's current exhibit is called House of Eternal Return, an explorable, kaleidoscopic adventure spanning 70 rooms. With its DayGlo forest, funhouse-evoking art installations and endlessly surprising stimuli, it will bring out a child-like curiosity in just about anyone.  
---