Going Beyond the Beach in Oceanside

When you find yourself craving a beachy getaway, how do you choose a destination? Southern California alone has hundreds of charming coastal towns with sand, surf and buckets of sunshine. But discerning travelers need more.
That's why we've set our sights on Oceanside. Here, the character is almost palpable – colorful murals and indie businesses decorate the inland neighborhoods; the West Coast's longest wooden pier reaches into the waves under endless blue skies; world-class chefs and brewers (of coffee, beer, you name it) concoct crafted beverages; and the locals exude a distinctly laid-back attitude. 
Add Oceanside's proximity to family-favorite attractions (i.e., Legoland 10 minutes south and Disneyland about an hour north) and convenience of access from San Diego or Los Angeles via the Amtrak Surfliner delivering you right downtown and we're smelling that sweet ocean breeze already.
Once you've visited, you'll find no shortage of reasons to return, but read on for a few of our favorite things to get you started.
Arts & Surf Culture
There aren't many places in the world where you can surf in the morning and go to a world-class surf museum after lunch. Located five blocks from the beach, the California Surf Museum opened in 1986 and has built an impressive (some might even say rad) collection of surfboards and memorabilia that will impress even the groms (beginner surfers) in your group. Popular exhibits include historic wooden surfboards, the science of waves and a profile of courageous one-armed surfer Bethany Hamilton.


The city's surfing heritage isn't the only culture celebrated in Oceanside, where a calendar of festivals and events is ramping up again in 2022, including Pride by the Beach, Samoan Cultural Celebration and Dia de los Muertos.
Oceanside is one of just 14 state-designated cultural districts, thanks to a vibrant arts community. The most visible display of the city's artistic bent can be found on a walk along the downtown stretch of the Coast Highway, where murals provide pops of creative color to walls and alleyways. For the highest concentration of murals, duck into the Artist Alley across from the public library.


Just a few blocks away is the Oceanside Museum of Art, where rotating exhibitions include works by cutting-edge SoCal artists, photojournalists and the still-life "Nothing's Impossible" burger paintings by Duke Windsor (now through March 13, 2022).
For a walk through a different kind of California history, take the self-guided tour at Mission San Luis Rey, a National Historic Landmark that was once the largest of the 21 Spanish missions in Alta California. The mission is still a working monastery, and offers a rare opportunity for a "Quiet Day", a digital detox where you have a chance to disconnect, relax in the manicured gardens or meditate in the mission chapel or a private room.
---
Flip-Flop Fine Dining
Not all of the local artists use a paintbrush. Oceanside is a foodie haven, with a vibe the locals affectionately call "flip-flop fine dining". 
New to the scene is Matsu, a one-time pop-up from Chef William Eick that's found a permanent home offering a four-course Japanese tasting menu or eight-course omikase. (Pro tip: You'll also want to stalk Eick's fried chicken food truck on Instagram, Naegi, for a mid-day "sando".) You'll be happy to experiment with the menu at The Lab Collaborative (or TLC), a new concept that features dishes from executive chef Ramiro Guerra in addition to special menus offered by up-and-coming chefs. Chef Roberto Alcocer, already a culinary rock star in Mexico, recently debuted his first U.S. restaurant, Valle in the new Mission Pacific Hotel, bringing the flavors of Baja wine country to San Diego's North County.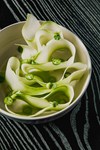 Among more established local favorites you'll find the creative (and delicious) French-Mexican fusion at Carte Blanche Bistro & Bar, "badass" vegan fare at The Plot, irreverent sushi and sashimi at the Wrench & Rodent SeaBasstropub and the Balinese-inspired cuisine at Dija Mara, which was added to Michelin's Bib Gourmand list in 2021.
If that's not enough variety, plan a trip to include a Thursday evening and visit the Sunset Market, a food and music street fair held two blocks from the beach each week from 5-9 p.m. You'll find international street vendors serving everything from American comfort food to Japanese tapoyaki to Ghanian sambusas to Hawaiian huli-huli chicken.

---
Buzzworthy Brews
Who's thirsty? Craft brews aren't just for beer drinkers. When in Oceanside you'll want to forgo the national coffee chains in favor of distinctive (and delicious) coffee shops, where the owner may just be the one pulling your espresso.
You'll have no shortage of options to catch a caffeine buzz (there's even a Coffee Trail), whether your flavor of the day is a nostalgic s'moresy mocha from Camp Coffee, a single origin pour over from Revolution Roasters or a specialty drink like a dirty chai latte or coffee tonic from Seaborne Coffee.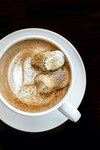 Once properly fueled, you can begin your journey to the taprooms and craft breweries along Oceanside's stretch of San Diego County's so-called Hops Highway. Several breweries have set up shop along the Coast Highway, and it's easy to hit three or four tasting rooms in an afternoon. 
For some of the best of Oceanside's coffee, beer, good eats and eclectic shopping in one spot, head to the recently opened Tremont Collective, where three auto-repair garages have been transformed into a series of restaurants and shops with San Diego County success stories. You can shop for surf gear at Atacama or SoCal fashions at Brixton; track down a hard-to-find beer at Bottlecraft or order up a lavender honey latte at Communal Coffee; fill your bowl with line-caught poke from Shootz Fish & Beer or tackle a "graze board" of cheese and charcuterie from Al Fresko, then enjoy it all in a public square that feels like a block party.


Before your next visit, sign up for the O'side Sips mobile passport and use your mobile phone as a guide through Oceanside's craft beverage scene. Unlock special savings and redeem prizes for checking in to coffee houses, breweries and wine tasting rooms across the city.
---
Outdoor Adventure
There's a never-ending list of ways to play in Oceanside, from bucket-list experiences like skydiving or designing a custom surfboard, to tamer wellness activities such as spa days and hiking.
After shopping and eating your way through downtown, give your feet a break and pick up a set of wheels (a beach cruiser, e-bike or fat-tire scooter) for a ride along the Strand, a one-mile stretch of oceanfront road. Those looking to go the extra mile, a well-established set of bike trails will lead you further inland along the Coastal Rail Trail or the San Luis Rey River Trail.


If you'd rather hike than bike, the Guajome Regional Park offers up more than 4 miles of park trails through chaparral, wetlands and woodlands. It's an ideal spot for a picnic lunch, perhaps with some takeout from The Miller's Table or San Luis Rey Bakery. Closer to the beach, you'll find the Buena Vista Lagoon Ecological Reserve Trail, a quarter-mile trail that winds around the wetlands adjacent to the Buena Vista Audubon Society Nature Center. 
Whether it's on two wheels, two feet or via another mode of transportation, don't skip the Oceanside Harbor, if for no other reason than to take a peek at Sea Lion Island. The barking will lead you to the right spot where the sea lions relax on their dock in the sun and play in the water.


If you'd like to play on the water yourself, the harbor is the place from which you might embark on a whale watching or sunset cruise, join a deep sea fishing charter, or rent a kayak, pedal boat or stand-up paddleboard from a vendor in the New England-style Harbor Village.
---
New Digs
From its founding days, this city has been a place for Californians to get "ocean side", and as such, the places to stay continue to expand, whether you're looking for a simple seaside cottage, a beach-chic boutique hotel or a luxury resort with stunning ocean views. Wherever you stay, you'll find the best deals on midweek travel, as rooms often command a premium for weekend getaways.


Within the past year, two Hyatt resorts opened side-by-side along the beach just south of the pier, adding nearly 400 rooms to the mix. The Seabird Resort offers up a beach-home feel despite being the larger of the two. Between the balconies in many rooms, oceanfront pool, spa, library and three restaurants, you may forget to leave the premises. But if you do choose to hit the sand out front, the resort's beach butler service will set up your complimentary beach chair and umbrella.
You can find that same beach service and great oceanfront location from the Mission Pacific Hotel next door, along with a rooftop pool and the restored "Top Gun house", which was moved by developers to the hotel grounds. It will soon serve as a decadent dessert bar (in addition to an opportunity for a sweet Instagram shot).


Keeping with Oceanside's ethos of renewal, two new boutique stays are also generating buzz. The Green Room Hotel is a 1940s motel that has been re-imagined in South Oceanside a few blocks from the beach. Each of the 12 bungalow-style rooms is uniquely designed with custom art, Moroccan rugs and other one-of-a-kind touches. Originally Oceanside's hardware store, The Brick Hotel will open soon to much fanfare after a five-year restoration project. The 10-room property is in the heart of downtown near shops, restaurants and taprooms, will feature exposed brick walls, tall ceilings and, in some rooms, balconies. Plans include three restaurants, including an oyster bar on the ground floor and rooftop bar serving cocktails, along with impressive ocean views.
---
Beach Days for Days


Of course, we can't forget about the beach. In Oceanside, there are three miles of coastline and eight beach areas to satisfy whichever kind of beach day you're craving. For a quiet day sunbathing with a book, head to Buccaneer Beach. To fill your day with sandcastle building with the kiddos, Breakwater Way Beach is a great fit. If you're looking to join a volleyball tournament, check out Harbor Beach.
The town's most popular beach is located alongside the wooden Oceanside Pier (Pier View South). It's here that you'll find bicycles for rent, fishers casting lines, as well as a lineup of surfers ready to rip it up. (This beach hosts several summertime surf competitions such as the World Bodysurfing Championships and U.S. Open Adaptive Surfing Championships.) If you want to give surfing a try, head out to Oceanside Harbor for very forgiving waves and surf lessons with North County Surf Academy.
And, if you want to take in the whole scene -- the surfers, the sunshine, the waves, the palm trees swaying in the ocean breeze -- walk to the end of the 1954-foot-long Oceanside Pier for an incredible view of the coastline, and, if you time it right, an amazing sunset.
---