Nebraska is for the birds
Late every winter, hundreds of thousands of travelers flock to central Nebraska for a few weeks of R&R. They set up camp, frolic in the water, eat their fill of local goodies and take over the area before leaving en masse.
Oh, and it's a pretty cool experience for humans too.
We're talking about Nebraska's sandhill crane migration, one of Earth's most incredible birding events that happens in late February and March in the heartland of the United States. About 80% of the world's sandhill crane population descends upon Nebraska's Platte River Valley, a pit stop for the cranes leaving their warmer winter grounds. After a month of resting and refueling (some will gain about 15% of their body weight during the stop), it's time to head north for their nesting grounds.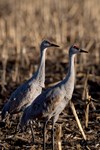 The result is a bird-watching event that serious birders circle on their calendar every year—an experience so unique and astounding, you have to be there to understand. At sunrise, you'll hear the sounds and see the sights of nearly a million cranes leaving to feed for the day. And near sunset, you'll see them return to their roost.
Here's a quick guide for bird-watching novices and seasoned enthusiasts alike to begin planning an ultimate bucket-list worthy birding trip to Nebraska.
Arrive in "flyover country"
While the birds have their own innate sense of direction, you might need some help finding Nebraska's Platte River Valley, which stretches for about 150 miles in the middle of the state. Four main cities are conveniently located near the migration. The Nebraska Flyway's website shares hotels, campgrounds, dining and local attractions near each city.
The Valley is about a five-hour drive east of Denver or two hours west of Lincoln on I-80. If you're flying in (like the birds), regional airports have connecting flights from Denver, Dallas, Phoenix or Las Vegas.

Going west to east on I-80, you'll find North Platte about an hour's drive from the Colorado border. Once the home of Buffalo Bill (you can even see his old ranch), this city is a popular destination for fans of the Old West and trains. (You can visit the world's largest classification railyard if you really want to geek out on ground transportation.) Another 100 miles east on I-80 is Kearney, with a frontier fort built to protect Oregon Trail travelers and museums that showcase classic cars, art and the (non-avian) migration of Western settlers.
Further east, about 50 miles from Kearney is Grand Island, with the fascinating Stuhr Museum of the Prairie Pioneer, and Hastings, which celebrates astronomy with a full-dome planetarium at the Hastings Museum, as well as the Hastings College Observatory that allows the public to use its telescopes to take in the night sky. (Without much light pollution, there's some serious stargazing to be had in Nebraska if you need something to do after the birds go to bed.)
The early bird gets the best viewing experience (as do night owls)
The sandhill cranes begin arriving near the end of February, but migration times can vary year-to-year. The best viewing period tends to be in mid-to-late March, when the number of cranes start to peak.
Sunrise and sunset are the best times of day to view the cranes along the river. As daylight breaks, they take off to search for food. During the day, head toward the fields for a viewing spot of the flocks feeding. At nightfall, thousands of cranes return back to the river for rest.

Take note of birding etiquette and ethics as you prepare for your crane watching experience. Respecting the birds' space, minimizing light and noise and leaving no trace are just a few of the important protocols to follow. Much of The Valley is private property, so it's important to stick to the public spaces.
Join a "flock"
Make the most of your trip by booking a guided viewing blind tour. The bird viewing blind is a structure that allows you to observe birds up close as they act naturally, without them seeing you, making it one of the best ways to view this migration.
The Crane Trust Nature and Visitor Center near Hastings offers guided blind tours, with a VIP option that includes lodging. Budding photographers might enjoy their sandhill crane photo workshops and tours, which allows access to custom photo blinds. Or join an evening walking tour that leads visitors to a private footbridge for a 360-degree view of the cranes flying across the night sky.

Outside of Kearney in Gibbon is the Rowe Sanctuary, which offers guided viewing experiences in blinds placed near the river, as well as guided photography experiences, including an overnight option. For those who want to enjoy the event from afar, they're also offering virtual crane tours in March, and a free online "Crane Cam" will show the migrations along a five-mile stretch of the river.
Dusty Trails Outdoor Birding located near North Platte, offers morning and evening viewing blind tours, and bus tours that will bring you to the Nebraska countryside to see the cranes, as well as wildlife like turkeys and prairie chickens.
Fly solo
Make it a solo flight and plan your own self-guided crane viewing tour
For those morning and evening viewing experiences, head to one of the free public viewing decks along the river. There's one each in Alda and Gibbon (both situated between Kearney and Grand Island). The decks offer a bird-friendly way to see the cranes near the water, with free parking nearby.
To catch a glimpse of the cranes feeding in the fields, there are a few roadside turnouts near the public viewing decks.

There's a driving route near North Platte at the westernmost part of the sandhill crane's roosting sites. The route circumnavigates the North River and Muskrat Run Wildlife Management Areas. Here, the expert trick is to drive slowly with the windows down, and listen—you may hear the cranes before you see them.
---
Ready to go? Start planning your sandhill crane bird-watching trip with these tips.  Find more trip ideas and things to do year-round in Nebraska.