Go Big or Go Home: My First-Ever Cruise on the World's Largest Ship

While I liked to consider myself a bit of an intrepid world traveler — I'd kayaked the fjords in Norway, hiked icy trails in Rocky Mountain National Park and gotten lost in countless European cities — I had never taken a cruise. It wasn't even on my radar as a travel experience. I'm more of an independent, see-where-the-wind-takes-you type of traveler, so I didn't think island-hopping with a boatload of other people on a fixed itinerary would appeal to me.

However, the pandemic threw many well-established travel habits out the window (including mine), and when the opportunity arose for my boyfriend and I to join the maiden voyage of Royal Caribbean's Wonder of the Seas — the world's largest cruise ship — we jumped at the chance. Go big or stay home, right?
I returned home a cruise convert after exploring the Caribbean for seven nights. And when my friends and family ask me about my experience, here's what I've been telling them.
Bigger is better
Wonder of the Seas was, in fact, larger than life. With a capacity of nearly 7,000 guests and 2,300 crew, this behemoth of a ship is the size of a small city. 

We've all heard the phrase "bigger isn't always better," but in my experience, bigger absolutely was better. While the ship was undeniably gigantic, it didn't always feel that way. The layout was such that, no matter your location, you weren't far from something of interest, be that somewhere to eat, a bar, a shop or an entertainment venue. As a cruise newbie, I was worried we'd constantly be lost on the ship, but with the help of maps near the elevators and the Royal Caribbean app, we quickly figured out how to navigate the decks and get to our favorite places (I'm looking at you, soft-serve station) in minutes.
It was the ideal blend of an amenity-packed resort and a quaint boutique hotel experience. What stood out most for me was the level of service. I've stayed at 5-star hotels and dined at celebrity-chef restaurants where the service wasn't nearly as good as what we experienced aboard Wonder. The service was remarkably personal, thoughtful and curated, down to the server in the main dining room remembering our names after the first night (shoutout to Ronald) and the wait staff at the pool bar committing my drink order (mojito, extra limes) to memory. 

E is for everyone
On a ship this size, with so many vacationers, it's difficult for any cruise line to meet, let alone exceed, expectations, especially when it comes to keeping everyone entertained. But Royal Caribbean rose to the occasion. With so many things to do, it was kind of like being a kid in a candy store (oh, and there's an actual candy store, Sugar Beach; try the peanut butter fudge.) 

On decks 16 and 17 alone, there were multiple pools (both family-friendly and adults-only), waterslides, sports courts, ping-pong tables, hot tubs, mini golf, a surf simulator and a zip line. On deck 8, perhaps just as action-packed as the ones above, you'll find the Promenade, complete with souvenir and jewelry shops, restaurants, and bars (our favorite was the pub, Cask and Clipper, where a charming Scottish singer/songwriter took requests from the audience). Walk to the back of the ship on deck 8 and you'll step into a nostalgic childhood carnival, complete with a merry-go-round, the aforementioned candy store, Johnny Rockets and the Zoltar fortune-telling game. It's a dreamland for every kid (and kid-at-heart).

When we were looking for a calm place of solitude, we'd head to Central Park. Yes, that's right: a park outfitted with trees, art installations, herb gardens and benches for you to sit and ponder the fact that you're aboard a floating city, having the time of your life, while sailing the ocean. 
When we needed a diversion, we watched stand-up comedians try out their best material, former Olympic ice skaters throw back flips, high-divers risk impossible stunts and singers belt out their high notes. 

As impressed as we were by these various shows, we were doubly blown away by the food. There truly was something for everyone — a claim we've all seen fall short. The included dining options offered quality bites and ranged from a buffet to a seated, multi-course menu. While you could certainly do this cruise without visiting one of the premium restaurants and still be happy with the offerings, we had some of our most memorable dining experiences at the specialty restaurants, including the zany service at the Alice in Wonderland-themed spot and the spectacular peanut butter and jelly old-fashioned at the southern-inspired restaurant, The Mason Jar. 
Plenty of fun on and off the ship

I grew to look forward to the days at sea, which we would spend wandering the ship and seeing what new attractions there were to discover, but I was also eager to explore the four ports of call on Wonder's itinerary. Our first stop was Labadee, Haiti, a small resort village with impressive beaches, a staggeringly high zip line and an artisan market run by locals whom Royal Caribbean has mentored through owning and operating small businesses.


San Juan was our next stop and where my typical travel habits kicked back in for a moment. I consulted Google Maps and my trusted travel bloggers for their recommendations before setting out to explore. We spent the warm, sunny day wandering through Old Town enjoying decadent gelato (be sure to visit Anita if you're in the area) and unctuous meat platters.
In Nassau, the popular excursions like snorkeling and swimming with the dolphins sold out fast (lesson learned: book your excursions before sailing). Instead of adventuring on our own, we opted for relaxation and spent the day on a private island, taking in the views from the lighthouse and eating authentic Caribbean barbeque. 


Our final stop before heading back to Ft. Lauderdale was Coco Cay, an island in the Caribbean that's owned and operated by the cruise line. Just as on board, it seemed like Royal Caribbean thought of everything. We spent the first part of the day among other thrill-seekers at the water park, home to the tallest waterslide in the Caribbean, and after a yummy, cook-out style lunch, we headed to the largest freshwater pool in the Caribbean. I admit, I was skeptical about a cruise line's private island, expecting a tourist-trap vibe, but I was instead met with peaceful beaches and thoughtful touches, like sweet-and-spicy chicken wings coated in a locally made sauce.

Every night was date night
When the excitement of the day would come to a close, evenings aboard Wonder were just as memorable. They felt like those much-anticipated nights on the town — the ones where you get dressed up, order fancy cocktails, indulge in appetizers and dessert, then wind down by taking a sunset stroll. Those are exactly the kinds of nights we enjoyed. 

After a delicious dinner and (often gravity-defying) show, we would meander the ship and end our evenings in the park, listening to an acoustic guitarist and sipping an aperitif. Of all the adventures we experienced, both on and off the ship, these are the moments I look back on most fondly. Sometimes, it can be difficult to find moments of stillness while on vacation, especially if you're an explorer like me, so to end our nights in a manner befitting a sappy rom-com was something I never could have planned — and that was the best part about it.
It was a stress-free vacation (that I didn't realize I needed)
As someone who gets a certain thrill out of finding that perfect cocktail bar down the street from the theater, or scoring an impossible dinner reservation, the all-inclusive type of trip had never much appealed to me. 
But I underestimated how much I would enjoy leaving the details to someone else and simply enjoying a meal whenever I found myself a bit hungry, or stopping to listen to music when a tune caught my ear. I didn't expect to have an experience just as memorable, perhaps even more so, as those many trips I'd spent hours orchestrating.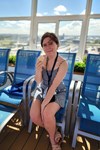 Now I understand why the Travelzoo members who love cruising tell us that it's the best way to travel, and go again and again. While I'm still a choose-your-own-adventure type of traveler, after my first cruise experience, I'm also content to go where the sea breeze takes me.