Michigan's Upper Peninsula should be in your winter plans

Michigan's Upper Peninsula gets some of the most snow in the Midwest, thanks in part to the lake effect snow that Great Lakes residents know all too well. In fact, last season, some areas saw over 300 inches of snow. So, whether you arrive by driving across the famed Mackinac Bridge, or via the state's shared border with Wisconsin, a trip to "the UP" (as it's known to Michiganders) will feel like stepping into a winter wonderland.   


With all that bountiful fresh powder, it's no surprise the UP is known for snow sports. It's even home to the U.S. Ski and Snowboard Hall of Fame, a must-see for any self-proclaimed "ski bums." 
It's not just the adults having all the fun either. In January, during Discover Michigan Skiing month, anyone seven years or older (or at least 10 years old for snowboarding) can sign up for affordable lessons and rentals. The Michigan Snowsports Industry Association (MSIA) also hosts a Cold is Cool passport program every year where kids in the fourth and fifth grades can ski for free at MSIA's partner locations. These 10 ski areas in the UP range from family-friendly and chill to advanced skiers' ultimate thrill. Read on to learn more about each one. 
Easy does it
Perfect for beginners and family-friendly, Mt. Zion is an affordable option for those learning to ski or snowboard. It's operated by Gogebic Community College and located in the western part of the UP near bigger resorts like Snowriver and Big Powderhorn.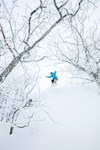 ---
Ready to hit the slopes? Start planning your trip with these tips.