Winner of America's Favorite Travel Love Story Announced!
"In life, it's not where you go, it's who you travel with." -- Charles Schulz
Travelzoo members around the country shared their #loveoftravel with us for a chance to win a luxurious Bali villa vacation.
America voted for their favorite, and without further ado, we are excited to announce the winning travel love stories!
Grand Prize Winner
Grand Prize:
six-night stay at Hidden Hills Villas in Bali and $1,500 Honeyfund gift card.
Jill and David Lemanowicz live in Knoxville, Tennessee, and have been together for one year and two months; however, their love story begins at the young ages of 17 and 20. Here is their travel love story:


David and I have known each other since I was 17 and he was 20. It was a teenage puppy love that ended sadly for me, as he gave me three dates and decided I wasn't the one for him. My 17-year-old heart got smashed, but I got over it and moved on to date MANY other guys in my life. Staying single while most of my friends got married.
One day I was offered an opportunity of a lifetime to go meet some of our troops in Afghanistan. I quickly accepted and off I flew. While I was in Afghanistan, I just happened to run into David (the runaway boyfriend from when I was 17). The 17-year-old girl still inside me wasn't very happy, but the 34-year-old woman I grew into was very happy to hear about his journey all of these years. We had a beer on base that night and got properly caught up. He had been traveling the world with the army. In fact, traveling was a huge part of his life. We both led such busy lives, as my job often required me to travel. I felt so lucky that in that moment, our travels brought us both to this intersection. We both had significant others, so no love connection was pursued. It was just nice to see a familiar face in a war-torn part of the country. I headed back home after traveling to 12 different bases. It was a trip of a lifetime for sure.
Four years later I decided that the guy I had been with since my trip in Afghanistan wasn't the one for me. Again, here I was .... single???? My girlfriend suggested I go see this famous psychic in Beverly Hills .... and much to my dismay and skepticism ... I did. To make a long story longer, the psychic told me that I would take a trip for work, that my husband was looking for me all over the world, that I would meet him in April, he would be divorced with a kid, and we would have twins. My mouth flew open at how direct and detailed he was, but I still didn't believe it all.
The next week, I got my work orders to fly to Vancouver, Canada -- one of my favorite cities. I spent most of April in Vancouver. I was set to fly home at the end of April from a lovely, self-healing mini vacation. My girlfriends asked me to come out to dinner with them on April 29, the day I got home. We had a lovely evening, and as we were leaving who do I LITERALLY bump into? David -- my 17-year-old crush turned soldier. I asked what he was doing there, and he told me he flew in to see his daughter. He told me he lived alone in a cabin in Washington and his ex-wife lives in Venice, California. He WAS DIVORCED, WITH A KID, and IT WAS APRIL!!! My head was almost spinning. He then began to tell me that I had been his biggest regret since the day he saw me in Afghanistan and to please give him another shot (he wasn't the stupid 20-year-old boy he used to be). After my head stopped spinning and I came back down to earth, I told him I would love to see if we could work.
This past April 8th, we got married! All of this would never have been possible without that plane trip to Afghanistan. I know it may not be the most glamorous love story, but it's real, it's true and it's ours. We have yet to go on a honeymoon, as we bought a farm and have put all the money we had into that. It would mean the world to me to get to surprise my love with a proper (magical) honeymoon, as I think Bali is the only place he has never been with the army!!!!! I hope you guys enjoyed my crazy story!
First Prize Winner (1)
First Prize:
$250 Travelzoo gift card and $250 Honeyfund gift card.
Jake and Becky live in Des Moines, Iowa. They've been friends since 2nd grade, dated for eight years and have been married for 10 years. Here is their travel love story:


In November 2015, I was diagnosed with breast cancer, just five short days after giving birth to my third child, Nina. It was devastating news ... definitely not the way I was expecting to spend my final 12-week maternity leave (my husband and I had previously decided we were done at three)! At first, the diagnosis was Stage 3, but three weeks later, after another doctor viewed my scans, he noticed a spot on my rib bone and sure enough it turned out to be cancer, changing the diagnosis to Stage 4. How could this be getting worse? This was supposed to be the happiest time of my life, bringing another beautiful child into this world. Then kicked in mama-bear-mode: I knew I had to be strong and fight like heck so I could live a long life and see my children grow up and be a grandma someday! Then came six grueling months of chemo, a bi-lateral mastectomy, cyber-knife treatment to my rib bone and 28 days of radiation to my chest ... all the while being the best mother and wife I could be. During this time, the love of my life, Jake (whom I've known since second grade), was my absolute ROCK! He lifted my spirits when I was down, made me laugh when I was sad and held my hand when I was sick ... this man is amazing! After all treatment was complete, I had a PET scan in December 2016 and the results were unbelievable -- no signs of disease!! To celebrate this awesome news and a very long year of treatment, we decided to take our two oldest children, Max (8) and Kael (5), on a trip to Mexico -- by all means, they were deeply affected by this awful year, too! So, in February we spent four nights and five days at an all-inclusive resort in Cancun, which I happened to book through Travelzoo! Here is a picture that I took of me and my hubby relaxing under a hut on the beach. While this vacation was beautiful and full of love and celebration, Jake and I didn't have the alone-time desperately needed after that long year of exhaustion. In April, we just celebrated our 10-year anniversary and unfortunately, it was five days after my final surgery, so we didn't even get to go out for dinner! I would love the opportunity to win a trip to Bali to show him my everlasting appreciation for him and all that he's done for me and our family. Thank you!
First Prize Winner (2)
First Prize:
$250 Travelzoo gift card and $250 Honeyfund gift card.
Gabe and Mariel live in San Francisco and have been together for seven years. Here is their travel love story: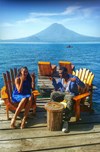 I always knew that when I proposed to Mariel, it would have to be a total surprise. I've surprised her so many times in the past that I knew that this one would have to be special. Six months before the proposal, I created a fake email from a Travelzoo travel agent, advertising a chance to win an all-expense-paid summer vacation to somewhere in the Caribbean or Central America. Having signed up for these shot-in-the-dark contests in the past, Mariel asked me to sign her up, and I told her that I had entered both of our names in the raffle.
Over the next few months, I continually updated Mariel with news on whether we had advanced to higher rounds and the possible locations Travelzoo was considering sending its winners. Because Mariel was in New York completing a summer internship, she was busy enough to avoid becoming suspicious of our good fortune as we advanced further in the raffle and was eventually thrown off completely when I told her that I had been knocked out. When news came that she was selected as a winner and was on her way to Guatemala, Mariel was ecstatic and quickly encouraged me to buy my ticket, not knowing I had already planned every detail of the trip, ring included.
When we arrived in Guatemala, we headed to Lake Atitlán, a crater-lake surrounded by volcanoes. I wanted to propose in the middle of our trip and knew that the only way to successfully get Mariel to wake up at dawn and get dressed and camera-ready without becoming suspicious would involve some creativity. To pull it off, I asked the bungalow owners (months in advance) to approach us at some point during our stay and kindly ask us to model in an ad for their quarterly Airbnb brochure. Mariel agreed, and two days later we woke up at 5 a.m. to get ready for our sunrise photo shoot.
When we got to the floating dock, our photographers (the hotel owners) were setting up chairs and scoping out the lighting. They had asked us to bring items to make the photos look more natural, so I brought a bottle of Champagne and a magazine. Most importantly, as we sat down I pulled out a custom-made deck of cards with photos of us from each country we had traveled to together on the back of each card. As I began to show Mariel the cards and reminisce on all the great times we'd had in Portugal and Swaziland and Panama, however, my Birdy was barely paying attention, her focus instead firmly set on her hair blowing in the wind and her posture for the apparent Vogue photo-shoot we were taking part in. Not having planned for this reaction, I continued to ramble, but it was only when the photographers moved away from us that she really began to pay attention to me and the photos I was attempting to show her. When we finally got to the final 14 cards (all hearts), I fanned them out and held them out for her to see. On the back were pictures of us from all 14 countries we had visited together, with the 14 letters "W.I.L.L. Y.O.U. M.A.R.R.Y. M.E.?" printed across them. As Mariel read the cards her face turned to shock. I dropped to one knee, told her how many more life adventures I am looking forward to sharing with her, and asked her to be my wife. In the happy chaos that followed, I had one more surprise. "Pack your bags," I told her, "We're re going to Honduras!"
My favorite person in the world will soon become my wife. Asking her to spend the rest of her life with me is the best decision I've ever made and I look forward to our future together.
---
NO PURCHASE NECESSARY. A PURCHASE WILL NOT INCREASE YOUR CHANCES OF WINNING. Contest is open to legal residents of the 50 U.S., D.C., age 21 or older at time of entry. Void in Puerto Rico, outside the U.S. and where prohibited by law. Contest Entry Period begins at 12:00:01 AM ET on 04/26/17 and ends at 11:59:59 PM ET on 05/26/17. Public Voting Period begins on 06/07/17 and ends at 11:59:59 PM ET on 06/14/17. Message & data rates may apply. Entry must contain '#loveoftravel' and '#contest'. For Official Rules, entry instructions, and eligibility restrictions, click here. Winner is not entitled to monetary difference between actual prize value and stated approximate prize value, if any. Sponsor: Travelzoo, 590 Madison Ave, New York, NY 10022. Contest is in no way sponsored, endorsed or administered by, or associated with, Facebook, Instagram, or Twitter. Click here to read the rules and how the voting is judged.