John Wayne loved Rancho de la Osa—and so will you

If the recent "cowboy-cation" trend or the major influx of Western themes in pop culture ("Yellowstone" and its prequel "1883," "Westworld," "Deadwood," 2022 Best Picture winner "The Power of the Dog," to name a few examples) have you curious about a Wild West experience of your own, here's a rec: Rancho de la Osa in southern Arizona.
It's not every day you can stay at a real McCoy dude ranch in a distant corner of the Sonoran Desert. A ranch steeped in Native American, Spanish, Mexican, Arizona, and even Hollywood history, for that matter. (John Wayne—one of the biggest names in film history—was not just a guest, but a regular.) A stay on the ranch, located on what is now the Arizona-Mexico border, transports you to another time and place. Hone your ranching skills, take to the high-desert trails on horseback (an experience that's both exhilarating and deeply soothing), find joy in the great outdoors, and give yourself the chance to simply disconnect from modern life and recharge.
Legacy factor
There are historic hotels, and then there's Rancho de la Osa. Once a village of the Tohono O'Odham people, this remote sweep of shrubby desert became a mission outpost in the 1700s when it was part of New Spain. The land changed hands to Mexico following the Mexican War of Independence, before becoming part of the U.S. in 1853. It served as a working cattle farm starting in the late 1800s—in 1916, Mexican Revolution General Pancho Villa tried to take the ranch captive—before finally opening as a dude ranch for guests on Thanksgiving 1924.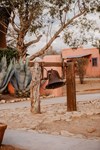 This is when the ranch entered its Hollywood era. You already know legend John Wayne was a fan. Other past VIP guests? Actor Tom Mix (Hollywood's first Western movie star), "Gone with the Wind" author Margaret Mitchell, Western-adventure novelist Zane Grey, and film stars Cesar Romero and Joan Crawford. High-profilers beyond Hollywood visited too, including Franklin and Eleanor Roosevelt and Lyndon B. and "Lady Bird" Johnson. William Clayton, a government official under President Truman, drafted the Marshall Plan in one of the ranch's casitas in 1948. No wonder the state's Office of Tourism calls Rancho de la Osa "the most historic ranch in Arizona."
Despite its centuries of history, the ranch (and other dude ranches like it) is very much tapped into the Western-genre zeitgeist. This is the Old West celebrated in films ("True Grit"), streaming miniseries (Netflix's "Godless") and even games (the record-breaking "Red Dead Redemption II") and magazine shoots (to promote the "Barbie" movie, GQ's summer 2023 issue features Ryan Gosling as "Cowboy Ken").
---
The landscape: not the Arizona of popular imagination

Rancho de la Osa is located about 90 minutes southwest of Tucson, in the tiny phantom border town of Sasabe (population: 122). It's not the topography you might think of when you think of Arizona. Instead of dramatic red-rock canyons and buttes, this is windswept, high-desert golden grasslands surrounded by the rugged Baboquivari Mountains in the distance. The endless, enormous blue sky here could give Montana a run for its money.
The ranch is tucked into the southernmost corner of the nearly 120,000-acre Buenos Aires Wildlife Refuge, a protected area where herds of deer and antelope—and some 300 bird species—roam freely. Due north, and visible from the ranch's main road, is Baboquivari Peak. According to Tohono O'odham legend, this is the sacred home of the creator god I'itoi. 
While the ranch buildings are shaded by a grove of giant eucalyptus trees, the rest of the land is covered in classic American Southwest plants: tall golden grass, mesquite trees, yucca, brittlebush, bursage, ocotillo (red-flowering desert plants), shrubby cacti, and the mighty saguaro. On nature walks and trail rides, keep an eye out for hawks, black-tailed jackrabbits, white-tail and mule deer ("muleys"), and wild horses and cows. 
---
Home on the range
Though updates have been made along the way, it's easy to imagine the adobe-style rooms as largely the same as they were 100 years ago when the ranch first opened to guests. Framed by wood floors and adobe walls, rooms feature rustic furnishings, local art, and working fireplaces—the primary heat source in the main part of the room. (This may be southern Arizona, but a fire is necessary on winter nights; the ranch will leave kindling outside your door). Don't expect plush amenities or creature comforts like TV or reliable Wi-Fi; the idea here is all about simple pleasures and reconnecting with nature.

---
Ranch life: backcountry adventures
You may not be able to flip through channels or feed your scrolling addiction here, but that's the whole point. The ranch's daily calendar features morning and afternoon activities like horseback riding, e-biking, cattle cutting (the art of wrangling cows), archery, and UTV tours. Experienced ranch hands will guide you on trail rides through the vast, cacti-studded wilderness, pointing out free-ranging animals and native flora along the way. 

On e-bike rides, you can throttle your motor to zoom into town and check out the lone business: a general store built by the owner's great-grandfather in 1920. Need a cowboy hat, neckerchief, or a bag of local chiles to take home as gifts? This is the place. (Visit on a Saturday afternoon, and you'll get the chance to nurse Tecates and rub shoulders with locals—and fellow guests—at Hilltop Saloon, a real-deal Wild West bar strewn with red chili pepper string lights, old maps and cow skulls, located at the back of the general store.) 

All those frontier activities build up an appetite. When mealtimes roll around—listen for the dinner bell—hearty, home-style cowboy fare is served in the dining hall. This is rib-sticking food fit for a pioneer, not a Michelin restaurant inspector. Breakfast and lunch are buffet style; for dinner, the staff brings out plates piled with barbecue or buttery beef stroganoff. After supper, saunter over to the cantina (originally built as a trading post by Jesuit missionaries in the 1720s; now widely thought to be the oldest continually used building in the state of Arizona) and saddle up to the self-serve bar for a beer or a shot of mezcal. You might find you don't miss the "real" world at all.