Is this the Maldives' most dazzling eco-luxe resort yet?

White sand as soft as velvet, waters whose clarity and color must be seen to be believed: yes, the Maldives is truly why bucket lists were created. No surprise, the island nation's resorts are some of the most beautiful and luxurious in the world — yet there's one that may just top them all.

When Patina Maldives, Fari Islands debuted in May 2021, it was perhaps the most exciting new Maldivian hotel opening in years. Fast-forward 15 months and the private-island resort has reaped piles of accolades from prestigious travel magazines, industry insiders and blissed-out past guests thoroughly delighted with every aspect of their experience. Nearly everything about this immaculate 5-star resort breaks new ground and exceeds expectations, from its cool modern-minimalist design to its commitment to sustainability down to the tiniest detail.
Ahead, read why Patina Maldives stands out in a literal sea of flat-out, full-stop amazing resorts.
Legacy factor: the inaugural resort from a storied hotel group

Barely a year old, but already an icon, this is the flagship property from Patina Hotels & Resorts — a new brand dreamed up by Capella, the luxury hotel group behind some of the world's most opulent hotels. Capella's Bangkok, Singapore and Bali outposts regularly sit at the top of "best hotels" lists compiled by the editors of "Travel & Leisure," "Conde Nast Traveler" and Fodors.

Capella and Patina are planning forthcoming openings around the world; Patina's second property is in the works for a 2023 debut in Ubud, so Bali lovers: get ready.

Stunning modern design that bridges indoor space and the outside world
Patina's minimalist look is a big departure from the timber-and-thatch architecture ubiquitous in the tropics. The look is less emphatically "beach resort" and more "cool L.A. hideaway." The kind of low-key, yet high-style place you'd expect to see Saint Laurent-toting celebs pre-partying by the pool while a DJ spins mellow grooves.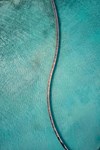 Everywhere you look at Patina from the restaurants to the spa, clean lines cleverly, gorgeously blur the lines between structure and nature, in and out. In the categorically serene and spacious rooms (20 studios, 90 one- to three-bedroom beach and overwater pool villas), that airy minimalist design meets luxe amenities like rain showers, giant soaking tubs and Japanese-style floating beds.

Art, décor + immersive experiences from a who's-who of the art world

It's not just the architecture that wows. For its interiors, Patina sourced pieces from some of the most sought-after artists working today. An example: Japanese textile artist Hiroko Takeda's soothing linen tapestries. Another: Brazilian photographer Cássio Vasconcellos' hypnotic, hyper-detailed prints of native flora. Or the giant white sculpture by an acclaimed Portuguese studio; it would look at home in the Tate Modern but it is in fact stationed on Fari's white-sand beach — just one of the resort's site-specific art installations. 

Our personal favorite? James Turrell's "Skyspace Amarta," a modern freestanding pavilion whose aperture lets you contemplate the Maldivian sky.
Sustainability as a way of life, not a buzzword

Patina may be the pinnacle of luxury and design, but it also goes above and beyond on the sustainability and renewable-energy fronts. It doesn't nod to environmentalism with small gestures here and there; it's fully built around the concept, from its very foundation to the littlest detail. Think minimal- to zero-waste kitchens. Organic permaculture gardening. Nary a piece of single-use plastic — more like bamboo toothbrushes, stainless steel straws, glass water bottles, and toiletries by British clean-beauty brand Haeckels.
Far-reaching earth-positive projects include coral propagation near Bird Island (Patina's nature reserve), local beach clean-up, and sea turtle rehabilitation. (Before you leave, you might just find yourself the proud adoptive parent of a sweet little Indian Ocean resident.) 

Forget balloon-making and mini-golf at the kids' club. Even children's programming is designed to instill environmentalism in young visitors, with activities like creating 3D-printed models from ocean plastics and free diving lessons to spot fish and other underwater friends. That last bit is not just for little Patina guests, by the way: the resort offers free PADI dive certifications to local Maldivian kids, too. 

The kids' club and dive center are fully powered by solar; an offshore solar plant is expected to provide half of the resort's energy within the decade. 

Fari Marina Village delivers a fun, social aspect

The Maldives is one of the most famously secluded destinations in the world — like where you go for next-level peace and privacy. Patina gives you the other side of that seclusion-and-serenity coin with Fari Marina Village, a lively collection of shops, restaurants, food trucks and a fun-loving Beach Club that's unlike anything else in the Maldives.

Fari Marina Village, located at one end of the private Patina Maldives island, is a one-of-a-kind feature that brings together guests from not only Patina, but also guests from fellow 5-star Fari Islands resorts: Capella Maldives and Ritz-Carlton Maldives.
When you're not enjoying the resort's pool, spa or other amenities or snorkeling, diving or kayaking the Maldives' blue-green waters, this is the place to be. Check out special events (movie nights, happy hours), mingle with new friends or snack on local sashimi (of course Fari Marina Village's version of beach-bar fare is conceived by a Michelin-starred chef). Or just grab a cushy lounger, order a cocktail and chill as Brazilian bossa and dream pop beats complement the sound of the gentle lapping of the Indian Ocean.
Be sure to pay a visit to the (frankly adorable) pink-and-orange gelato truck — psst, it dishes out free ice cream every day from 11 a.m. to 5 p.m. — and The Portico for free evening cocktails and canapés. And in the marina, don't miss Adastra, Patina's Bond-worthy floating Ferrari of a superyacht, available for private dolphin and sunset cruises.
Past Patina guests absolutely rave about this vibrant hub; paired with the fact that Patina guests can also take a boat to the neighboring Ritz-Carlton to make use of its 5-star facilities, and your Patina stay can be as secluded and leisurely or active and bustling as you like.
Food! Glorious, good-for-you, good-for-the-planet food

Patina's enlisting of a celebrated chef (Nick Bril, the chef/owner of two-Michelin-starred The Jane in Belgium) to oversee its beach club is the first clue that food here is as exceptional as everything else. The plant-based, farm-to-table Roots serves vegan burgers and veggie-packed grain bowls, while Helios transports you to the Greek isles with its huge assortment of hot and cold mezze and Aegean-meets-Maldives mains, like fire-grilled prawns and Maldivian lobster cooked over charcoal. Craving dim sum, sushi and a cold craft beer? Wok Society is your spot.

All told there are a dozen dining options — some located on a neighboring Fari island at The Ritz-Carlton Maldives, accessible to Patina guests by free regular dhoni boat rides — for every mood and hankering, from food trucks serving up crispy prawns and burgers to an upscale Patagonian steakhouse and Japanese-Scandinavian fusion restaurant. All kitchens source local and organic ingredients wherever possible and strive for zero food waste.