International Women's Day: Celebrating Women with Wanderlust

Today is International Women's Day, and what an amazing year for women it has been. I believe in the power of women. As a young woman who explores this beautiful world we live in, I was raised knowing about iconic masculine explorers and adventurers. John Cabot, Marco Polo and the like lined my history books and sparked my imagination of far-off lands. I now feel very fortunate to know thousands of women who are completely changing the landscape of adventure through their own courageous acts of exploration.

As the creator of Dame Traveler, an online community that encourages women to do more, see more and be more, I've been so inspired by the stories of incredible women who seek out distant lands and new experiences with curiosity and bravery. There are so many women jet-setting to distant countries, foreign lands and exotic locations. Each of them has a reason for her adventures all her own, and yet I feel a deep connection to each all the same. Women and wanderlust are the two things that inspire me the most … and what a dynamic duo the two are together! Connecting with other women in travel, who share similar perspectives on investing in life experiences and approaches to travel, has been one of the most meaningful aspects of what I do.

What's even more amazing is that my own personal sentiments do not stand alone. There has been a 350% increase in women pinning solo travel ideas since 2014, a 230% increase in trips designed for women and women-only travel companies and 73% more women travelers embarking on solo trips, compared with men. Amazing statistics that floor me and yet don't surprise me at all, really!

With the rise of interest in female-based travel, there are incredible resources available for us women to look into. From adventure-travel tours owned, led and organized by women, to casual meetups for women to make friendships with fellow travelers out on the road, to online communities and Instagram pages to spark wanderlust and develop friendships with other ladies exploring the globe, there seems to be an outlet for every type of female traveler out there. More important, know that you are not alone! When I began my personal experiences with travel, I was completely unaware of the amazing resources that are available for like-minded women seeking adventure, encouragement and inspiration.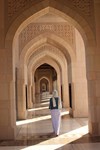 More important, from my own experiences traveling I've learned incredible lessons that come secondhand from the amazing moments I've had alone overseas or with others. Humility, appreciation and gratitude for human necessities. The graciousness of a loving host and a warm, homemade meal. The self-satisfaction from accomplishing a day's worth of exploring by foot or while navigating the labyrinth of foreign translation when lost in back alleyways. The bravery of asking a local out for a drink to hear about their experiences in the city. The joy of a warm bath to soak tired feet. The defeat of losing your luggage in a foreign country and being unable to communicate your utter anxiety and stress. The ability to overcome such troubles. The peace of mind that comes from absolutely letting go of physical possessions as symbols of status and wealth. The joy of discovering the world's best cacio e pepe in Rome. The bliss of not checking your phone for a full 12 hours because you are so delighted by all the world that surrounds you. The dazzling sensation of realizing just how tiny, fragile and utterly unimportant, and yet fully important, you are in comparison to the size and spectrum of the wide, wild world. These moments come in waves of great size and variety, and yet they stay churning in my heart every day I live.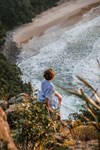 These experiences may not pay the mortgage or shine like a new pair of shoes, but they spark vivid flashes of happiness, pride and fulfillment. Learning to invest in experiences instead of material objects has expanded my worldview in more ways than one. I may not have the newest, flashiest model of car, but I can recall the glow of Paris' glittering Eiffel Tower, the laughter of friends on a tour of whiskey rooms in Ireland and the savory taste of a sushi made by hand in Japan. What I've found through my experiences traveling is that material things feel futile in comparison to memories made. And that, my fellow ladies, is a beautiful, beautiful thing. Investing in moments is investing in ourselves, our self-care and self-improvement.
So, ladies, whether you're a veteran explorer or about to jet off on your first trip, take heart and know that this movement is propelled by you! Take pride in knowing that you are contributing to a great shift of the ideology of what travel and adventure is. Happy International Women's Day, ladies!


Natasia Yakoub is a former nurse turned full-time traveler, entrepreneur and photographer with an ambition to inspire and empower women. She has gained loyal readers who admire her passion and creativity through her incredible following online. She is the founder of @dametraveler, an online community that celebrates solo female travel and encourages women to explore the world.