Ikaria: Greece's fountain of youth

Back in the 16th century, Juan Ponce de León left Spain and crossed the Atlantic Ocean in search of the Fountain of Youth. Long before the Internet and social media, Ponce de León had no idea that such a magical place already existed in his European backyard.
Enter Ikaria, one of Greece's islands in the North Aegean Sea. Accessible from Athens via a nine-hour ferry or a one-hour flight, this mountainous island is not only full of postcard-worthy views and seaside villages, but also holds the secret to longevity. Ikaria is known as a "Blue Zone"—one of only five regions in the world where people live the longest. One-third of the population in Ikaria lives past the age of 90 and it's common for residents to reach 100 years old.   
Read on for our guide to this island, and why visiting may help you uncover a few secrets to living longer. 
Walk this way

Ikaria is a mixture of sandy beaches, coves, mountains and lush hillsides. Most Ikarians live near the sea and you can visit fishing villages like Agios Kirykos, Evdilos, Gialiskari, Avlaki and Karkinagri for fresh seafood. Walking the cobblestoned streets will set the tone for this peaceful destination.

Those residents who are the oldest tend to live in the highlands and exercise is just built into their way of life, whether it's walking to a neighbor's house or doing yard work on terrain that's not flat.
---
Eat up

By now, everyone has heard of the Mediterranean diet and how it can do wonders for one's health. The traditional Ikarian diet is no different and includes fresh produce that helps reduce inflammation in the body. (There are more than 150 varieties of wild greens found on the island and rest assured, they all find their way to plates somehow.)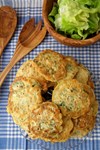 When dining in Ikaria, expect a plant-heavy meal that includes things like beans, whole grains, wild greens and potatoes along with fish, goat milk and honey. Olive oil is a given and fresh fruit tends to be dessert. Herbal teas, specifically those made with wild rosemary, sage and oregano, are popular drinks that also act as antioxidants. Of course, don't forget about the local red wine, Pramnios, which was even celebrated in Homer's Iliad and Odyssey.  
---
Head to the beach

In Greek mythology, Icarus flew too close to the sun and fell into the sea; the nearby island was thus named Ikaria. Today, the sun still plays an important role to residents as they flock to the beaches and soak up some vitamin D. Seychelles beach formed due to a landslide in 1985 and is now one of the most popular spots for its emerald waters and hidden caves. Mesakti beach offers both a family-friendly atmosphere due to its shallow waters, but also draws surfers to its shores when strong winds blow in.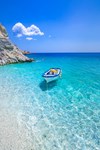 In the northwest part of the island, Nas beach has unpredictable currents, so it tends to draw visitors more for its sunsets and views of the ruins of the temple Artemis Tavropoulos. Divers prefer Iero to explore the underwater cave and shipwreck located west of the coast.     
---
Explore the island

In addition to admiring the health of the locals, Ikaria also offers numerous ways to learn about local culture and see the sights. Hike to Halari Gorge, which is close to Nas beach and the village of Armenistis, where you can cross stone bridges to different paths and trek past lakes, rivers and waterfalls.  

The island is home to thermal springs, some that rank among the most radon-rich in the world, but all known for therapeutic properties. Some have no fees, like Lefkada Spa, but there's also no lifeguard on duty. For a more traditional spa experience, head to a municipal thermal spa like Apollon in Therma or Asclepius in Agios Kirykos. Close to the village of Xylosyrtis, you can find a cool spring known as Immortal Water, which is reported to have medicinal qualities for treating gallstones and kidney problems. 
Take a step back in time at the Folklore Museum of Vrakades, on the northwest side of the island, which displays things like traditional utensils dating back to the 17th century as well as old beekeeping and farming tools. Another historical point of interest is the lighthouse of Cape Papa, built between 1886 and 1890, whose light blinks every 20 seconds and can be seen from 2.5 miles away.    
---
Act like a local

When you're on vacation in Ikaria, there's no need to rush to see everything. This is the kind of place where life encourages you to slow down. So, go on, join in a game of late-night dominoes. Attend one of the year-round traditional feasts that celebrates the name days of Christian Orthodox saints or other religious holidays. Take that midday nap to restore your batteries. Relax at the beach. Have a laugh or two. Just remember to keep some of those lessons when you get back to reality.  

---
Ready to go? Start planning your trip to Greece with these tips.