How to Use Instagram as a Travel Tool
It's likely that, by now, you know all about Instagram -- this wonderful app can be credited for the rise in selfies, FOMO, and following the intimate details of the lives of people you've never met.
Thankfully, it also is one of the best travel tools around right now. Instead of downloading a flurry of travel-centric apps, turn to the one likely already installed on your phone! Whether you're planning a cure for that daily dose of wanderlust or are on your way to the hotel, Instagram lets you make the most of your travel experience.
1. Build your travel bucket list. Instagram's discover tab is great for finding stunning travel photos by other users, which can serve as great inspiration for destinations to add to your must-see list. We also recommend following great travel photographers, brands (including @Travelzoo, of course) and relevant hashtags. Build up that travel bucket list, courtesy of Instagram travel envy!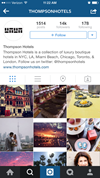 2. Get an insider's view of hotels. Following hotel properties or chains can often be a great way to get a behind-the-scenes look into what the hotel and/or destination might be like. Hotel websites are often static and packed with stock photos, but Instagram feeds offer a first-person account to help you feel out the property before your trip begins. Look out for insider tips on activities or deals -- Instagram feeds for hotels are often full of exclusive deals or pointers.
3. Connect with other travelers. Backpacking solo through Europe? Looking for other people to jump on a walking tour with you? Searching Instagram hashtags and geotags can help you connect with others whose travels may intersect with your own.
4. Explore like a pro. Some of our favorite Instagram feeds come from travel bloggers. Their Instagram feeds often reveal tricks and tips of the trade by people who travel like pros – and give ideas and tools to do the same!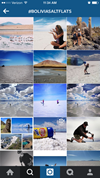 5. Choose must-see activities (and must-take photos). One of our Deal Experts recently saw a photo of Bolivia on Instagram, and instantly decided she needed to recreate it on her own trip to the same city. Instagram can often tip you off to hikes, viewpoints, beaches, or other activities worth working in to your travel plans.
6. Document your trip. Gone are the days of getting disposable camera photos processed, putting them in a scrapbook, and showing your friends to rehash your last vacation. Instagram is a great tool for sharing travel photos with loved ones back home, without the delay that traditionally accompanied this experience.
7. Use relevant hashtags. Many hotels and/or destinations have their own hashtags to help collect conversations and photos from travelers. Keep an eye out for these hashtags both in the Instagram app and on property, and use them when posting your own photos! Participating in these conversations can often boost your number of likes, connect you with events, or even help you snag some extra perks.
8. Geotag. The geotag feature on Instagram is one of the most underused – but we'd like to see that change. Geotagging your location not only helps build out the map feature on your own profile (a great visual representation of your travels!) but also helps others users discover your own photos. Travelzoo Tip: When possible, choose an already-created geotag for your location. This will ensure your photo is added to this location and not tagged with a separate destination.