How to See the Other Side of Myrtle Beach

Myrtle Beach really needs no introduction when talking about family-friendly vacation destinations on the East Coast. With its 60 miles of sand and warm temperatures through October, this oceanfront paradise known as the "Grand Strand" in South Carolina has been beckoning people to its shores for decades.
But there's so much more to Myrtle Beach than just the beach. So we sent Sarasota-based travel content creators Nick and Madison Hearn (@thecapturingcouple), on a whirlwind weekend trip to see exactly what else you can do in Myrtle Beach besides sunbathe or float down a lazy river all day.
"Some cities are very foodie-oriented or live-music centric or not kid-friendly," said Madison, noting that you could make a trip here what you wanted. "This place truly does have it all."
Read on to see where the Hearns stopped along the way as they traveled around Myrtle Beach.
Nurture, nature & nightcaps

Had this been a different assignment, the Hearns could have relaxed all day in their King Suite with beach views at North Beach Resort & Villas, or at the property's multiple oceanfront pools, lazy rivers, infinity pool, indoor pool, hot tubs…you get the picture. They were here for much more than that, so by 8 a.m., they were seated at Croissant's Bistro and Bakery, in its Grande Dunes location on the corner of 82nd Avenue and Kings Highway.  

While Nick noted that normally breakfast is low on their priority list, this time they made a point to eat and weren't disappointed.
"This was the first trip where we've actually eaten really well and it made me appreciate these nice meals," he said of his chicken and waffles. "I felt energized for the day."
Testing out their namesake, Madison went for a croissant egg and cheese with cheesy potatoes she raved about.


Exertion was next on the menu as it was time to hit the water with J & L Kayak Experience and explore the maze of winding creeks and gentle currents of Cherry Grove, one of the four beaches that make up North Myrtle Beach. The area's most famous landmark is the wooden Cherry Grove Pier, where anglers tend to congregate, and for good reason; this spot is home to the world record tiger shark catch of 1,789 pounds.
"One thing I found surprising was that people get up and are at the beach, like full-on beach mode, so early," Madison said. "I thought I was a morning person, but these vacationers are really dedicated. It's clear they are making the most of their time in Myrtle Beach." 

Meeting their guide, the Hearns began their scenic tour away on the quieter side of Myrtle Beach and as they paddled, they saw birds, turtles, old Southern homes and a golf course. Experienced kayakers, the couple recommended the calm tour for any level of kayaker.
"You got to get escape the hustle and bustle and experience that 'local feel' we were looking for," Madison said, adding, "You were only about five minutes from the beach, but it felt like you were further out."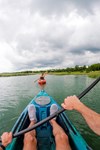 As the clouds started to gather, the couple headed over to Twelve 33 Distillery in Little River, whose name is a nod to the region's bootlegging history. (Prohibition ended in December 1933.)
"There were lots of opportunities to go indoors if the weather took a turn," Nick said. "You weren't missing anything if you had to go inside."  
Here at Twelve 33, the handcrafted spirits are made from grains and other ingredients sourced directly from local farms. On the guided tour, the Hearns learned about how the products go from grain to glass. After the tour, they were given a password to enjoy a few drinks in the speakeasy.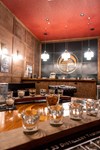 ---
Dinner & a show
Set along the Intracoastal Waterway, Barefoot Landing is a one-stop shop for shopping, dining and entertainment. In the summertime (through Aug. 28), there is live entertainment every night starting at 7 p.m.
"From the outside looking in, it looks like any other outlet mall, but when you start walking around, it's so much more than that," said Nick, noting that there are games and activities like a giant game of chess. The House of Blues and the Alabama Theatre are also located in this complex.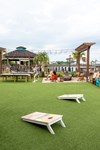 Part of Barefoot Landing, Crooked Hammock Brewery offers casual dining in a relaxed atmosphere. (For real, every Sunday morning, "Yoga in the Yard" takes place near the beer garden.)
Dining on the Grillmaster's Feast (baby back ribs, sticky lager chicken, beef filet skewer, mac & cheese, key lime coleslaw and griddled cornbread with honey butter) as well as the cedar plank salmon (beer-soaked cedar plank, fresh salmon glazed with chipotle honey and a grilled summer veggie medley), the Florida-based couple went for the icebox key lime pie and gave it two thumbs up.


While there are plenty of bars and clubs to experience at The Beach, the Hearns wanted to attend a show at the well-renowned Carolina Opry. The first live theater to open in Myrtle Beach, it is now in its 32nd season, has won the state's highest tourism award, The Governor's Cup, and boasts more than 9,000 performances.


The two-hour show featured high-energy music, comedy and dance with a full state-of-the-art production with lighting, sound and special effects. "I was blown away by how much talent is in this community," said Madison. "These people were knock-your-socks-off good."  
Exhausted from the day's activities, the Hearns returned to their home for the night at North Beach Resort & Villas.  
---
Gardens, goods & golf

After waking at the crack of dawn to see the sunrise on the beach, the Hearns went back to Barefoot Landing for the day's fuel. By going so early, they were able to beat the Sunday brunch rush at Blueberry's Grill, which Madison described as "Instagrammable to the next level" with its Nantucket vibes. The fresh squeezed orange juice was a hit (and tasted better than at home), along with the eggs Benedict and chocolate chip pancakes.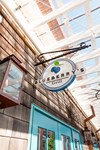 The pair had time to drive over to the SkyWheel, which wasn't open for the day yet, and stroll around the boardwalk area. "The way we timed things, if we had gone five hours later, it would have had a totally different feel," Nick said, adding that the boardwalk had a California vibe. "Literally no one was there, but that's how we prefer it."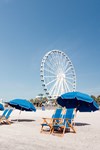 Driving about 10 miles away from the hustle and bustle to the fishing village of Murrells Inlet, the Hearns visited Brookgreen Gardens. This lush, sprawling and drop-dead gorgeous spot spans 9,000 acres and makes the ranks of the American Alliance of Museums, the Association of Zoos and Aquariums and the National Register of Historic Places.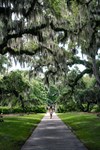 "We've been to a lot of botanical gardens and this was one of the most beautiful. We've always loved going to South Carolina, since you get that magical fairy-tale feeling," Madison said. "Myrtle Beach is typically known for family vacations and mini golf. You don't think you're going to be walking into a fairy tale."


Murrells Inlet is known as the Seafood Capital of South Carolina and there are a number of restaurants along the boardwalk area known as the MarshWalk. It's the kind of place where your meal was literally in the water beside you hours before. That said, the Hearns aren't fans of seafood, so they saw the other side and ate more land-based food, going for the chicken tenders and chicken salad at Bubba's Love Shak. They chose that restaurant since it was colorful and inviting, plus it had some of the better views of the estuary.     
The Hearns were appreciative of the waitstaff at every restaurant they patronized. "People genuinely were so kind and helpful and I feel like that's always very indicative of the greater community," Madison said. "They take Southern hospitality to another level. We had better service up there than we do here [in Florida]."

With a few hours to go before their return flight home, it was time to explore Market Common, a huge complex with more than 30 shops and boutiques like Pottery Barn and Anthropologie as well as restaurants, a bowling alley, a day spa and a movie theater. "There were condos overlooking it in some spots. Talk about an awesome place to live," Nick commented.


There was just enough time to squeeze in a round of mini golf in the town that calls itself the miniature golf capital of the world, thanks to its 50 different courses. The Hearns chose Shipwreck Island Adventure Golf, where in between every hole, there was a pergola to avoid getting overheated. "I would recommend doing mini golf if you have the time during the day since there is less waiting," Madison said.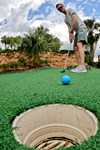 "Our itinerary opened our eyes," Nick said of how Myrtle Beach has so many layers. "It highlighted those hidden gems that might not be on someone's radar."
"As far as American cities go," he continued, "Myrtle Beach had all the elements you need for an incredible vacation. You'll never run out of things to do."
"I would to make it back someday soon," added Madison. "There's so much to see and do."
---
Ready to go? Plan your own trip to Myrtle Beach with these offers.