How to have good old-fashioned fun on a Missouri road trip

The Show-Me State has a lot to show off to its visitors, from quaint river towns to family-friendly attractions to some of the world's best barbecue. Throughout Missouri, two elements are hard to miss — the state's historic roots and its breadth of outdoor experiences. Missouri can lay claim to some of the biggest names in American history — Mark Twain, Harry S. Truman, George Washington Carver, Route 66, the Pony Express and Lewis & Clark. Those last two could've just as easily found adventure by staying in Missouri — and exploring the state's thousands of caves, dozens of which visitors can tour today, and lands that would one day encompass 92 state parks.
Point being, there's plenty to see and do on a Missouri road trip, so we sent content creators Jenn and Ed Coleman (@coleman_concierge) on a jam-packed itinerary to see as much of the southwestern corner of the state as they could in four days. "There were a lot of neat, hidden gems that I wouldn't have expected in Missouri, and it was a lot of fun finding them along the way," said Jenn.
Read on to see where the Colemans made their home base each night and what day trips were at their fingertips.  
Springfield
Flying into Springfield-Branson National Airport one evening, the Colemans made a beeline for dinner in downtown Springfield. Dubbing itself as having the best burgers in Missouri, Black Sheep Burgers and Shakes is a "fun, edgy gastropub," said Ed, noting that "the boozy milkshakes are large and generous." Menu items have memorable names like "ugly cheeseburger," "what the dr. ordered" and "don't go bacon my heart."  
Staying at the Best Western Route 66 Rail Haven offered up an immediate slice of nostalgia for American days gone by. This motor court opened in 1938 and was a popular stop for Route 66 travelers; today it is listed on the National Register of Historic Places. Elvis stayed at the hotel while performing in Springfield, and his former room is now the Elvis Suite, where the Colemans slept. "It's super kitschy in a fun way," described Jenn, noting that there was a pink Cadillac couch at the foot of the bed and pictures of Elvis on the wall.

Music was also a theme for breakfast at the Classic Rock Coffee Co., whose vibe focused on '70s and '80s rock n' roll with vinyl records, posters and, of course, coffees named after popular songs including "Back in Black" and "Dream Weaver."
Missouri is also known as the "Cave State" and many can be found in the Ozarks. For their first stop of the day, the Colemans went underground at Fantastic Caverns. Discovered in 1862 by a farmer's dog and originally explored by an all-women crew, it is the only cave in North America to offer a completely ride-through tour (as opposed to walking); the Jeep-drawn trams drive along the path left behind from an ancient underground river. The cave was used as a speakeasy during Prohibition and hosted live music concerts in the 1950s and 60s.
Back above ground, our travelers hopped onto Route 66, stopping at places like Gary's Gay Parita (a recreated 1930s Sinclair gas station), the Ghost Town of Spencer, Red Oak II (a recreated town), Jasper County Courthouse (built in 1894-95), Boots Court Motel (one of the oldest motels still in operation on Route 66), 66 Drive-In Theatre (operating seasonally) and Route 66 Mural Park.
"They were really fun little roadside attractions. Give yourself a full day to explore," said Jenn, noting that this stretch of Route 66 was big on Americana, with a 1940s and '50s vibe at many of the stops that drew international visitors. "We heard people speaking a lot of different languages."

After a pit stop to grab burgers at the Hangar Kafe located next to the Ozarks Skydive Center, the Colemans spent the afternoon exploring nature. 
In nearby Joplin, they wandered around Wildcat Glades, located in Wildcat Park and overlooking the largest remaining area of chert glades in the world. Chert glades are a desert-like habitat that only exists in southern Missouri; known for their thin, dry soil, the glades are home to many different animal and plant species, including cacti. A few minutes downstream from Wildcat Park is Shoal Creek, where the Grand Falls plunge 12 feet down a 163-foot-wide ledge of solid chert bedrock.
Before settling in for the night at Joplin's Homewood Suites by Hilton, the Colemans took the advice of a friendly, local couple they met on Route 66. They grabbed a table at Wilder's Steakhouse, where they dined on steak Oscar style, French onion soup and truffled mac and cheese. "The food was amazing," Jenn said, while complimenting the price.
---
Joplin
The next morning, Joplin Avenue Coffee Company provided a sweet caffeine boost with its "Lucky Leprechaun" (white mocha and Irish cream) and "Downtown Dublin" (Irish cream and vanilla) coffees.
Off to learn about local history in nearby Diamond, the Colemans headed to the George Washington Carver National Monument, which is also the site of a museum and education center about the famed African-American scientist and inventor. While Carver did not invent peanut butter as is commonly believed, he did develop 325 different uses for peanuts, including milk, cooking oil, paper, soap and wood stains.

Their other historical journey that day took place at the Golden Pioneer Museum, an eclectic place packed to the gills with memorabilia from recent times as well as artifacts from Native Americans and European settlers who arrived in the 1800s. Collections include pocket watches, baseball cards, glassware and Civil War battlefield items. "It's worth a stop since the amount of stuff is so mind-boggling," emphasized Jenn. "If you're a collector, you would spend all day in there."
For some natural R&R, the Colemans explored two parks in the area. Roaring River State Park in Cassville, a popular spot for trout fishing,is the location of Missouri's deepest spring: Roaring River Spring. Divers even recently set the national spring diving depth record of 472 feet here. "I thought it looked just like a cenote you'd find in Mexico," Jenn said.
Dogwood Canyon Nature Park in Lampe offers 10,000 acres of rugged Ozarks landscape about 30 minutes from Branson. "It's just stunning, really beautiful and well put together," raved Jenn, who listed this as one of her highlights of their trip.
They rented bikes and rode on the paved paths alongside the creek, stopping to take photos along the way. While there are plenty of activities like an open-air tram for a guided wildlife tour as well as hiking, horseback riding, trout fishing and private Jeep tours, the Colemans advised it's a good idea to make reservations several days in advance as slots fill up.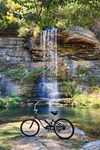 After a long day of exploring, they headed to Branson, one of Missouri's top destinations known for its live shows and family-friendly entertainment. For dinner, the Colemans discovered a delicious hidden gem: tikka masala at India Clay Oven, a north Indian restaurant celebrating its 10th anniversary. From there, they hopped on the Branson Ferris Wheel for an eagle-eye view of the city's lights at night before settling into their penthouse at The Bradford Inn.

---
Branson & Springfield
There was a line out the door when the Colemans finished their 8 a.m. breakfast at Billy Gail's. "It was solid, down-home country cooking," said Jenn. "One pancake was bigger than a plate."
Rather than wait a few hours after eating before zip lining, the Colemans dove headfirst (or more like, feet first) into the thrills. Voted the No. 1 Aerial Adventure Park in America by USA Today, Shepherd of the Hills Adventure Park offers multiple opportunities to soar over the trees and countryside. The Colemans started with the zipline canopy tour, which kids as young as three years old can enjoy.
"We've been on a lot of ziplines, and they did everything the right way," said Jenn, noting that the metal braking system meant you didn't have to use your hands to slow down. After that, it was straight to the top of the 230-foot-tall Inspiration Tower for stunning views of southwest Missouri, and a friendly race down Missouri's highest zipline, Vigilante Extreme Ziprider. (Ed won.)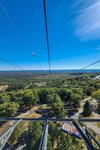 They wrapped up an adrenaline-filled morning with a ride on the Copperhead Mountain Coaster, where riders actually control how fast they race along a hilly alpine coaster. 
Heading back to Springfield for one final afternoon of activities, they stopped for a farm-to-table lunch at The Order at Hotel Vandivort, savoring the Springfield-style cashew chicken skewers and Wagyu smash burgers, before venturing to a few more attractions.
Opened in 2019, the History Museum on the Square offers eight interactive galleries showing how Springfield and the region shaped American history, such as its role in the creation of Route 66. There's also a chance to test your quick-draw skills at the Wild Bill Hickok exhibit. (Wild Bill was part of a shootout on the Square in 1865.)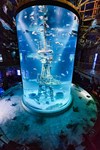 The Wonders of Wildlife National Museum & Aquarium is a sprawling 350,000-square-foot building that houses 35,000 live fish, mammals, reptiles and birds, as well as wildlife galleries. After opening in 2017, it's already been named USA Today's Best Aquarium four times.
"It's not something you would expect to find in Missouri," said Ed, noting that there was a vignette for every ecosystem in the world and exhibits including animals he'd never seen before, like albino alligators. "They immerse you in each of the exhibits, not just with the animals, but with the installations, like you're on a swinging bridge in a swamp with alligators or under the sea."  
Before bedding down at the Courtyard by Marriott Springfield Airport, the Colemans stopped for one last dinner in Missouri. Kai After Dark is a sushi restaurant in downtown Springfield that prides itself on inventive dishes.
"Everything was super high flavor," Jenn said, noting that the prices were low for such high quality. "We kept wanting to order more stuff. It was all so yummy and distinctive."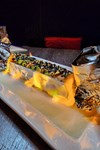 After a busy four days, the Colemans said that their eyes were opened by all the hidden gems in Missouri.
"With the variety of stuff that Missouri has, it's definitely one of those things where seeing is believing," Jenn said. "It is the 'Show-Me State' after all. People say, 'Oh, it's got beautiful nature.' Well, show me. And wow, it really does."
---
Ready to go? Start planning your Missouri vacation with these itinerary ideas.