How to chill and thrill in North Carolina's small towns

In a state that includes both the Great Smoky Mountains and the Outer Banks, it's not surprising to find experiences that range from mild to wild in North Carolina. While some of these are located near cities like Charlotte, Asheville or Raleigh, many more can be found tucked away in corners of the state like the Yadkin Valley in northwestern North Carolina. Here, you'll find sprawling vineyards and quaint small towns, interspersed with stunning mountain overlooks and rushing waterfalls.
Curious about these hidden gems, we sent Jamaican-born, D.C.-based travel content creator Shea Powell (@theworldupcloser) to explore a few of these small towns (and maybe a vineyard or two) to see what sort of lasting impressions they made. "This side of North Carolina was a surprise," said Shea, who vacationed in the Outer Banks earlier this year. "I didn't expect any of this."
Read on to see where Shea stopped along the way as she traveled around northwestern North Carolina.
Elkin
Shea flew into Charlotte Douglas Airport, where she picked out a Blue Nissan, christened it as "Dizzy", and then embarked on her adventure, heading north. Elkin is just over an hour's drive from Charlotte, but the landscape was pure countryside. "It was very low key, like one house here or there," Shea noted, adding that it was very lush and green.
Elkin is located in the Yadkin Valley, North Carolina's first federally recognized American Viticultural Area, home to more than 45 different vineyards. So it was only natural that her first stop was at the family-owned Jones von Drehle Vineyards & Winery. An estate winery, here carefully selected grape varieties are grown, harvested and produced from the 30 acres of vines on the property. "When I think about North Carolina," Shea said, "I don't think about vineyards — but this is serious business. The vineyard was much more than I thought it would be."
Having lived in Chile and spent time in Argentina, Shea's palette was used to fine wines and Jones von Drehle did not disappoint. After a tour of the grounds, which includes a stage for hosting concerts, it was time for a wine tasting. "The wine had tastes like I've never had in a wine before, not just because of where it's grown, but also when it's a smaller winery, they try to make it unique," she said of the seven different types (ranging from dry to sweet) she tried. "I really liked them."

With so many wineries nearby, it was time to try another one. Set on four acres, Elkin Creek Vineyard and Winery overlooks the century-old Elkin Creek Mill and the Big Elkin Creek, a nearly 4-mile long tributary of the Yadkin River. Wines here (Merlot, Sangiovese and Cabernet Sauvignon) are generally crafted in European-inspired styles.
A short walk from the winery are the four comfortable on-site cabins, each equipped with a full kitchen, stone fireplace and a back porch swing and patio set. One of the cabins was her home for the night, so it was a perfect setting for drinking some wine outside while listening to the crickets. "It was a full winery experience," she said. "You can cook there, sleep there, drink there. If you could drink wine for breakfast, this is the place."
Shea dipped into downtown Elkin that evening to explore. Located on the National Register of Historic Places, Elkin made a name for itself thanks to its woolen mill. From its humble beginnings in 1877 as the Elkin Valley Woolen Mill, the Chatham Manufacturing Company became one of the largest blanket manufacturers in the world, producing millions of blankets for U.S. armed forces during both World Wars. Today, Elkin's Main Street is full of independent shops selling items like fine arts, jewelry and country crafts.
She stopped for a bite to eat at Southern on Main, asking the waitress what she should order. "When I visit a place, I like to eat something that's unique to the area, so the shrimp and grits came recommended," she explained. "It was good. I had never had grits before." Shea raved about the Southern hospitality she experienced throughout her trip, noting that there was great customer service from friendly people. 


Wilkesboro

The next morning, the fog over the vineyard added to the ambiance as Shea got ready to pop back into town for breakfast. The Yellow Door Café did the trick with its fusion of French cuisine and Southern soul food. Clearly a favorite in town, the restaurant was extremely busy — and for good reason. "You gotta do what the Romans do," Shea said about her order of a BLT and sausage and gravy over biscuits. "When you go to restaurants here, you get two sides. Pace yourself, it's coming full force." 


Properly fueled up for the day, Shea hit the road west toward Wilkesboro, but with one particular stop in mind. "If you ever go to North Carolina, you have to go to Raffaldini," she said, referring to Raffaldini Vineyards & Winery in Ronda.
A popular spot for weddings (in fact, they were setting up for one while she was there), Raffaldini sits on more than 100 acres of picturesque land. "Their vineyard is massive," Shea proclaimed. "If you want to feel like you're in Italy when you're in North Carolina, come here."  Her tour included not only a wine tasting of rosés and reds but also an up-close look at the grapes in the vineyard.


There's more to this part of North Carolina than wine country though, so it was time to join up with Foothills Outdoors Adventures and hit the water in a tub. That's right, tubbing is not a typo. Essentially like getting into a big metal pan where two people sit on coolers and the third sits in a chair, the goal is to paddle down the Yadkin River for about 2.5 hours while avoiding trees and rocks. "It was adventurous, yet relaxing," Shea said.
At one point, it started raining, but Shea didn't complain. "The rain wasn't cold, it added to the experience," she laughed, noting that it was a soothing activity. "It was such a unique thing to do. I've done river tubing but not river tubbing. It was authentic. This is what they do in the South."


Shea grabbed some fresh baked goods from Mr. Toro's Bakery & Taqueria and then headed west on a back road to Purlear for that night's accommodation. "There were no houses, just trees," she said, noting that the elevation started getting higher and the temperatures dropped a bit. "It was completely off the grid."
That's completely the intent of Sky Retreat in the Blue Ridge Mountains, where guests stay in cabins and can experience the magic of the outdoors through adventurous activities like paragliding, mountain biking, hiking and even professional ballroom dancing. A popular place for weddings due to the scenic panoramic views, the resort also has a farm with miniature donkeys and goats. "It was absolutely stunning," Shea raved. "The property itself is amazing."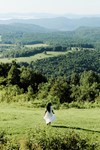 Boone
Purlear doesn't have a restaurant (we told you these are small towns), but Sky Retreat cabins have fully stocked kitchenettes to make your own meals. Hitting the road after a quick bite, Shea went to see a waterfall recommended by the Sky Retreat staff. Located along the much-beloved Blue Ridge Parkway, the Cascades Trail is a 30-minute roundtrip walk through a mixed hardwood forest to the cascades of Falls Creek.
Continuing her journey westward on the parkway, passing scenic overlooks like Elk Mountain (mile 274.3) and Grandview (mile 281.4), Shea arrived at Hawksnest Snow Tubing and Zipline in Seven Devils. While the snow tubing is seasonal, the ziplining is not and Shea zoomed through nine different lines. "Fall foliage must be amazing, with the mountains all around," she said of the upcoming autumn season. "The landscaping is perfect. You see waterfalls, mountains, greenery. It was very picturesque."


One of the most important tips to know about Boone is that when class is in session in this college town, reservations are a must. "Everything was booming, it was busy," Shea said. She stopped for a late lunch of fried chicken at Proper, a former-prison-turned restaurant, while walking around.
Driving about 30 minutes out of town that evening, Shea arrived at Gamekeeper Restaurant, a AAA 4-Diamond Restaurant known for its dishes of emu, bison, venison, elk, boar, mountain trout and duck. "It was very fancy without being fancy," she said, noting that she didn't see any college students there, and sampled the salmon, emu and shrimp pesto pasta. "This was a destination restaurant."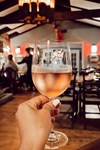 Shea headed to downtown Boone to rest her head at the Horton Hotel. The town's only boutique hotel, it has 15 uniquely decorated guest rooms as well as a rooftop bar with views of the town. "It had character," Shea said of her room and its exposed brick walls.
Homeward bound
There was plenty of time to fit in another activity before heading back to the airport, so Shea decided to do some hiking and enjoy the views both at Rough Ridge Trail in nearby Blowing Rock as well as Elk Knob State Park in Todd.
Though the nature scenes were similar, Shea said the view never got old and she wished she had more time in the mountains. "I felt like every time we saw the mountains, we saw something new," she explained. "In Purlear, it was a sunset. When we got to Elk Knob, there was fog descending on the mountains. There were different elements that make it so interesting."


Shea had been to North Carolina once before, but to the Outer Banks. "The two are super different," she compared. "Aside from each landscape, this was off the beaten path. It's like two different experiences: this was wine, mountains, country roads, green and lush. Outer Banks is beach and sunset and sand banks."
Shea raved that her trip was the perfect itinerary for anyone looking to experience the diversity found in North Carolina.
"I would definitely recommend that you try the wineries and the tubbing; I thought that was fantastic, there are not many places you can go and try that," Shea said. "From fancy to small towns to not-so-fancy to something more adventurous, there was such a nice balance on this trip."
---
Ready to go? Start planning your trip with these tips.